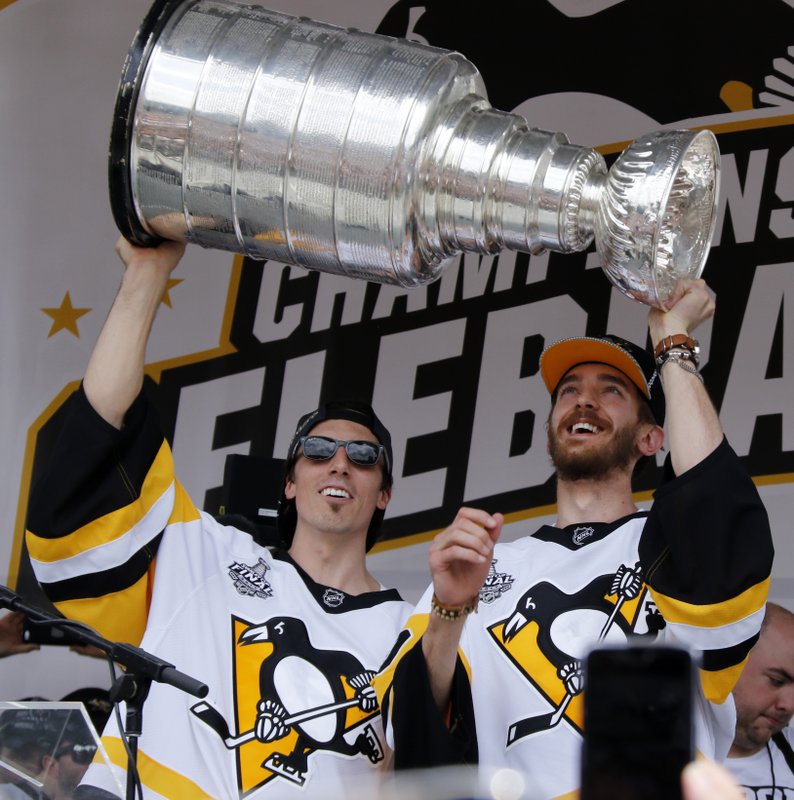 P
ITTSBURGH (AP) — Marc-Andre Fleury knew this day was coming, though the winningest goaltender in Pittsburgh Penguins history did his best to push the idea of his inevitable departure to the back of his mind. No need to become a distraction with a shot at history on the line.
It was only in the aftermath of Pittsburgh's second straight Stanley Cup championship that he helped author by playing brilliantly at times during playoff series wins over Columbus and Washington that Fleury let the finality set in.
His eyes moistened as he spoke on Thursday while he and the rest of his teammates packed up for the summer following a giddy downtown parade a day earlier. When the Penguins return to work in September, they'll try to become the first team in more than 30 years to "threepeat." Fleury will almost certainly have to watch from afar, probably in Las Vegas as a member of the expansion Golden Knights, as heir apparent Matt Murray minds the net.
"Obviously Matt's the guy here and he'll be for many years," Fleury said.
Just as Fleury was for well over a decade, helping the Penguins to three of their five Cups while collecting more wins (375), saves (17.744) and shutouts (44) than any other goaltender in the franchise's five decades of existence. Fleury understands he makes too much money ($5.75 million) to be a backup. Besides, he wants to be on the ice every night. That's not possible in Pittsburgh, where the 23-year-old Murray has the No. 1 job.
"I love to play," Fleury said. "I love to be in there and compete, the challenge of it. I love everything about it."
Fleury will just have to love it somewhere else and others are also likely to be here when the Penguins raise another banner to the rafters at PPG Paints Arena in October.
"It's something I don't even like having to talk about it," Penguins captain Sidney Crosby said. "Playing with someone that long, going through what we did, it's pretty special."
So too is the chance at becoming a true dynasty. No team has raised the Cup three straight years since the New York Islanders did it four years running from 1980-83, long before the salary cap came around to make any sort of sustained excellence difficult and fleeting.
That doesn't mean the Penguins aren't embracing the challenge. Coach Mike Sullivan issued a challenge during the team's raucous victory parade. Sullivan wasn't getting caught up in the euphoria of the moment so much as sending a message to Crosby, Murray, Evgeni Malkin, Kris Letang and Phil Kessel that there's no reason the party can't continue.
"It was an opportunity to throw out a challenge to our core players right away," Sullivan said with a grin. "That will be our goal, be our expectation."
A quick look at what should be a short summer in Pittsburgh.
DECISION TIME
The list of Pittsburgh unrestricted free agents include forwards Nick Bonino, Chris Kunitz and Matt Cullen and defenseman Trevor Daley, Ron Hainsey and Mark Streit. The 40-year-old Cullen is considering retirement. Both Kunitz and Daley could be faced with a choice: make more money elsewhere or make another Cup run in Pittsburgh. General manager Jim Rutherford has encouraged all the pending free agents to check the market then get back to him to see if something can be worked out.
PAY THE MAN
Justin Schultz arrived in Pittsburgh 16 months ago as a reclamation project of sorts. Now the defenseman is primed for a significant raise after putting together the finest season of his career. He will become a restricted free agent and is confident the math will work out that will keep him in Pittsburgh next season.
OFFICE SHUFFLE: The raid on Pittsburgh's brain trust that helped put together two Cup winners has already started. The Buffalo Sabres lured away Jason Botterill to be their general manager. The trickle-down effect led to the team naming assistant GM Bill Guerin will take over as general manager of the team's AHL affiliate in Wilkes-Barre/Scranton.
A SECOND ACT
A year ago, Jake Guentzel watched the Penguins win the Cup on TV after finishing his first few months as pro. Now he'll have to find a way to top a remarkable rookie season that included 21 playoff points, tied for the most-ever in a single postseason by a rookie. The 22-year-old plans on getting stronger during the brief offseason, at least when he's not taking the Cup back to his native Minnesota.
HARDLY DONE
Crosby will turn 30 in August but he's hardly feeling "old." If anything, the chance to make history next year has invigorated him.
"It's been so long since teams were able to go back to back, to be able to (three-peat) in this era would be pretty tough to beat," he said. "It'd be cool to shoot for that."
___
More AP NHL: https://apnews.com/tag/