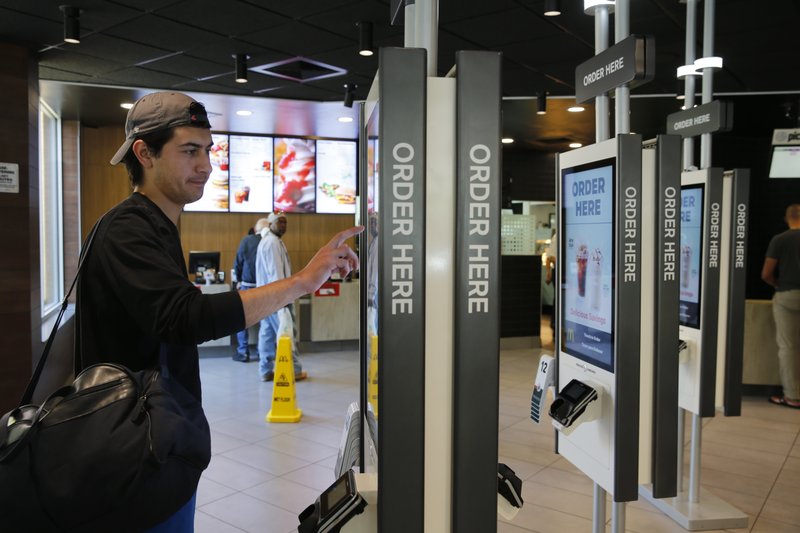 R
OMEOVILLE, Ill. (AP) — McDonald's is hoping to make a difference in its future seven seconds at a time.
The company that helped define fast food is making supersized efforts to reverse its fading popularity and catch up to a landscape that has evolved around it. That includes expanding delivery, digital ordering kiosks in restaurants, and rolling out an app that saves precious seconds.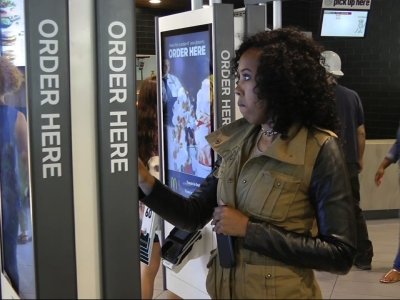 "Five, 10 years ago, we were the dominant player in convenience, as convenience was defined in those days," CEO Steve Easterbrook said last month. "But convenience continually gets redefined, and we haven't modernized."
The push come as McDonald's Corp.'s stock has hit all-time highs as investors cheer a turnaround plan that has included slashed costs and expansion overseas. Yet the asterisk on the headlines is the chain's declining stature in its flagship U.S. market, where it is fighting intensifying competition, fickle tastes and a persistent junk food image.
In an increasingly crowded field of places to eat, the number of McDonald's locations in the U.S. is set to shrink for the third year in a row. At established locations, the frequency of customer visits has declined for four straight years — even after the launch of a popular "All-Day Breakfast" menu.
The chain that popularized innovations like drive-thrus in the 1970sacknowledges it has been slow to adapt, and is scrambling to better fit into American lifestyles.
RUNNING TO KEEP UP
Lots of once-dominant restaurant chains are feeling the pressure of people having more eating options.
An estimated 613,000 places were selling either food or drink in the U.S. last year, up 17 percent from a decade earlier, according to government figures. Supermarkets and convenience stores are offering more prepared foods, and meal-kit delivery companies have been expanding.
"Better burger" places like Shake Shack and Habit Burger Grill don't come close to McDonald's roughly 14,000 U.S. locations, but they're growing. And even if Starbucks and Dunkin Donuts don't serve burgers and fries, they are among those promoting food more aggressively.
"They're still taking customers from the same market pool," said Nick Karavites, a McDonald's franchisee with 22 locations in the Chicago area and chairman of a regional leadership committee.
Richard Adams, a former McDonald's franchisee who is now a consultant to those businesses, has questioned whether the chain can return to the height of its popularity in such a fragmented marketplace. He also noted that many of the new offerings the company is pursuing, such as delivery, are already available at other places.
"They're following the marketplace," he said.
Still, McDonald's needs to make changes to keep customer visits from falling further.
"TURNING A VERY LARGE SHIP"
One main focus is the drive-thru, where McDonald's gets roughly 70 percent of its business.
Customers who place orders on the mobile app, for instance, could also pull into a designated parking spot where an employee would bring out their order. That would theoretically ease backups at the drive-thru, which in turn might prevent potential customers from driving past without stopping during peak hours.
Then there's the partnership with UberEats to offer delivery. McDonald's gives an undisclosed percentage of the sale to UberEats, in addition to a fee of about $5 that customers pay. So a risk is that delivery could draw from in-store sales, eating into profitability.
So far, however, McDonald's says delivery is bringing in new business during slower times at the roughly 3,500 locations where it has rolled out since the start of the year.
Either way, such changes aren't likely to transform operations overnight, since most of McDonald's customers might prefer to order the way they always have.
"That's like turning a very large ship," said Karavites, noting the range of company efforts intended to build sales over time. At his remodeled restaurant in Chicago where delivery was recently launched, he said sales are already climbing.
To bring more people in over the short-term, the company is promoting $1 sodas and $2 McCafe drinks. Glass cases displaying baked goods are also popping up in stores. And at about 700 locations, the company is testing "dessert stations" behind the counter where employees can make sundaes topped with cake or brownie chunks.
Those stations could eventually handle an expanded menu of sweets.
JUNK FOOD IMAGE
At the same time, McDonald's is still trying to shake its image for serving junk food, especially since its appeal to families with children has long helped keep it ahead of rivals like Burger King and Wendy's.
It's made changes to its Happy Meal, and made a high-profile pledge to offer healthier options. It plans to start using fresh beef instead of frozen patties in Quarter Pounders. But as other chains emphasizing quality or health keep emerging, it may get harder for McDonald's to hold onto families or change perceptions.
"The ingredients aren't fresh or clean," Mary Beth Holland, who works in sales in the Chicago area, said about McDonald's.
Larry Light, a former chief marketing officer at McDonald's, says the company strayed in recent years by chasing customers who may have been going to places like Chipotle, but that it is refocusing on burgers and fries. He thinks that will help get people visiting more often.
"You cannot build an enduring, profitable business on a shrinking customer base," Light said.
And Bernstein analyst Sara Senatore cited the changes the company is pursuing in raising her rating on McDonald's to "buy" in April.
"I wouldn't underestimate the power of scale," Senatore said.
___
Follow Candice Choi at www.twitter.com/candicechoi