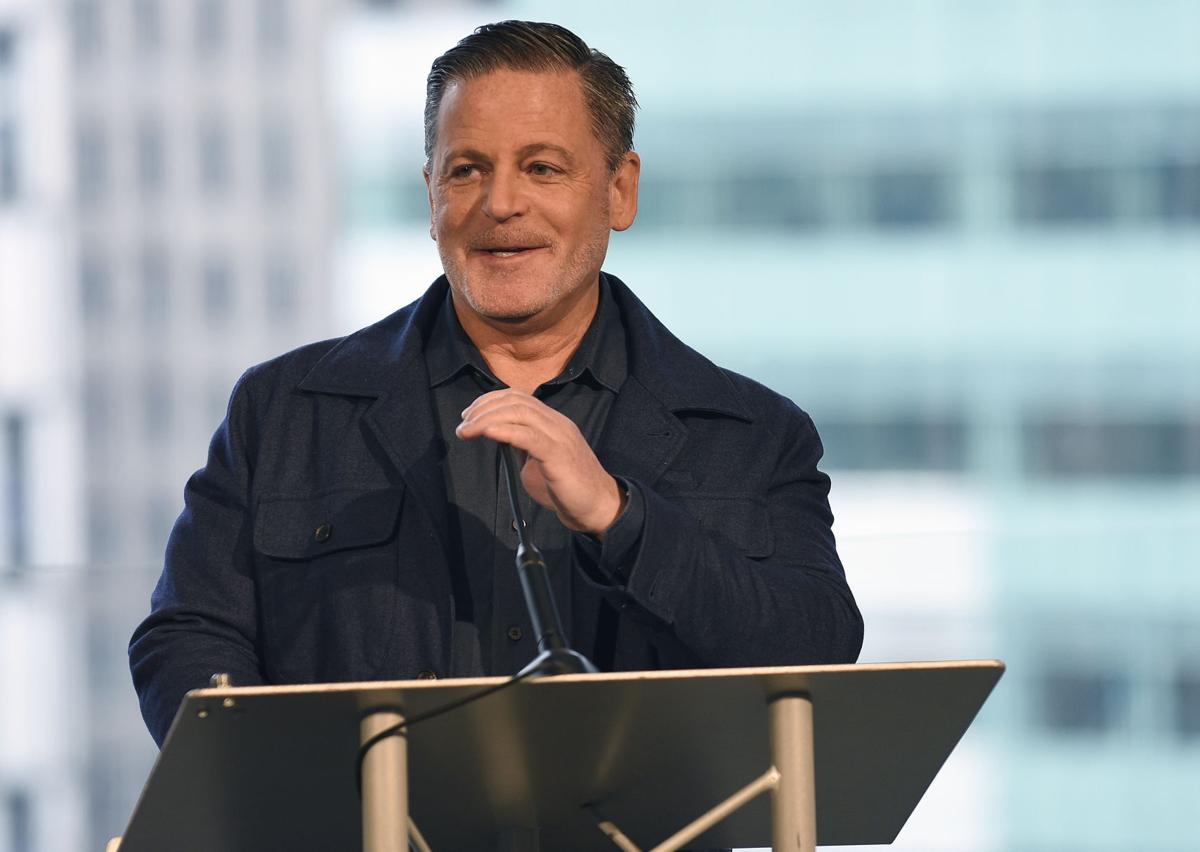 Dan Gilbert apologizes for Detroit ad display
D
ETROIT — A billionaire businessman has apologized for his real estate company's controversial sign in downtown Detroit that says "See Detroit Like We Do" with an image of a majority white crowd.
Quicken Loans Founder and Cleveland Cavaliers majority owner Dan Gilbert posted on Facebook Sunday, saying the ad was "tone deaf" and his Bedrock company "screwed up badly."
The ad posted on a residential high-rise during the weekend of the 50th anniversary of the 1967 Detroit riots resulted in social media uproar. The campaign's photograph contradicted 2010 U.S. Census data indicating the city is more than 82 percent black.
Gilbert says the display posted Friday was only part of the final ad, but still distorted the company's message. He says the image was removed Saturday and the campaign has been "killed."
S.C. couple settles roadside cavity search case
COLUMBIA, S.C. — A Black South Carolina couple that accused police of subjecting them to illegal body searches on the side of the road has settled a lawsuit against four white officers.
Documents filed in federal court late last week show Lakeya Hicks and Elijah Pontoon stipulated to the dismissal of their lawsuit against police officers for the City of Aiken. Court papers didn't include an amount of the settlement, and city officials didn't return a phone message seeking comment.
The couple's lawsuit came after several high-profile incidents sparked a nationwide debate about how white officers treat African Americans. In October 2014, Hicks and Pontoon say they were pulled over and subjected to a humiliating search on the side of a public road. Hicks said her breasts were exposed as she was detained and searched. Pontoon said police searched his anal cavity, and officers found no drugs in their car.
The searches don't occur on camera, but audio captured by a dash camera has been widely circulated online.
According to the lawsuit, the couple said they were pulled over because the car had a paper license tag, though an officer said during the encounter that he knew Pontoon because he had previous arrests several years earlier. Their car is then searched with dogs trained to sniff out drugs, and the couple is put in police cars before being searched themselves.
According to the suit, Hicks' breasts were exposed as she was detained on the side of the road and searched by a female officer. During a search of his anal cavity, Pontoon explains that a mass the officer felt was not hidden drugs but was actually a hemorrhoid.
The officer is heard telling Pontoon that because of "your past history," he summoned a police dog to check the car. When Pontoon — who has prior drug arrests but none in recent years — objected to what he described as harassment, the lawsuit says the officer told him: "You gonna pay for this one boy."
"I felt very humiliated," Hicks told The Associated Press in a 2016 interview, discussing the incident and lawsuit. "We don't want this to happen to anybody else."
Charges dropped in Ohio police shooting
CINCINNATI — A judge in Cincinnati on Monday dismissed the charges against a white police officer who fatally shot an unarmed Black motorist during a traffic stop, after a county prosecutor declined to pursue a third murder trial in the case.
Hamilton County Judge Leslie Ghiz declined to acquit former University of Cincinnati officer Ray Tensing in the shooting of Sam DuBose, but she dismissed the murder and voluntary manslaughter charges in a way that blocks retrial on those counts.
"It's sort of a note of finality, which is what we were looking for, although we still have the potential for a federal civil rights investigation," defense attorney Stewart Mathews said afterward.
Two juries couldn't reach unanimous agreement on the state charges, leading to mistrials. County Prosecutor Joe Deters said he felt "badly" about dropping the case but had concluded that he wouldn't be able to get a jury to convict Tensing.
Tensing, now 27, shot the 43-year-old DuBose in the head after pulling him over for a missing front license plate on July 19, 2015. The shooting is among numerous cases nationwide that have called attention to how police deal with Blacks, and it highlights the challenges prosecutors face in getting jurors to convict police officers for shooting when they say they're under threat.
Tensing, who was fired after the shooting, testified at both trials and said he feared he was going to be dragged or run over as DuBose drove away.
An expert hired by prosecutors said his frame-by-frame analysis of Tensing's body camera video showed Tensing wasn't being dragged by the car.
DuBose's family and civil rights groups wanted a third trial. They now are hoping that federal authorities reviewing the case will determine that DuBose's civil rights were violated.
U.S. Attorney Benjamin Glassman said authorities will review evidence from the state court trials to assess whether there are possible federal civil rights offenses that might warrant prosecution.
Mathews said Monday that he hadn't been contacted by federal authorities.
The university reached a $5.3 million settlement with DuBose's family, including free undergraduate tuition for his 13 children.
Detroit unveils historic marker to remember uprising
DETROIT — The City of Detroit has unveiled a historic marker to reflect on the status of the city's progress since civil unrest in 1967.
About 300 people gathered Sunday in Gordon Park, which is where the destructive uprising began.
Democratic U.S. Rep. John Conyers of Michigan spoke to the crowd in a softer tone than when he addressed rioters 50 years ago in an unsuccessful attempt to calm the violence. The 88-year-old said the city should remember the past to see how far Detroit has come and to look forward to what still needs to be accomplished.
The five-day, destructive event began when police raided a bar. The uprising highlighted unfair treatment of the Black community by police.
DIA art exhibit reflection on 1967 Detroit riot
DETROIT — An exhibit on works by artists during the civil rights movement is opening at the Detroit Institute of Arts.
The museum says "Art of Rebellion" runs from Sunday through Oct. 22.
It is part of a community-wide reflection on the 1967 Detroit riot and features 34 paintings, sculptures and photographs mostly by Black artists working both collectively and independently in the 1960s and 1970s.
The exhibition also includes works by artists who were not part of a collective and artists working in later decades who were inspired by art from the civil rights movement.
The exhibit is in collaboration with the Charles H. Wright Museum of African American History. The Wright Museum features a complementary exhibit: "Say It Loud: Art, History, Rebellion."
August Wilson Center gets new CEO and president
The August Wilson Center for African American Culture didn't have to go far to find its new CEO and president. After a three-year search, the board on Thursday named Janis Burley Wilson to lead the center into the future.
Burley Wilson, 52, the Pittsburgh Cultural Trust vice president for Strategic Partnership and Community Engagement and director of Jazz Programs, has been a primary events programmer for Downtown's August Wilson Center since it was acquired in 2014 by the Pittsburgh Foundation, Heinz Endowments and Richard King Mellon Foundation.
AWC board chairman Michael Polite said nearly 50 applicants were vetted in the search for a leader.
"They did a national search, and I'm glad that they did. I love working at the Trust and I will miss it but it is right down the street, and this is the best of both worlds," Burley Wilson said. "We will be working together closely. We will be putting together a strategic plan in the coming weeks and months. but my main focus now is putting together a really strong team."
"Janis brings a deep knowledge of the Pittsburgh arts and cultural scene, and strong relationships with the community stakeholders and grantmakers," Polite said.
Polite would not disclose her salary, other than saying it is six figures. He praised her as a proven fundraiser, which will be a key part of her job.
Burley Wilson officially steps into her new role on Sept. 1.
New group talk race in New Hampshire
EXETER, N.H. — It was the 2015 massacre of African Americans in a Charleston, South Carolina church that made local activist Ken Mendis take action.
"We had a memorial service and invited people from different churches," said Mendis, of Stratham. "We remembered the nine people that were killed. After that I was sitting there and I said, 'That's not enough.'"
From there, the Racial Unity Team of Exeter was formed. At first a "loosely-held group," they began to form a community vision.
"We decided to look at history in Exeter and create a Walk a Mile for Racial Unity," Mendis said. "That's what kicked it off." The walk, in its third year on Oct. 21, is a guided one-hour tour exploring how race has shaped Exeter's history. The walk highlights sites of importance in the racial history of town, where Native American, African-American and Chinese-American lives made contributions or experienced discrimination.
The group, who pairs with organizations and institutions such as the NAACP, Phillips Exeter Academy and We The People, doesn't have a religious focus but meets at various churches in Exeter including the Red Brick Church and the First Unitarian Universalist Church.
"The nine people that died [in South Carolina], that is our focus here," Mendis said. "Dylann [Roof] wanted to start a revolution of hate, this group is a revolution of love and unity."
Member Joy Meiser Mendis, also of Stratham, said slowly others started joining the group, which now has seven core members and at times up to 12.
Congregation works to save century-old chapel
EDENTON, N.C. — A Black congregation and leaders of one of North Carolina's oldest towns are teaming up to save a hurricane-damaged chapel built more than a century ago.
Grants from prestigious national organizations and fried chicken dinners made by local cooks play some of the parts.
Hurricane Isabel in 2003 flooded much of Edenton, sending waters more than 4 feet surging around the foundations of some of the state's oldest structures. That included the Kadesh A.M.E. Zion Church.
The towering walls creaked and leaned with the wind until they were shored up with thick metal braces. Carpenters removed the tall, Tiffany stained-glass windows to protect them from breaking. The bell heard for generations from its three-story tower went into storage. Congregation members scrambled to find another place to meet.
"Those were terrible times," said Audrey Bond, lifelong church member and owner of a clothing alteration business on Broad Street. "It was a beautiful sanctuary."
Most of this town's stately homes and public buildings tell the story of white officials and proprietors who incorporated the town of 5,000 in 1722, attorney and town Councilman Sambo Dixon said. The church's restoration will start a greater focus on Black-owned structures, he said.
"This is one of the most important African American sites in the state," Dixon said. "This will be a wonderful symbol of our ability to come together as a community."
The church's beginnings go back to 1857. Forty years later, the expanding congregation hired local carpenter Hannibal Badham and his two sons to build a sanctuary on Gale Street large enough for 400 . Badham and his sons were highly regarded craftsmen and built many houses in Edenton, a town known for some of the oldest structures in the state.
The carved door frames and the ceiling arching two stories above the chapel floor are among the examples of woodworking mastery, said Mike Ervin, executive director of the Edenton Historical Commission.
"This is before there were power tools," he said. "It was an amazing feat by hand."
Bond remembers when the ringing church bell drew hundreds to the services. The largest funerals and community gatherings in the Black community were held at Kadesh Church.
Now parts of the original wood floor are rotting. Weathered plywood has replaced the missing windows in attempts to block the elements. Bats and pigeons inhabit the bell tower. Termites chew at the wooden frame.
— Compiled from The Associated Press