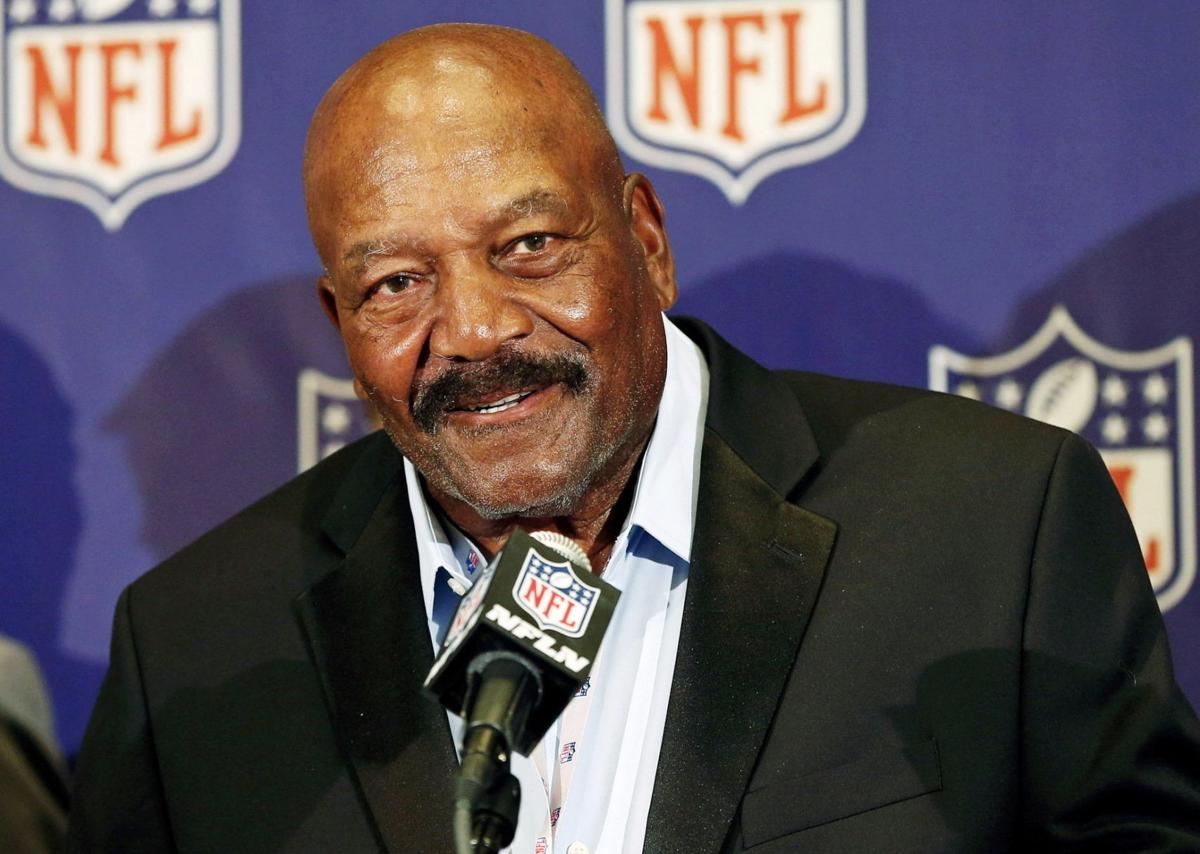 T
here has been nothing coming out of Jim Brown's mouth worth paying attention to for quite some time now, so his latest misguided ramblings about Colin Kaepernick are of no surprise and less significance.
In a recent interview, the Hall of Fame running back, when asked about Kaepernick and the refusal of NFL teams to sign the quarterback, said, "I don't desecrate my flag and my national anthem. I'm going to work within those situations. But this is my country, and I'll work out the problems, but I'll do it in an intelligent manner."
Almost a year has gone by since Kaepernick refused to stand for the playing of the national anthem before games in protest of the shooting of unarmed African Americans by police officers.
Let's be clear: The national anthem in its entirely is a despicable song. If Brown is going to speak glowingly about Frances Scott Key's little ditty, it's incumbent upon him to know that the song he honors includes the line "No refuge could save the hireling and slave from the terror of flight or the gloom of the grave." However, I'm sure Brown, like most African Americans, has spent his entire life fumbling through banquet brochures in search of the words to "Lift Every Voice and Sing" after the first verse has been sung, so this is wishful thinking.
And he should at least know that the line was written during the War of 1812 as a warning to slaves who had the audacity to consider fleeing to Canada so as to escape this American barbarity. The nerve of them.
This is the same Jim Brown who bolted to President Donald Trump's defense when the president had words with a true civil rights icon, Congressman John Lewis.
"When I hear him cry the blues about Mr. Trump and saying its an illegitimate presidency, I take offense to that… Don't cry the blues because you did not get the vote out and this man had a genius way of winning the election," Brown, who also co-hosted a pre-inauguration party, said to CNN.
This was a little more than a month after Trump had summoned Brown and entertainer Steve Harvey to Trump Tower in New York in what was clearly nothing more than an attempt to give the impression that Trump was interested in addressing the many issues facing the Black community.
During his meeting, Harvey said he also met with Ben Carson, the former neurosurgeon who was named the Secretary of housing and Urban Development who went from being a role model to now spewing nonsensical gibberish characterizing slaves as "hard-working immigrants." Harvey said that at the core of his "successful" meeting with Trump was a discussion about how they are going to "team up and see if they can bring about some positive change in the inner-cities."
Brown emerged from his pow-wow to tell the assembled media that Trump "is amenable to listening to people who did not vote for him," something that seems laughable as Trump tours the country bragging about his victory over Democratic challenger Hillary Clinton.
Brown said they talked about "the poor people," the "African-American people," education, ridding the country of violence and working together, things I'm sure Trump will attend to just as soon as he stops equating white nationalists to those that protest their public bile.
Fifty years ago, Brown was cast as the leader of the Muhammad Ali Summit in Cleveland. Brown was joined by legendary athletes like Bill Russell and Lew Alcindor outside the offices of the Negro Industrial Economic union for a press conference with Ali, a conscientious objector to the Vietnam War.
Ali was serious. His refusal to fight in the war cost him his boxing license for three years, the prime of his athletic career, and his sacrifice has almost as much to do with his title, "The Greatest," as does his boxing supremacy.
Conversely, Brown made nice with Hollywood and went on to star in "The Dirty Dozen," "Three the Hard Way" and "I'm Gonna Git you Sucka."