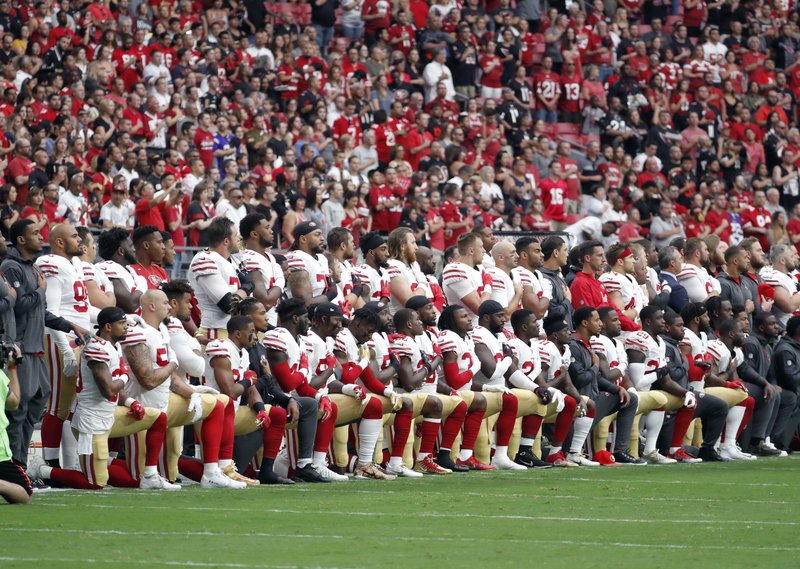 G
LENDALE, Ariz. (AP) — The San Francisco 49ers played on Thursday last week, before President Donald Trump lashed out at NFL players for not standing during the national anthem.
So as teams across the league kneeled, sat and raised fists in protest, the team once at the epicenter of anthem protests was home watching it on TV.
With a week to think about it, the 49ers came up with their own demonstration of unity.
Just before Sunday's game against the Arizona Cardinals, San Francisco's players formed two lines for the national anthem. The players in the front kneeled and the players in the back remained standing, setting off a round of boos at University of Phoenix Stadium.
Many of the standing players placed one hand on their heart, the other on the shoulder of a kneeling teammate in a sign of solidarity.
"For more than a year, members of our team have protested the oppression and social injustices still present in our society," the 49ers said in a statement. "While some may not have taken a knee or raised a fist, we have all shared the desire to influence positive change. Today, our team chose to publicly display our unity in a new way and, in turn, urge others do the same. Our demonstration is simply a representation of how we hope our country can also come together by putting differences aside and solving its problems."
More than 200 players kneeled or sat during the anthem last Sunday after Trump criticized the NFL in a speech and a series of tweets .
A week later, the protests had diminished, even after the president tweeted about the anthem the day before.
"Very important that NFL players STAND tomorrow, and always, for the playing of our National Anthem. Respect our Flag and our Country!" President Trump said.
Most players in the early games Sunday stood for the national anthem, with a few exceptions.
At Sunday's first game, in London, New Orleans Saints players, coaches and staff knelt before the start of the anthem but stood in unison once it began. On the Miami Dolphins' sideline, three players were on one knee during the singing of "The Star-Spangled Banner."
The Titans' Jurrell Casey, Wesley Woodyard, Brian Orakpo and DaQuan Jones raised a fist while Tennessee wide receiver Rishard Matthews was not on the field for the anthem. He came out of the tunnel after it ended. Nine Browns players, including LB Christian Kirksey, raised their right arms with closed fists.
"I don't care what the President said. That has nothing to do with me," Cincinnati defensive back Adam "Pacman" Jones said after the Bengals beat the Browns 31-7. "Personally, I have people who have been in the Army, that has been over to Iraq, so I have a great deal of respect for the flag. Last week we stood for the flag. We joined arms because the (b——-) was going on, but there was not a person in here that wasn't standing for the flag or standing for the soldiers who have put in numerous hours of work to make sure we are at home safe."
Rams outside linebacker Robert Quinn also raised his right fist before the Rams-Cowboys game. Punter Johnny Hekker had his arm around him.
The Colts tweeted a statement from their players explaining why kneeling is not meant to be disrespectful of the flag.
The Pittsburgh Steelers, as promised, stood on the sideline during the national anthem after watching from the tunnel last week in Chicago. With the exception of center Ryan Jensen and guard Matt Skura, the Ravens all took a knee on the field before the national anthem and received boos from many in the crowd. The team then stood on the sideline after the music started.
"We ain't deaf! We heard the Booing before the game. But we're suppose to care," Ravens safety Ladarius Webb said in a tweet.
The Cowboys returned to their usual pregame configuration: all standing along their sideline, but without arms linked. Last week Dallas kneeled in unison before "The Star-Spangled Banner" then stood, arms linked for the song.
Marshawn Lynch was on the only player who didn't stand for the national anthem prior to the Denver Broncos' game against the Oakland Raiders. Last week, 32 Broncos knelt and almost all of the Raiders sat on their bench during the anthem.
The 49ers were at the center of the anthem protest issue a year ago, when quarterback Colin Kaepernick started it in response to police brutality and racial injustice. Safety Eric Reid joined him and had become a vocal leader in the movement.
San Francisco followed that up with its own demonstration against the Cardinals on Sunday.
"As the majority of us have done throughout our careers, we use our platform as members of a NFL team, and our right to freedom of expression, to speak up for those whose voice is not heard," the team's statement said. "It is important that we continue to emphasize that despite our different backgrounds and beliefs, we still love each other and are truly a brotherhood. Our gesture today was an intentional effort to demonstrate that."
___
AP sports writer Tom Withers in Cleveland contributed to this story.
___
For more NFL coverage: http://www.pro32.ap.org and http://www.twitter.com/AP_NFL