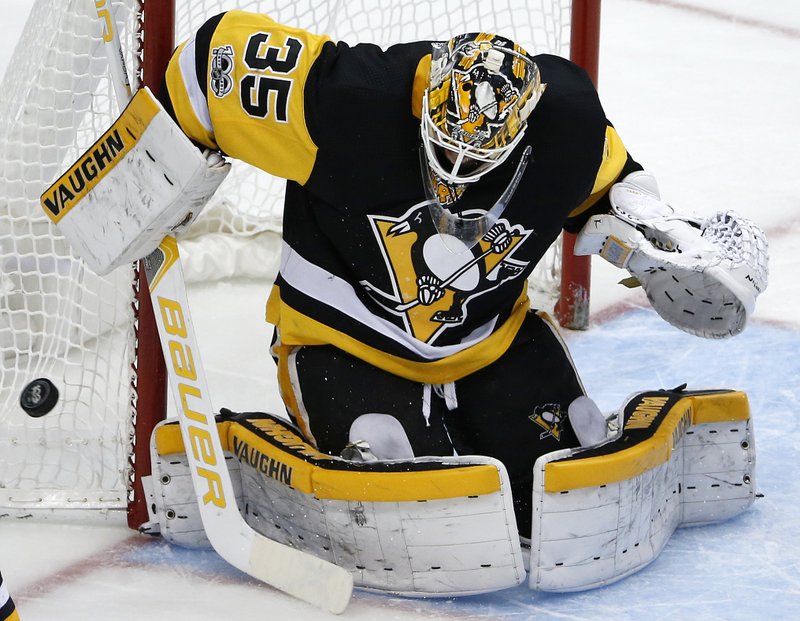 PITTSBURGH (AP) — Jim Rutherford knows what it's like to be a young goaltender trying to find his way in the NHL. Rutherford went through it with the Detroit Red Wings in the early 1970s, thrust into action at 21 years old with a franchise in the middle of a bumpy transition.
Yet that's where the comparisons end between Pittsburgh's general manager and the two young men who will play a major role in determining whether the Penguins can become the first team in more than 30 years to win three straight Stanley Cup championships.
Matt Murray and Tristan Jarry, both 23, have everything Rutherford didn't when he broke into the league more than four decades ago, from a true position coach to copious amounts of technology at their fingertips to the kind of advanced training techniques (both mental and physical) that Rutherford believes has the NHL's youngest goalie tandem in position to play a vital role in Pittsburgh's pursuit of history.
The dark ages of the '70s – when goaltenders were typically left to sort things out on their own – this is not.
"You didn't really think about it (back then)," Rutherford said. "You let in bad goals or have bad games, you were kind of on your own and you had to work your way through that. Now these guys have a lot more things to help (them)."
Beginning with Mike Buckley, who began working with Murray and Jarry when they were teenage prospects and has meticulously overseen their rise from draft picks to NHL starters. Buckley spent four years as the franchise's goaltending development coordinator before replacing Mike Bales as goalie coach shortly after Murray backstopped the Penguins to a second straight Cup last spring.
"You win two championships and make a change, it kind of seems a little odd," Rutherford said. "But Buck has been the guy that's developed both these guys right from the start, so it just made sense that he would move in."
Other youngsters are shouldering the burden, too, including 24-year-old Connor Hellebuyck in Winnipeg (16 wins, 2.44 goals-against average), 23-year-old Andrei Vasilevskiy in Tampa Bay (leads league in wins) and 24-year-old John Gibson in Anaheim (an All-Star last season).
But it's Pittsburgh at the forefront of a goalie youth movement that runs counter to how things usually work in the NHL. While it's not unusual for a team to invest in a young goaltender, there's typically a proven backup at the ready just in case things go awry, one of the reasons the average age of an NHL goalie is 29.
That initially was the plan this season for the Penguins.
Pittsburgh brought in Antti Niemi to play behind Murray after trading Marc-Andre Fleury to expansion Vegas in June. When Niemi stumbled through a handful of forgettable starts and was released in October, Rutherford didn't scour the waiver wire or the trade block. He called the team's American Hockey League affiliate in Wilkes-Barre/Scranton and told Jarry and 26-year-old Casey DeSmith to pack their bags.
"It's one of the things that they have a timeline and they know when you're ready and if they think you're ready, they'll bring you up to play," said Jarry, who is 9-5-2 with a respectable 2.49 goals-against average this season. "I think that's one of the great things about Pittsburgh over the years, they saw when Matt was ready and what he could do and I think that was one of the stepping points in helping them win those Stanley Cups."
All Murray did as a 21-year-old in the spring of 2016 was unseat the popular, occasionally erratic Fleury, taking over midway during Pittsburgh's playoff run and leading the franchise to its fourth Cup. By last spring Murray was the entrenched starter, though Fleury filled in admirably during the first two rounds of the postseason while Murray recovered from an injury.
Yet it was Murray, and not Fleury, who was on the ice as the Penguins surged past Nashville in the 2017 Cup Final. It was Murray, not the now 33-year-old Fleury, whom Pittsburgh chose to keep last summer. And it was Jarry the Penguins stuck with when another injury recently shelved Murray for a couple of weeks.
The Penguins say their young goaltenders have considerable mental toughness, a must when playing on a team with so much offensive firepower in superstars Evgeni Malkin and Sidney Crosby that playing responsibly in front of its own net occasionally gets lost in the wash.
"It's not always about technique and having your stick in the perfect position all the time," Buckley said. "Sometimes it's about putting them in a position where they have to compete and battle and stay clear mentally and stay confident and put them under duress, very much like a Navy SEAL undergoes training."
That includes things like breathing techniques they can call on during particularly stressful moments or when they're just sort of standing there while their teammates are dominating at the other end of the rink. The tough part is getting them to do it nightly during a sprawling six-month regular season followed by what they hope is a two-month slog through the playoffs.
"I think the biggest challenge is finding consistency because they're so young, they're still learning because they're so young," said Buckley, who worked with Los Angeles star Jonathan Quick and Boston goaltender Tuukka Rask early in their careers. "There's a lot of ups and downs, even for an older goalie, but for a younger goalie it's more exaggerated."
Pittsburgh's offseason choice will come into stark relief on Thursday when the Penguins visit Fleury and the surprising Golden Knights. Moving on from Fleury was difficult but pragmatic. The kids can play.
"To be honest with you we don't really have a choice," Buckley said. "We've embraced that challenge … we'll be better in the long run for it."
GAME OF THE WEEK
Let's stick with the Penguins theme here. Six months after teaming up to help Pittsburgh lift the Cup, Murray and Fleury will likely be on opposite ends of the ice Thursday night when the Penguins visit Vegas. Both have dealt with health issues this season. Fleury missed two months while dealing with a concussion while Murray was activated off Injured Reserve on Tuesday after recovering from a lower-body injury.
LEADERS
Goals: Alexander Ovechkin (Washington), Nikita Kucherov (Tampa Bay), 21; Assists: Steven Stamkos (Tampa Bay), Jakub Voracek (Philadelphia), Blake Wheeler (Winnipeg), 30; Points: Stamkos, Kucherov 42; Wins: Andrei Vasilevskiy (Tampa Bay), 20; Goals-against average: Aaron Dell (San Jose), 1.72; Save percentage: Dell, .939
___
More AP hockey: https://apnews.com/tag/NHLhockey