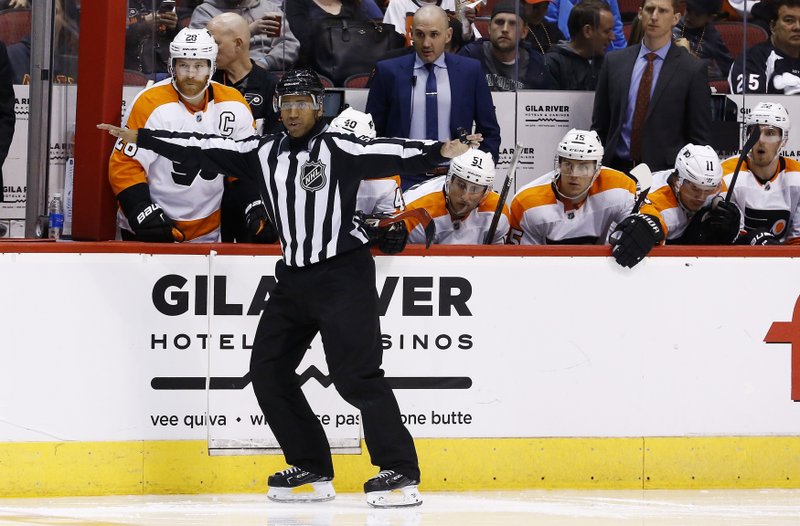 Shandor Alphonso never envisioned his hockey career taking him to officiating. He didn't have to look far to see it was possible.
As a young, Black player, all Alphonso had to do was watch "Hockey Night in Canada" or the Stanley Cup Final and he saw fellow minority Jay Sharrers working as a linesman.
"To be able to see someone who kind of looked like me working at the biggest stage of his job, it was unreal," Alphonso said.
The 34-year-old Alphonso is the NHL's only African-American official, and Calgary Flames assistant Paul Jerrard is the league's only Black coach. With the sport's expansion to some nontraditional markets across the United States, there are almost two dozen Black players in the NHL, but Sharrers, Alphonso and Jerrard serve as inspiration for more to follow into positions of authority.
"I think it's an evolutionary process," said Sharrers, who recently retired. "It's definitely moved slowly, but I think when you just look at the amount of Black players that are now in the league and the fact that that has increased, it would stand to reason that hopefully the opportunity for officials would present itself."


Sixty years after Willie O'Ree of the Boston Bruins broke the color barrier as the NHL's first Black player, the league is still taking steps to increase its diversity. Alphonso is an ambassador for the "Hockey is for Everyone" campaign this month, which is Black History Month.
Sharrers acknowledged the expense of playing hockey has been a hurdle for minority children for years, but said he is optimistic that more will not only lace up their skates but move into other roles.
"It just stands to reason that that would be a natural progression, that there would more officials of color," Sharrers said. "The league has been very proactive since they partnered with Willie and created the diversity taskforce almost 20 years ago to expose and to present to people of color that hockey is a great game and it's a viable opportunity."
Opportunities have existed for minorities to get into coaching and officiating, though the majority have ended up as goaltending coaches like former NHL goalie Fred Brathwaite. Jerrard played five games in the NHL and then went into coaching, where he's a visible role model — even if that's not a role he was looking for.
"I'm just another coach who's trying to do a good job in the league and stay in the league," said Jerrard, 52, who has been an assistant with the Colorado Avalanche, Dallas Stars and Flames along with several American Hockey League teams. "I guess I am now in a little bit of a position of a role model, but my drive to be a role model isn't due to the color of my skin. It's just the way I wanted carry myself as a human being, the way I want to be looked at: doing the right thing and working hard."
Jerrard hopes kids seeing minorities on the ice playing or officiating or behind the bench coaching shows that "if they're skilled, driven and passionate, there's an opportunity for them."
That's what happened for Alphonso, who knew he wasn't going to make it to the NHL as a player and wanted to stay in the game. He thought to himself, "If Jay Sharrers can do it, I could do it" and followed him up the ranks.
Now Alphonso is the one kids can look up to, and Sharrers — who became the NHL's first black referee in 2001 — believes his younger counterpart can have an even bigger impact.
"Being that his skin is a lot darker than mine and I'm very light-skinned, it wouldn't register necessarily with someone unless they knew my background to know that I was a person of color," Sharrers said. "I think for him having both parents being Black and being much more of a visible minority, if you will, I think that's definitely a role that he will now assume."
Alphonso welcomes that position and would love to one day meet a fellow official he inspired to go that route.
"It's huge for younger kids to see there are way more things to hockey than just being a hockey player," Alphonso said. "That's hopefully what we can inspire these kids to do and get them more involved with the game down the road."
___
Follow Hockey Writer Stephen Whyno on Twitter at https://twitter.com/SWhyno
___
For more NHL coverage: https://apnews.com/tag/NHLhockey