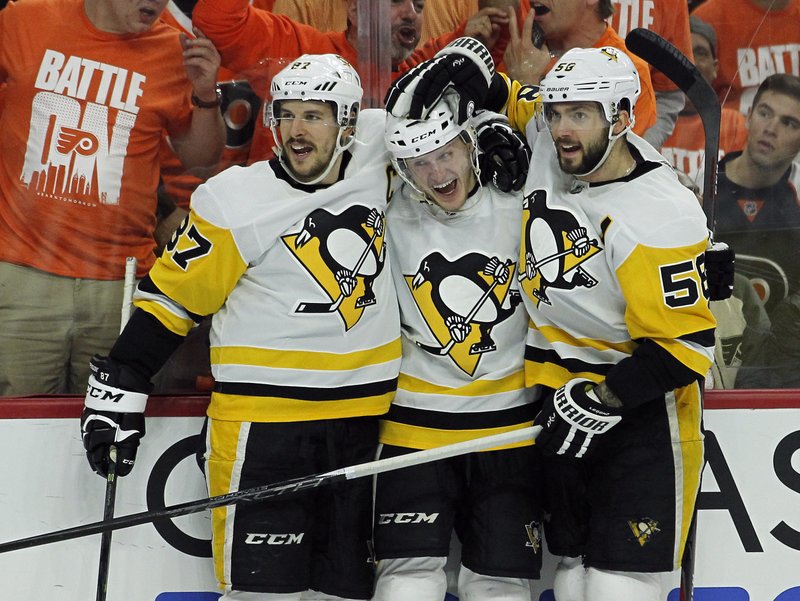 P

HILADELPHIA (AP) — Sidney Crosby tormented the Flyers just as he has from the start of his NHL career. Kris Letang and Evgeni Malkin were clutch when needed in pivotal games. And Matt Murray? Oh, just two shutouts and the type of outings that show more zeros on the board are possible in the second round — and maybe, beyond.
But with the game on the line and facing a Game 7 on home ice where they already lost twice, the Pittsburgh Penguins turned to a blossoming postseason star to lead the way.
Jake Guentzel was just the player to bail out the Pens.
He scored the tying and go-ahead goals in Game 6, then scored two more — all four in succession — to put the game away and lift the Penguins to an 8-5 Game 6 victory over the Philadelphia Flyers on Sunday.
The Flyers are headed home, as usual, with a Stanley Cup drought that dates to 1975.
The Penguins are nestled in a familiar spot, in the second round for the 11th time in the last 12 seasons.
But a bigger prize looms for the Penguins — a third straight Stanley Cup. The Penguins have won nine straight playoff series, which ties a franchise record and are the most in the NHL since the Detroit Red Wings also won nine from 1997 to 1999.
The New York Islanders are the last team to win 10 straight, in fact, they won 19 consecutive postseason series (1980 to 1984) that included four Stanley Cup championships.
Now comes the hard part.
Pittsburgh has reached the same round as the last three teams going for a threepeat (1989 Oilers, 1993 Penguins, 1999 Red Wings) — and all three lost in the second round.
The Penguins say, bring it on.
"Things are never going to always go your way, especially in the playoffs," Murray said. "We got the job done. This time of year, it doesn't matter how, it just matters that you get the win."
Crosby had a hat trick in Game 1 and matched a postseason-high with four points in a Game 3 win in the Philadelphia arena where fans stuck his photo on the inside of urinals.
He shook it off — as if he was ever bothered by the activity — and scored six goals and had 13 points in the series.
"Sid loves to compete. When he goes to hostile environments, he's at his best," coach Mike Sullivan said. "He's a high-stakes player. He has 'it'. 'It' is what helps you perform in those big moments. It's hard to explain 'it'. You know 'it' when you see it. Sid is one of those guys."
Crosby has been the dominant and reliable Penguin over the course of a career that includes three Stanley Cups. But this season brought new challenges to the franchise.
The Penguins have crafted a new identity after the departures of Chris Kunitz, Marc-Andre Fleury, Nick Bonino, Trevor Daley and Matt Cullen, all vital pieces of Pittsburgh's 2016 and 2017 titles.
"I think we have a bunch of capable guys that can play for us here. It's kind of the next man up and the guys did a great job," Guentzel said.
Sure, four goals is a bit ridiculous, but Guentzel will need to be a key contributor again especially if Malkin isn't ready to go.
Malkin, who scored three goals in five games, sat out Game 6 with a leg injury. He missed the final four minutes of the first period in Game 5 after Philadelphia's Jori Lehtera fell on it when the two got tangled in the corner. Malkin returned to start the second period. But he was hurt to the point where he sat out Game 6, and all it takes is one nagging injury to slow down the road toward completing the Stanley Cup trilogy.
If he plays or not, there are still enough playoff-tested Penguins to keep them rolling.
"We've been through a number of these elimination games over the last couple of years so it's not a surprise to any of us," Sullivan said. "My hope moving forward is we can learn from those experiences and hopefully we have better success."
___
More AP hockey: https://apnews.com/tags/NHLhockey