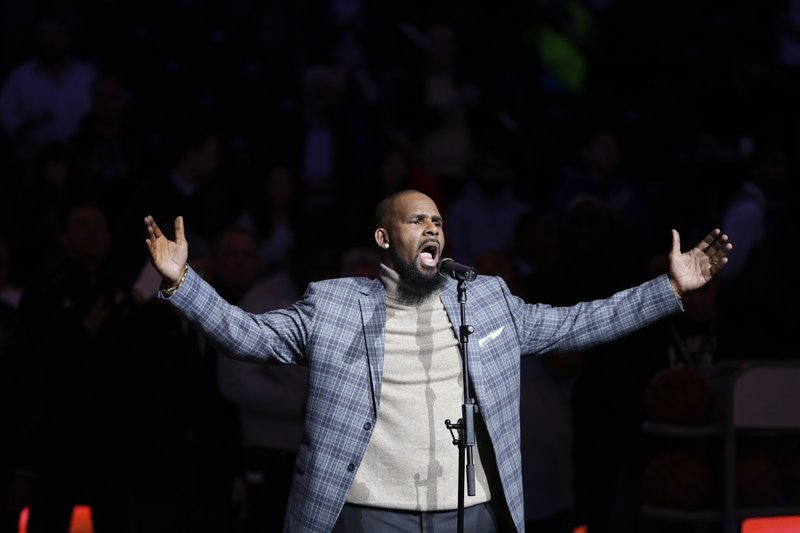 W
ASHINGTON (AP) — R. Kelly says boycotting his music because of the sexual abuse allegations against him amounts to a "public lynching." Bill Cosby's people say his conviction was a lynching, too. Kanye West, in trying to defend his inflammatory comments about slavery, has been tweeting lynching imagery to assure fans he won't be silenced.
The tactical use of lynching references over the past few days by celebrities under fire is generating disgust among historians and others who have studied the ghastly killings and mutilation of thousands of Black people in the U.S. in the 19th and 20th centuries.
"Demeaning" and "reprehensible" were some of the terms used by those observing the use of lynching metaphors, which seems to be happening more often and crossing racial lines.
"It detracts and it takes away from the historical significance of what happened, because there are no comparisons to the way it's being used today and the reality of lynch mobs," said E.M. Beck, a retired University of Georgia professor and co-author of "A Festival of Violence: An Analysis of Southern Lynchings 1882-1930." ″I think it is demeaning to the people who were lynched, and I think in some ways it might be considered to be demeaning by the descendants of those people."
Kelly has been accused of sexually mistreating women and faces demands that he be investigated and shunned. The R&B star's camp responded: "We will vigorously resist this attempted public lynching of a Black man who has made extraordinary contributions to our culture."
In a statement early Friday, the singer said the women in his life are "consenting adults" and that he is not the subject of any criminal investigations by police.
"These accusations being perpetuated by the media is an attempt to distort my character and to destroy my legacy that I have worked so hard to build," Kelly said. "These allegations have created a character of me that is not the truth of who I am nor what I am about."
After Cosby's sexual-assault conviction last week, Cosby spokesman Andrew Wyatt told ABC, "This became a public lynching."
On Thursday, Cosby's wife, Camille, complained that the multitude of accusations against her comedian husband "evolved into lynch mobs." She also likened her husband to perhaps the most famous lynching victim of them all, Emmett Till, the Black teenager who was killed in Mississippi in 1955 for supposedly whistling at a white woman.
West touched off a furor by suggesting slavery was a "choice" for Black people, then defended himself on Twitter by saying: "They cut out our tongues so we couldn't communicate to each other. I will not allow my tongue to be cut. They hung the most powerful in order to force fear into the others."
Hollywood director Ava DuVernay called out Kelly and West for attempting to use lynching imagery to shield themselves and posted descriptions of actual lynchings from the National Memorial for Peace and Justice, a monument to lynching victims that opened last month in Montgomery, Alabama.
"I've had it with @KanyeWest + @RKelly using the imagery of lynching as rebuttals re: their dastardly behavior," wrote the director of "Selma." ″Evoking racial terrorism and murder for personal gain/blame is stratospheric in its audacity and ignorance. This is what lynching looked like. How dare they?"
It is not a new phenomenon. In 1991, Supreme Court Justice Clarence Thomas famously declared he was the victim of a "high-tech lynching" when he was accused during his Senate confirmation hearings of sexually harassing colleague Anita Hill.
The idea has been recycled repeatedly since then. Conservative commentator Ann Coulter branded the sexual harassment allegations against GOP presidential candidate Herman Cain a "public lynching," and a friend of O.J. Simpson said the same thing of the former football star's conviction in a 2007 Las Vegas hotel room heist.
Historians and others have likewise objected to what they see as glib, trivializing comparisons of people and things to Nazis, Hitler and the Holocaust. In what has been dubbed Godwin's law, author Mike Godwin asserted in 1990 that if an online discussion on any topic goes on long enough, someone sooner or later will make a Hitler reference.
Herman Beavers, a professor of English and Africana studies at the University of Pennsylvania, said celebrities and politicians often use "lynching" to mean they have been summarily convicted in the court of public opinion. With all of the deaths behind the word, he said, people should be more careful when they invoke it.
"What makes using the term 'lynching' problematic in these instances is that they diminish the real consequences in Black communities terrorized by anti-Black violence," said Beavers, who will be teaching a class about lynchings and rhetoric this summer.
More than 4,000 Black people in the U.S. were lynched — that is, killed out of racial hatred, usually by a mob — between 1877 and 1950, according to the Equal Justice Initiative. Beavers noted that lynchings often involved hanging, burning, castration or a combination of such torments, and that white crowds sometimes took body parts from the victims as souvenirs.
"Hence, when Thomas or West use 'lynching' to describe the response to their behavior, they are using the term tactically, which, by my lights, is reprehensible," he said.
___
Jesse J. Holland covers race and ethnicity for The Associated Press. Contact him at jholland@ap.org, on Twitter at https://www.twitter.com/jessejholland or on Facebook at https://www.facebook.com/jessejholland. You can read his stories at AP at https://bit.ly/storiesbyjessejholland