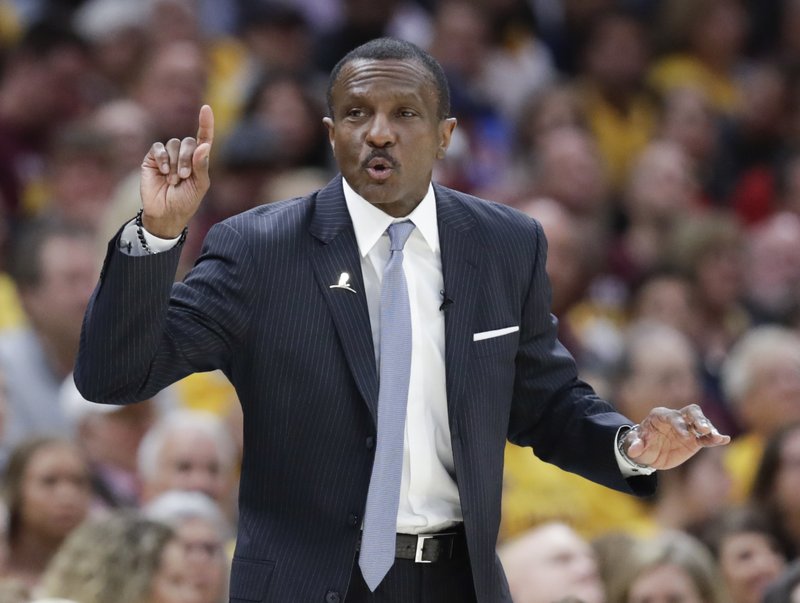 T
he Toronto Raptors' Dwane Casey was the NBA's best coach this season, according to his fellow NBA coaches.
Casey was announced Wednesday as the coach-of-the-year selection by the National Basketball Coaches Association. The award, named for longtime NBCA executive director Michael H. Goldberg, is voted on only by the league's head coaches.
A media panel voted separately for the NBA's Coach of the Year award, which will be announced June 25.
"To be honored by your peers is incredibly gratifying, and I am so thankful to my colleagues across the league for this recognition," Casey said. "I'm also grateful to the talented and dedicated coaching staff I work with every day in Toronto. To be recognized with an award that bears Michael H. Goldberg's name is very special."
Casey won after a season in which Toronto went a franchise-best 59-23 and finished with the No. 1 seed in the Eastern Conference, before getting swept by Cleveland in the second round of the playoffs.
Other coaches who received votes were Philadelphia's Brett Brown, Houston's Mike D'Antoni, Indiana's Nate McMillan, San Antonio's Gregg Popovich, the Los Angeles Clippers' Doc Rivers, Utah's Quin Snyder and Portland's Terry Stotts.
NBCA President Rick Carlisle, the Dallas Mavericks' coach, called the Goldberg award "one of the most meaningful in all of pro sports."
"Dwane Casey once again maximized the Toronto roster to achieve the top record in the Eastern Conference," Carlisle said.
D'Antoni and Miami's Erik Spoelstra shared the NBCA award when it was presented for the first time last season. Casey will receive the award at the NBCA's annual meeting in September.
___
More AP NBA: https://apnews.com/tag/NBAbasketball