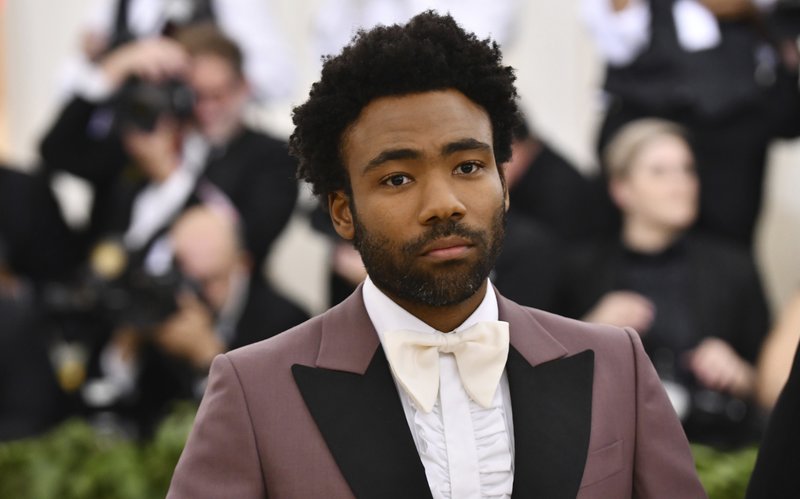 W
ASHINGTON (AP) — It's been called a moving testament to modern times and an unflinching exploration of the wretched past experienced by African-Americans.
Donald Glover's "This Is America," a music video that depicts gun violence amid a mélange of racism, Negro minstrel shows, police brutality and mass killing, not only touched off a national debate, it affirmed Glover's place in the pantheon of artists who reveal uncomfortable truths about race through their work.
"The themes ain't new but this brings it into fresh (but dark) light," author and pop critic Luvvie Ajayi said Sunday in her online column. "It turned the mirror on this country and said 'see your life.' It is a read, an indictment and a challenge."
This terrain is not new for Glover either. Through his award-winning FX show "Atlanta," which has gotten critical acclaim for its portrayal of Black Southern life, Glover has delved into topics ranging from single parenthood to crime, the pitfalls of fame and recently, youth suicide. As his musical alter-ego Childish Gambino, Glover performed "This Is America" last weekend while serving as guest host of "Saturday Night Live." He released the video around the same time.
Glover also has been outspoken about his career arc. As "Saturday Night Live" host, he joked about being turned down for the SNL cast in the past despite his many talents.
After his "Deadpool" TV project was scrapped earlier this year, Glover took executives at FX and Marvel to task by releasing a fake Deadpool script in which the main character wonders whether racism was why the project was killed. He later deleted the tweets with his complaints, including the script.
Still, Glover's star is rising. He's set to appear in two upcoming Disney properties — the live-action Lion King remake and as Lando Calrissian in "Solo: A Star Wars Story."
Lester Spence, co-director of the Center for Africana Studies at John Hopkins University, called Glover's "This Is America" an heir to "Strange Fruit," recorded by Billie Holiday in 1939 to protest lynchings of African-Americans in the South.
There have been others: Nina Simone's "Mississippi Goddam," N.W.A.'s "F— Tha Police," Marvin Gaye's "Mercy, Mercy Me (The Ecology)," Public Enemy's "Fight the Power." But what sets "This is America" apart, Spence said, is that it "functions as an R&B song but also functions as a really, really powerful 'Black' with a capital 'B' commentary."
"I can't think of any other video that deals with American violence in the way that 'This Is America' does," Spence said.
The video's imagery is jarring: Police chases, a black guitar player shot point-blank in the head then dragged away unceremoniously, a Black choir being gunned down mid-song — both times with the weapon treated with kid gloves — all while a shirtless Gambino sings, dances and raps with a smile on his face.
He sings: "Yeah, this is America/ Guns in my area/ I got the strap/ I gotta carry 'em." At the video's end, he appears to be chased by a White mob.
The reactions on social media were swift.
"Donald Glover is a Genius," tweeted singer Erykah Badu, who explored poverty, violence and African-American identity in her 2008 album, "New Amerykah Part One."
Calvin C. Winbush II, who played the murdered guitar player in the video, told REVOLT TV in an interview Monday that he feels the video shows how desensitized America has become to violence against people of color.
"In a matter of seconds, (my character) being shot and taken away was shocking," Winbush said. "We can say that's rude to show that, but this happens for real. 'He shot up the choir? That's crazy.' This happens for real. This is America."
The general consensus was that "This Is America" was a condemnation of gun violence, which disproportionately affects African Americans. Gun violence is the top killer of African Americans aged 15 to 34, according to the NAACP, and blacks are nearly half of all gun homicide victims, while making up only 13 percent of the population.
"There is a direct commentary on the commonness of gun violence and the rush to protect the gun and not necessarily the rush to understand, to mourn, to really engage with the loss of life, particularly in the area of black life," Treva Lindsey, an Ohio State University women's study professor told the AP in an interview. "That is something that is significant here, his drilling down the gun violence conversation distinctly to the loss of black life."
Glover's use of violence, and the reactions to it from mainstream America, bothered some.
Terron Moore, senior director of social media at MTV, said he considered it "traumatizing" to use images of fellow African Americans being killed as entertainment. Many of those who texted him to praise Glover's video as "'amazing' and 'groundbreaking,'" were white, he said.
"I really like the song, I don't hate the video, and I can respect the importance of art reflecting the world we live in," Moore said. "But that … is REALLY happening without anyone putting it in a music video."
___
Jesse J. Holland covers race and ethnicity for The Associated Press. Contact him at jholland@ap.org, on Twitter at http://www.twitter.com/jessejholland or on Facebook at http://www.facebook.com/jessejholland . You can read his stories at AP at http://bit.ly/storiesbyjessejholland