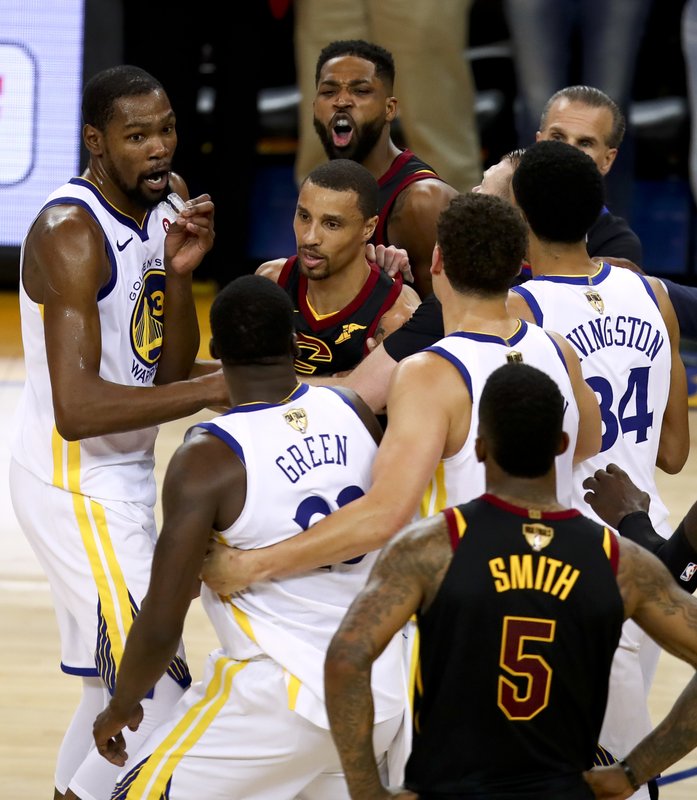 The postgame was weird.
At least Game 1 of what was supposed to be a lopsided NBA Finals was anything but boring. It had a little of everything: A player stumbled and buckled Klay Thompson's knee to send the Warriors' sharp-shooter limping to the locker room in the opening minutes; let Stephen Curry get loose for a 30-footer at the halftime buzzer; grabbed a rebound in the final seconds of regulation with the score tied and inexplicably ran toward midcourt as if he thought the game was over.
And all that was just J.R. Smith.
The opener of this Cleveland-Golden State series should have been memorable for other reasons — LeBron James scoring a playoff career-high 51 points, the Warriors having three players score at least 24 and Draymond Green nearly getting a triple-double. Instead, this game's legacy is an overturned charge call late in regulation, Smith's gaffes, contradictory explanations from Cleveland and hot tempers in the final seconds.
Warriors coach Steve Kerr's assessment? "Lucky."
Cavaliers coach Tyronn Lue's assessment? "Robbed."
Warriors 124, Cavaliers 114, overtime. That's what the box score says and will forever say, and the defending champions are now one step closer to winning their third title in four years. Golden State left Oracle Arena relieved. Cleveland left angered. Those emotions will likely remain in place all the way until Game 2 tips off on Sunday night.
James wants the Cavs to put it behind them.
"We've got to move on," James said. "This game is over and done with."
Easier said than done, particularly with two full off days to now deal with, two full off days to replay everything over and over and over and over and over again.
Let's be clear: The Warriors aren't here because of luck. They have a coach who has won 80 percent of his career games. They have four All-Stars in the same lineup. They have two NBA MVPs.
But they got every break in Game 1. Every break.
Start in the beginning, when Smith slipped and stumbled into Thompson's knee. It had all the makings of some sort of knee structural disaster — the hit came from the side, Thompson twisted awkwardly, went down in a heap and was obviously in immediate, intense pain. Thompson limped away to the Warriors' locker room for evaluation.
He was back in a few minutes. Big break No. 1.
"I'm happy it's just a muscle that got strained," Thompson said.
Then came the final seconds of the first half, Cleveland having a foul to give. Smith would have been best served hugging Curry to make sure no shot got off. Instead, Smith went for a steal — he didn't get it — and Curry turned and coolly buried a 30-footer and sent the teams into intermission tied. Big break No. 2.
"The Finals, man, anything is liable to happen," Curry said.
From his perspective, good things.
From Cleveland's perspective, bad things.
Cleveland led by two in the final minute, poised to steal Game 1, when James stepped up and tried to take a charge against Kevin Durant. Referee Ken Mauer called an offensive foul, but it was overturned after replay review.
"We had doubt as to whether or not James was in the restricted area," Mauer said.
James was well outside the area, and the Cavs didn't buy the explanation.
"I read that play just as well as I've read any play in my career, maybe in my life," James said.
Durant tied the game with a couple of free throws awarded on the call reversal. Big break No. 3.
And with about 4 seconds left in the fourth, George Hill went to the line with Cleveland down by one for two shots. Made the first. Missed the second. Smith got the rebound, and ran away from the basket. Overtime. Big break No. 4.
"He thought we were up one," Lue said.
"I knew it was tied," Smith insisted.
The extra session was all Golden State. The home team left happy. The fans that packed Oracle Arena went home happy. James went back to his hotel to deal with blurred vision (courtesy of what appeared to be an unintentional first-half eye poke by Green), and the Cavaliers were further angered by Shaun Livingston following Golden State policy by taking a shot in the final seconds of a decided game instead of just getting charged with a shot-clock turnover.
"Tonight we played as well as we've played all postseason, and we gave ourselves a chance possession after possession after possession," James said. "There were just some plays that were kind of taken away from us. Simple as that."
Many onlookers thought this series would be a rout, a Golden State coronation.
If the Warriors keep getting every break, they'll certainly be right.
___
Tim Reynolds is a national basketball writer for The Associated Press. Write to him at treynolds@ap.org