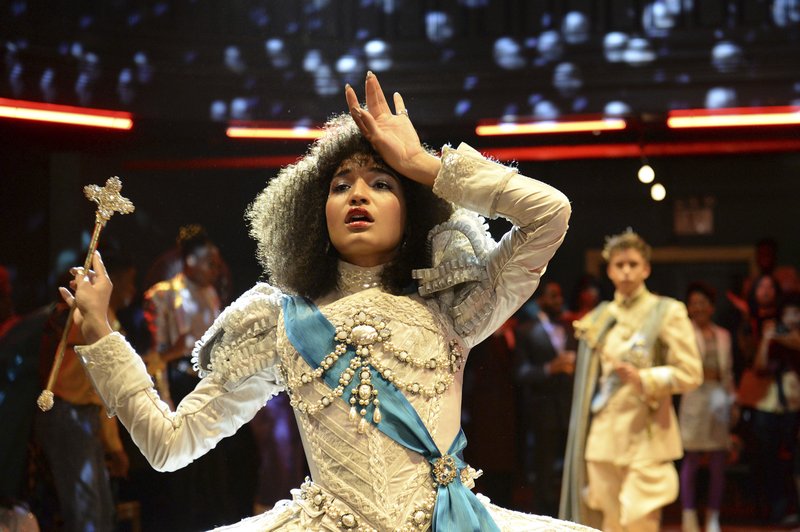 In front of him are members of his fellow LGBTQ community dressed in high-fashion finery, strutting down a runway with fierce glamour and arch confidence as their friends cheer. It is 1987 in a gritty part of New York hit hard by crack and AIDS, and yet this is an act of defiance.
"We are not going to be walking the red carpet at the Oscars but this is our moment to become a star," our aspiring dancer is told by his escort. "Balls are a gathering of people who are not welcome to gather anywhere else."
"Pose," which airs Sundays, dreamed up by newcomer Steven Canals and ushered into production by mega-producer Ryan Murphy, acts as our escort into a world that has never been celebrated on TV before, starring the largest LGBTQ cast ever for a scripted series.
"The fact that this incredible community of Black and brown queer and trans people could find a way to create community and family and survive in the face of poverty and disease and violence just astounded me," he said. "So 'Pose' really came out of not only wanting to write a love letter about New York but also a way to just pay homage to these incredible souls."
Canals, who was born in the South Bronx, came across the balls in his 20s and wrote the original draft of "Pose" in 2014 while working on his master's at UCLA. When he tried to get it made, he faced plenty of resistance from TV executives.
"There were execs who were just blatantly transphobic and racist, who were like, 'The show is too queer, too trans, too black, too brown, it's a period piece, and you don't have a name so no one is ever going to make this.'"
While some of the topics are heavy — drugs, AIDS and even anti-trans bigotry at the hands of white gay men — the creators have built the series on optimism and the universal yearning to create a family.
"It needed to be aspirational and hopeful, because we've never seen people like this occupy space in television, ever. We didn't want to create this bleak, baroque version of New York," said Canals. "And yet we still wanted to be true to the time period. So we made sure that we centered and grounded the narrative in the theme of family and ambition and survival."
The response so far has been very warm. The New York Times called it a "boisterous, resplendent drama," while NBC called it "the best network family drama of 2018." Variety said: "There's simply never been a show on TV quite like 'Pose.'"
The drama contains multiple overlapping stories, including the ballroom rivalry between two houses run by two very different den mothers (Mj Rodriguez and Dominique Jackson). Ryan Jamaal Swain plays the dancer who is thrown out by his parents for being gay and learns about this subculture.
There is also a social-climbing businessman (Evan Peters) who falls in love with Angel (Indya Moore), a transgender prostitute. And there's Billy Porter, winner of a Tony Award for wearing 34-inch red leather boots in "Kinky Boots," who plays the balls' organizer and MC.


Porter, who was studying at Carnegie Mellon in 1987, said he never expected to see his own story on national television. He called it "the greatest job of his life" and hopes people will tune in to open their minds.
"Americans didn't watch 'Will & Grace' because it was about gay people. They watched it because it was good. They watched it because it was great," he said. "If you get an education, so be it. If you don't, it's still great."
If anything, "Pose" is an education into the world and language that would go on to influence Madonna, the seminal 1990 documentary "Paris Is Burning," and "RuPaul's Drag Race." (The slang "throwing shade" comes from ballroom culture.) Fans of the 1980s will also enjoy songs from the era, including Kate Bush's "Running Up That Hill," Whitney Houston's "I Wanna Dance With Somebody" and Chaka Khan's "Ain't Nobody."
Someone who appeared in an early draft of the series but who didn't make the final cut is, of all people, Donald J. Trump. The writers had flirted with the idea of portraying the real estate mogul as a symbol of the greed-is-good Manhattan of the late 1980s. They backed down, but still show Trump Tower, where James Van Der Beek plays a coke-sniffing, amoral executive.
"If we made Donald Trump a character and centered him in that way then it was just going to suck energy from what the narrative is truly about," said Canals. "The reality is that there are still folks who are living in poverty (and) there are still folks who are dealing with the fallout of choices that he has made."
___
Online:
http://www.fxnetworks.com/shows/pose
___
Mark Kennedy is at http://twitter.com/KennedyTwits