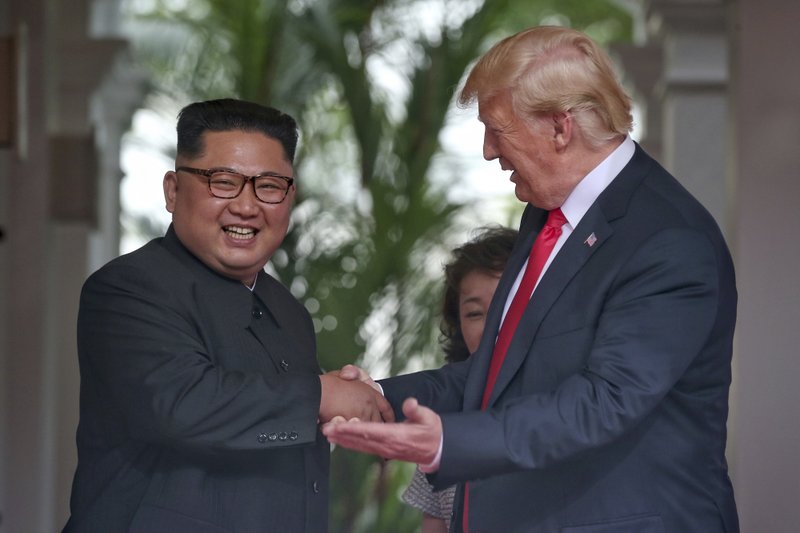 To probably even his own surprise, he got that and a whole lot more.
While offering no solid promises to abandon his hard-won nuclear arsenal any time soon, Kim got to stand as an equal with the leader of the world's most powerful nation, received indications that the future of joint U.S.-South Korea military maneuvers may be in doubt and was showered with effusive praise from a president who just last year derided him as "little rocket man."
If he was forced to negotiate by U.S. pressure, it certainly wasn't obvious. And if any skeptics of the diplomatic campaign he launched with his neighbors early this year remain inside his regime back home, the summit went a long way toward sidelining them even further.
All of this from a 34-year-old leader who was widely written off as too young and too inexperienced to last very long when he assumed power after his enigmatic father, Kim Jong Il, died in late 2011.
From the start of their meeting, Trump showered Kim with praise, calling him a "talented man" who "loves his country very much."
But more importantly, Trump suggested he would like to end annual military exercises with South Korea — a major, longstanding North Korean demand — and gave Kim lots of wiggle room on the future of his nuclear weapons, replacing calls for an immediate or even a speedy denuclearization process with a virtual shrug that "it does take a long time."
The success of the summit wasn't a foregone conclusion.
Right up until Kim's arrival, North Korea, which may have wanted the meeting even more than Trump, had been palpably nervous.
After pushing back too strongly on Trump administration demands it denuclearize immediately, which prompted Trump to temporarily call the summit off, the North immediately softened its tone to get Trump back on board. To sweeten the deal for Washington, Kim also made a major show before foreign media of the closure of his countries' nuclear test site, returned three American prisoners and announced a unilateral moratorium on further nuclear tests and long-range missile launches.
But North Korea's confidence began to show almost as soon as Kim arrived in Singapore on Sunday.
Though its state-run media had cautiously reported relatively little on the summit in the months-long run-up, it opened the flood gates after he touched down in a chartered Air China jet, evidence that he had the full backing of his country's powerful neighbor and economic lifeline. Photos of the arrival covered the pages of the ruling party's newspaper and dominated television news.
Kim's night tour of Singapore on the eve of the summit got an even brighter spotlight in the North Korean media, which aired video of him being received like a rock star by crowds of onlookers. News of the summit itself had not yet been reported in the North as of late Tuesday night. But if the lead up was any indication, that historic handshake with Trump, already seen around the globe, was certain to be the front page of Wednesday's papers.
On denuclearization, the key issue of the summit, Kim appears to have held astonishingly firm. Or perhaps he just wasn't pushed very hard.
Though the leaders mentioned in a joint statement the need for the complete denuclearization of the Korean Peninsula, the wording is ominously vague and, it could be argued, doesn't go any further than the North's previous promises. Whether Trump's claim that Kim is devoted to the process remains to be seen.
And, it's safe to assume, that is just fine with Kim.
He got other gifts from Trump as well.
Along with establishing himself as an equal and reinventing his persona abroad as a "normal" leader of a "normal" nation — he even took a selfie with Singapore's foreign minister that was posted on Twitter, which like all other social media is banned in the North — Kim's primary objective at the summit was to undermine support for international trade sanctions that have long hindered his plans to develop North Korea's economy.
His success on that front seemed almost immediate.
Malaysia, which had cut ties after the assassination of Kim's half-brother at Kuala Lumpur's airport a year ago, is now talking of starting then up again.
And China, the key to any serious sanctions effort? It's also reportedly considering easing its trade restrictions.
___
Talmadge has been the AP's Pyongyang bureau chief since 2013. Follow him on Twitter and Instagram: @EricTalmadge