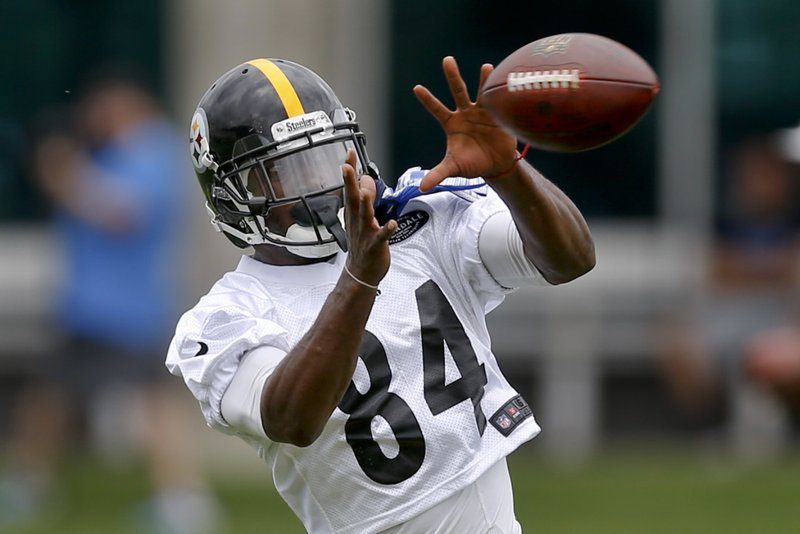 The All-Pro insists he simply felt more comfortable working out back home in Miami, where he could spend time with his five children and escape what he described as the "pressure" he faces from outside forces daily in Pittsburgh.
"I needed that precious time with myself to get my mind right," Brown said Tuesday as the Steelers began a mandatory three-day minicamp.
A move the 29-year-old star called necessary as he prepares for his ninth season. Brown is typically a fixture at the voluntary workouts, where he is usually among the few players in actual football pants instead of shorts.
This spring, however, he participated in the first two days and then jetted off to Florida. The fact that starting quarterback Ben Roethlisberger appeared for the first day of OTAs before taking time off for what he called a planned family vacation was purely coincidental.
"I play with any quarterback, no matter who's here," Brown said. "I play with the Steelers. It's not one guy that I (catch passes from)."
Brown dismissed any insinuation that he left OTAs because he didn't want to work with the second or third string. He also expressed frustration with media for asking other players to comment on his absence.
"You guys making up stories to ask these guys stuff that they shouldn't be dealing with," Brown said. "You know, that's the pressure of being a professional athlete. Everyday scrutiny. Everyday pressure. It's hard to be free."
Brown, however, struggled to be specific about how the attention that comes with being one of the NFL's top players negatively affects him.
The only player to have five consecutive seasons with at least 100 receptions stressed he wasn't calling out Bell when he was questioned last month about Bell's decision to stay away from the team while waiting to sign his franchise tender.
"You guys paint me a picture to talk about Le'Veon," Brown said. "I'm not involved in Le'Veon's business or his contract. You guys write about it and say 'Oh, AB says to show up.' I just say 'The first rule of getting better is show up.' I didn't say he got to show up. He's got his own business."
The comments by the NFL's highest-paid wide receiver are a bit at odds with the persona he's cultivated during a career in which he has evolved from a sixth-round pick to a perennial Pro Bowler. His 
Instagram feed
 is updated multiple times a day and gives 2.4 million followers access to workouts, highlights, video of his children running track meets or artsy cuts of the multiple Rolls Royces in his driveway.
Lately, though, the posts have taken a different turn. Last week, he called out former offensive coordinator Bruce Arians for labeling him simply as a "special teams guy" and even tweaked coach Mike Tomlin for benching him in favor of Emmanuel Sanders during his rookie season in 2010. Pressed for an explanation, Brown hinted he's tired of toeing the company line.
"I think you've got to start expressing those things that year by year that you go through to get them out of your head," Brown said. "I think the more you bottle stuff up and you're not aware of expressing yourself, that's when these players have problems."
Brown's work ethic has never been in question. As his profile has risen — he's one of the league's most marketable players and his exuberant touchdown celebrations have taken on a life of their own — he's attempted to give longer glimpses into the regimen that's made him one of the most prolific receivers of his generation. Those posts continued even as he said he wanted to create more time for himself.
"I took a moment to get my mind right from organized team activities," Brown said. "It wasn't even like serious. It's not even mandatory. It's volunteer."
Brown is no longer concerned about his stats but the number of titles he's won, which remains at zero. It's the one thing left on his career checklist and the one he feels his career will be judged by. That remains his sole focus even as he lives in a fish bowl of which he's been a willing architect.
"The game requires a lot of mental happiness and the older you get the more you start thinking about the things that are important," he said. "I've got five kids, a lot of family … the only thing left for me to do playing the game is to win a championship. I had to take a little time to spend time with my family and see what's important for me."
___
For more AP NFL coverage: http://pro32.ap.org and http://twitter.com/AP_NFL