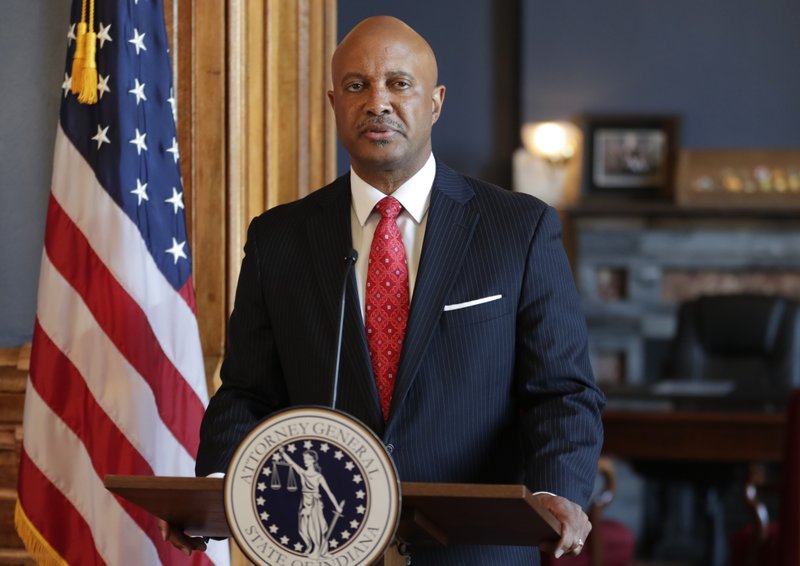 The Republican said during a news conference where he did not take questions that he has been unfairly treated by lawmakers and the media, and stands "falsely and publicly accused of abhorrent behavior."
"These past several days and weeks, my name and reputation have been dragged through the gutter in ways that I would have never imagined. Apparently in this climate the standard is guilty and 'who cares if you're innocent?'" he said from a podium in his office. "A week ago today, I had a name. And I want my name back."
The claims against Hill were made public after an internal legislative memo detailing the allegations was leaked to the media last week. In it, a state lawmaker and three legislative staffers said Hill drunkenly groped them during a March party.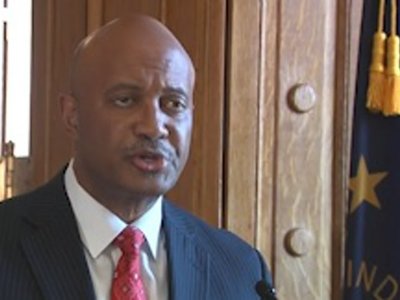 Democratic Rep. Mara Candelaria Reardon and Gabrielle McLemore, the Indiana Senate Democrats' communications director, came forward Friday saying they were among the victims.
Hill called the allegations "vicious and false" and said he looked forward to "the day when I can speak freely and answer questions." He didn't respond to shouted questions about whether he was calling the women liars.
In a statement released after the news conference, Candelaria Reardon fired back, saying that Hill was the one who had lied.
"Curtis Hill, through his actions, has betrayed the public trust and lied about his actions to the very citizens he serves," said Candelaria Reardon, of Munster. "I will continue to cooperate with any and all investigations into this matter until such a time that Curtis Hill is held accountable for his abhorrent behavior."
Rep. Ryan Dvorak of South Bend, a city the neighbors Hill's hometown of Elkhart, also lambasted him.
"The attorney general calls a press conference to cry about not being able to tell his side of the story, then immediately refuses to tell his side of the story," the Democrat tweeted .
Over the past week, Republicans and Democrats alike have ratcheted up pressure on Hill to resign. Democrats were the first to call for him to step down. But 
they were joined
 on Thursday by Republican Gov. Eric Holcomb and GOP legislative leaders, who said that they believe the women.
Hill said Monday that he respects the governor but wished he would have reached out to him "before rushing to judgment." Holcomb spokeswoman Stephanie Wilson said the governor does not have any additional comment at this time.
On Friday, Candelaria Reardon published a column that described Hill's behavior as "deviant" when she encountered him at an Indianapolis bar in the early morning hours after the legislative session ended for the year. She said he leaned toward her, put his hand on her back, slid it down and grabbed her buttocks.
She said she told Hill to "back off," but he approached again later in the night, put his hand on her back and said: "That skin. That back."
McLemore said Hill cornered her at the party and asked, "Do you know who I am?" and proceeded to massage her back, while she worried what others who noticed Hill's unwanted advances would think.
Hill, a staunch social conservative who is married, had been viewed as a rising star in the Republican Party since his election in 2016. The former Elkhart County prosecutor is also an Elvis impersonator who has relished punditry appearances on Fox News.
If Hill doesn't resign, majority Republicans could take action to remove him. Indiana GOP House Speaker Brian Bosma and Republican leader David Long did not immediately respond to an inquiry regarding whether they plan to take action.
___
Associated Press reporter Rick Callahan contributed to this report from Indianapolis.
___
For the latest information on this story: https://bit.ly/2KZnyBj