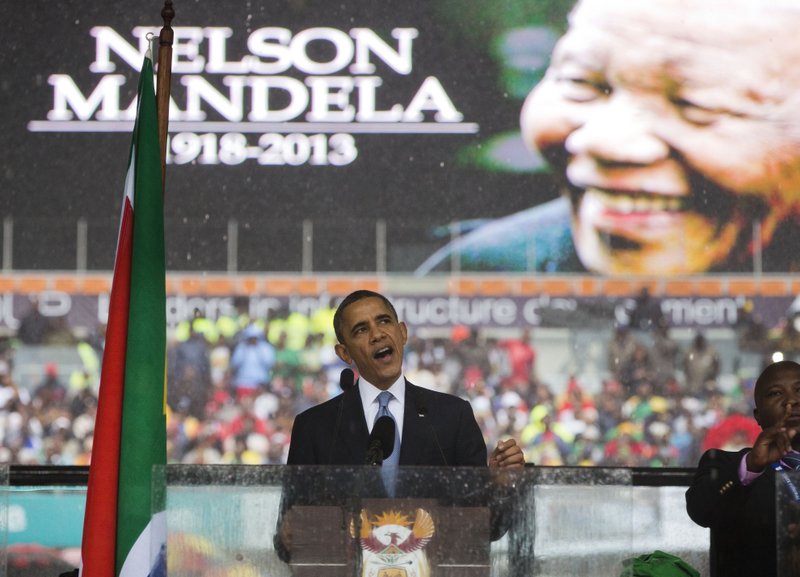 The speech on Tuesday, one of Obama's most high-profile since leaving office, is meant to draw attention to values that today are under threat and to rally people in Africa and elsewhere to push for tolerance and justice. Obama is not expected to make any mention of his successor, President Donald Trump, said Ben Rhodes, Obama's longtime aide and adviser.
"At the current moment we're in, values that we thought were well-established — the importance of human rights, respect for diversity — in many parts of the world those values are under threat," Rhodes told The Associated Press. "Mandela's life is an inspiring example of how we can overcome obstacles to promote inclusive democracy and an equitable society with tolerance of others."
In delivering the annual Nelson Mandela Lecture before thousands of South Africans, Obama is expected to highlight how the Nobel Peace Prize winner, who was imprisoned for 27 years, kept up his campaign against what appeared to be insurmountable odds to end apartheid, South Africa's harsh system of White minority rule.
Mandela, who was released from prison in 1990 and became South Africa's first Black president four years later, died in 2013, leaving a powerful legacy of reconciliation and diversity along with a resistance to inequality, economic and otherwise.
"In the U.S. and around the world, many see recent developments that run counter to Mandela's legacy," Rhodes said. "This will be a globally minded speech, highlighting global trends and focusing on how, in his life, Mandela embodied perseverance. It will be aimed at young people in Africa and also around the world to show that we have been through darker times before and we can overcome these challenges to keep Mandela's vision alive."
Obama, who is in Kenya before coming to South Africa, has shied away from public comment on Trump, whose administration has reversed or attacked notable achievements of his predecessor. The U.S. under Trump has withdrawn from the 2015 Paris climate agreement and the Iran nuclear deal while trying to undercut the Affordable Care Act or "Obamacare."
Instead of commenting on politics, Obama's speech will draw on broader themes and his admiration for Mandela, whom America's first black president saw as a mentor.
When Obama was a U.S. senator he had his picture taken with the newly freed Mandela. After Obama became president he sent a copy of the photo to Mandela, who kept it in his office. Obama also made a point of visiting Mandela's prison cell and gave a moving eulogy at Mandela's memorial service in 2013, saying the South African leader's life had inspired him.
"Mandela was a hero, an example of someone who overcame adversity to achieve significant change," Rhodes said. "The opportunity to speak at the commemoration of the 100th anniversary of Mandela's birth is very meaningful."
Obama also will highlight one goal of his post-presidency, the promotion of young people as future leaders, Rhodes said. His visit to South Africa will launch his foundation's leadership program in Africa.
Two hundred young Africans are in Johannesburg for a five-day workshop to boost their leadership skills. Chosen from nearly 10,000 applications, the participants come from 44 countries, said Bernadette Meehan, the Obama Foundation's executive director of international relations.
The average age of the participants is 31 and they come from the private sector, government and civil society, she said. They are working in Africa in the fields of public health, food security, girls' education, female empowerment, the LGBT movement, human rights, peacemaking, conflict resolution, renewable energy and entrepreneurship.
The Obama Foundation plans to launch similar youth leadership programs in Asia, Europe and Latin America.
"President and Mrs. Obama strongly believe that ordinary people can achieve positive change," Meehan said. "This program is designed to inspire and empower the next generation of change makers."
___
Follow Africa news at https://twitter.com/AP_Africa