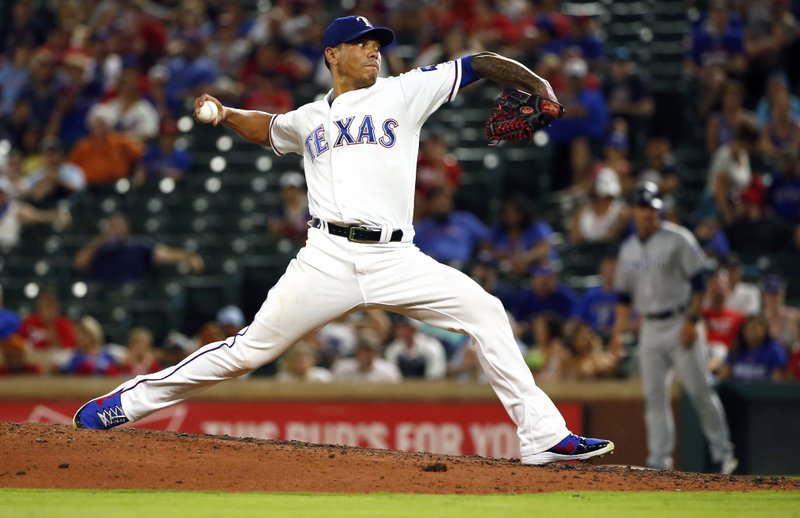 The deal was announced late Monday night after the Rangers' 9-5 win over the Arizona Diamondbacks.
"It was a challenging trade," Rangers GM Jon Daniels said. "Keone has been awesome the last couple years, a dominant closer for us. Ultimately felt where we are, it made sense to consider these kind of deals where we can get multiple players."
The surging Pirates are 3 1/2 games behind Arizona for the final NL wild-card spot, with Atlanta and Colorado also ahead of them in the standings. The Pirates entered Monday with a 4.23 bullpen ERA, 10th best in the NL.
"Kela is an experienced, quality, high-leverage reliever who projects to be a significant addition to our late-game options for the next few seasons," Pirates general manager Neal Huntington said.
The 25-year-old Kela has 24 saves and a 3.44 ERA this season. He will be arbitration eligible beginning next season and will not be eligible for free agency until after the 2021 season.
Kela learned of the deal after being called from the bullpen in the seventh inning Monday night.
"I'm still a little shocked, but I'm excited that it's a new beginning, a new journey that I get to venture into," he said. "Just forever grateful for the opportunity to play here in Texas, all the support from the fans."
Hearn is 3-6 with a 3.12 ERA in 19 starts at Double-A Altoona this year. The 23-year-old left-hander is a graduate of Royse City High School, located about 50 miles west of Globe Life Park in Arlington.
___
More AP baseball: https://apnews.com/tag/MLBbaseball