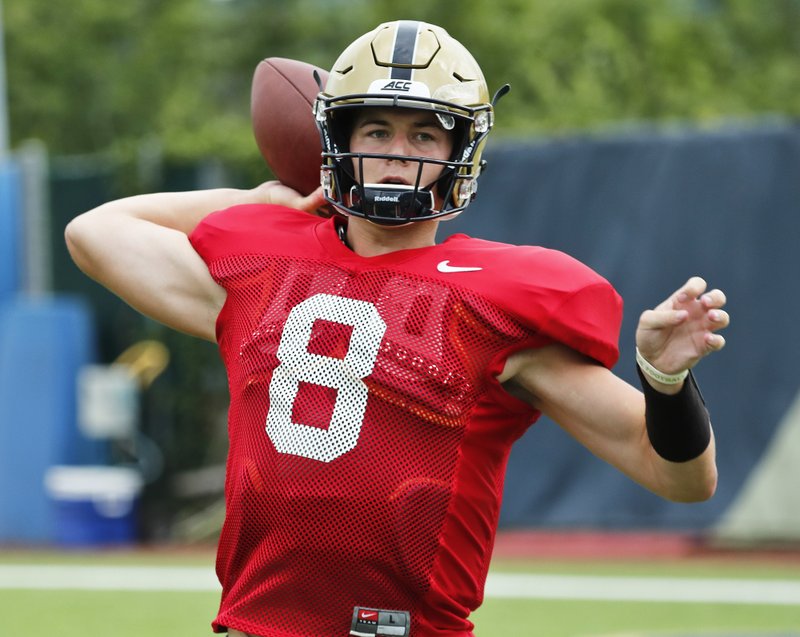 Not as a scrawny 130-pound freshman quarterback growing up in New Jersey. Not when he enrolled early at Pittsburgh in the spring of 2017 as a distant third on the depth chart behind Max Browne and Ben DiNucci. Not last fall, when the losses piled up for the Panthers and Pickett kept running the scout team knowing head coach Pat Narduzzi wanted to redshirt him.
"Every week I (told) myself, I was going to be seen by the coaches because I was tearing up that defense," said Pickett, who enters as season entrenched as Pitt's starter following a dazzling sprint up the depth chart. "And it worked out."
So far. But only so far. And that's the point the sophomore wants to get across.
Yes, his equal parts daring and efficient performance — 253 yards of total offense and three touchdowns — in a decisive 24-14 upset of No. 2 Miami in his first college start last November gave Pitt a serious jolt. The moment was thrilling. The aftermath was not. The cheers at raucous Heinz Field faded. The Panthers packed up their gear and threw it in storage for months after finishing 5-7 and failing to lock down a bowl bid for the first time in a decade.
"There is no pat on the back for beating the No. 2 team in the country when you don't go to a bowl game after that," Pickett said.
Not that there weren't pats to be had. Funny how your Q-rating on campus rises when you turn a naked bootleg on fourth-and-5 into a clinching 22-yard touchdown — finished off by a daring dive to the pylon — with less than three minutes left against a national power that happened to come into the game unbeaten.
Pickett called the experience of getting recognized on the street "humbling." Yet he didn't exactly spend the winter watching the highlights on a loop.
"I think I could have played a lot better that game, to be honest with you," he said. "My standards are higher."
Good thing. Because now so are everyone else's. Particularly Narduzzi, who doesn't view what happened against the Hurricanes as the ceiling for Pickett, but the floor.
Asked how Pickett can top taking down the Hurricanes, Narduzzi was typically blunt.
1"We'll find out on game day," Narduzzi said. "I mean, you know, that bar is up there as far as where he set it against No. 2 Miami and that's what everybody is expecting on September 1. So he's got to come out and deliver that. Anything less than that is probably, you know, everybody is going to be like, 'Oh man.'"
But not Narduzzi, second-year offensive coordinator Shawn Watson or Pickett's teammates.
"We won't worry about it (if he isn't lights out)," Narduzzi said. "We'll go back to work the next week. Kenny is a great kid, great player. He's a leader out there on the field as I've said a hundred times and our team trusts in Kenny Pickett."
Yes, he was remarkably poised under the spotlight. He's still just a sophomore. When he runs out of the tunnel at Heinz Field to face Albany in three weeks, his college resume will include all of 66 passes. There are going to be bumps along the way, particularly with an opening seven games that includes run-ins with Penn State, Central Florida and Notre Dame.
It's why Pickett is up at 6:30 a.m. and in the team facility 20 minutes later. There are very few seconds wasted over the next 15 hours. Practice. Recovery. Film. Meetings. More film. A meal or two.
"It's a long day, but you love to do it," Pickett said. "It'll pay off Sept. 1."
Pickett speaks with a tone that treads carefully to make sure he stays on the right side of the line between confidence and arrogance. Senior running back Qadree Ollison is quick to point out the Pickett who held court with reporters for 20 minutes on Thursday is pretty much the same kid who arrived at Pitt 18 months ago, just maybe a little louder.
"He's taken charge," Ollison said. "It's because he knows he doesn't have to take a backseat."
The Division I starting gig Pickett always believed he'd land is his for now and possibly for years to come. Still, he's been around Narduzzi long enough to know his head coach isn't kidding when he says he'll play the best players each week regardless of pedigree or experience. It's one of the reasons Pickett was able to go from the scout team to the first string in the span of a few weeks.
"Any day your job can be taken," Pickett said. "I don't take it for granted at all."
He's hardly running from the pressure.
"I always had high expectations for myself, even when I was 7-years-old," Pickett said. "So it's like I'm welcoming the whole world into my expectations now."
___
For more AP college football coverage: https://apnews.com/tag/Collegefootball and https://twitter.com/AP_Top25