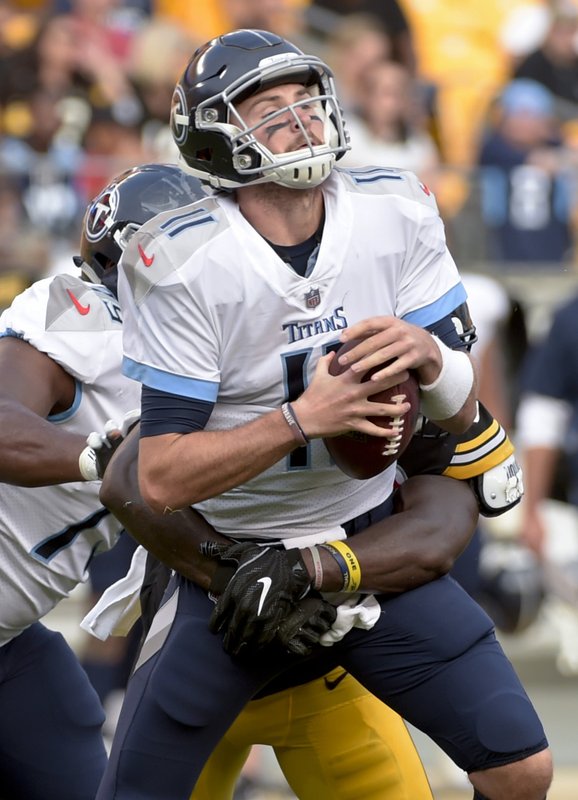 Heyward popped up and turned to the Pittsburgh sideline with his palms raised after picking up his first sack of the preseason early in the second half of a 16-6 victory on Saturday.
Asked if the pose was his way of asking the coaching staff if it had seen enough, Heyward just laughed.
"No, but it was something close to that," Heyward said. "Because I should have got the sack way earlier and I was messing around."
A not uncommon sentiment for the defending AFC North champions. A week after getting pushed around a bit by Aaron Rodgers and the rest of the Packers in a lopsided loss in Green Bay, Pittsburgh's defense responded by limiting Tennessee to 52 yards in the first half and keeping them out of the end zone until well after Heyward and the rest of the first stringers had departed.
Was it the "varsity" football coach Mike Tomlin was looking for? Heyward isn't quite sure. But it's as close as it gets in August.
"We game-planned a lot more this game," Heyward said. "This is something you continue to do as preseason goes along. You start to add more and more. This was a dress rehearsal (but) it was one game. We don't put a lot of stock into it, but just a good showing."
Pittsburgh, which set a franchise record while leading the NFL with 56 sacks in 2017, never let Tennessee quarterback Marcus Mariota get comfortable.
Vince Williams, fresh off signing a new four-year contract last Thursday, took Mariota down in the first half.
So did defensive end Stephon Tuitt as the Steelers mixed and matched their defensive alignment far more frequently than they did in either of their first two preseason matchups.
"We don't show all of our cards, but that's part of the game," Heyward said. "We're putting little tidbits out there, stuff we've been working on. We'll just keep evolving. That's not something we're set with but that's part of the game. We have so many different fronts. Everybody has to be willing to play different spots and we'll be ready to go next game."
Tomlin has stressed the need for better fundamentals during training camp, particularly when it comes to tackling.
The Titans did little on the ground to take some of the pressure off Mariota. Running backs Derrick Henry and Dion Lewis combined for just 23 yards rushing.
"We are just trying to get after it," cornerback Joe Haden said. "We are just trying to make plays. As long as our communication and stuff is right, we have the talent."
Including, Haden believes, on the back end. Rookie first-round pick Terrell Edmunds showcased why the Steelers took him with the 28th overall selection, stepping in front of Mariota's pass late in the second quarter and returning it 30 yards.
Edmunds wasn't focused on his electric pick as much as the resiliency showed by the starters after Green Bay moved the ball with relative ease.
"Last week we took a bad 'L,'" Edmunds said. "We don't want to take any 'Ls' even if it is preseason. It's a big practice. It's a big open practice you could say."
There's one more to go before things start to get serious. The Steelers (2-1) finish up their exhibition schedule Thursday night against Carolina. Heyward and the rest of Pittsburgh's bold-faced names will get the night off.
For rookies such as inside linebacker Matthew Thomas — an intriguing prospect whose speed has caught the attention of the coaching staff and who ran with the starters for a handful of snaps on Saturday — it will be one last opportunity to show Tomlin they're worthy of one of the 53 roster spots. For the starters, it will be one last chance to catch their breath before the real grind begins.
"I think (Saturday) was a good stand for us to be able to have as many defensive players out there and play pretty well," Haden said.
"I think it's just the standard. This is something we want to continue to do and as long as we get more and more reps and everybody is healthy going into the season, we should be fine."
___
More AP NFL: https://apnews.com/tag/NFL and https://twitter.com/AP_NFL