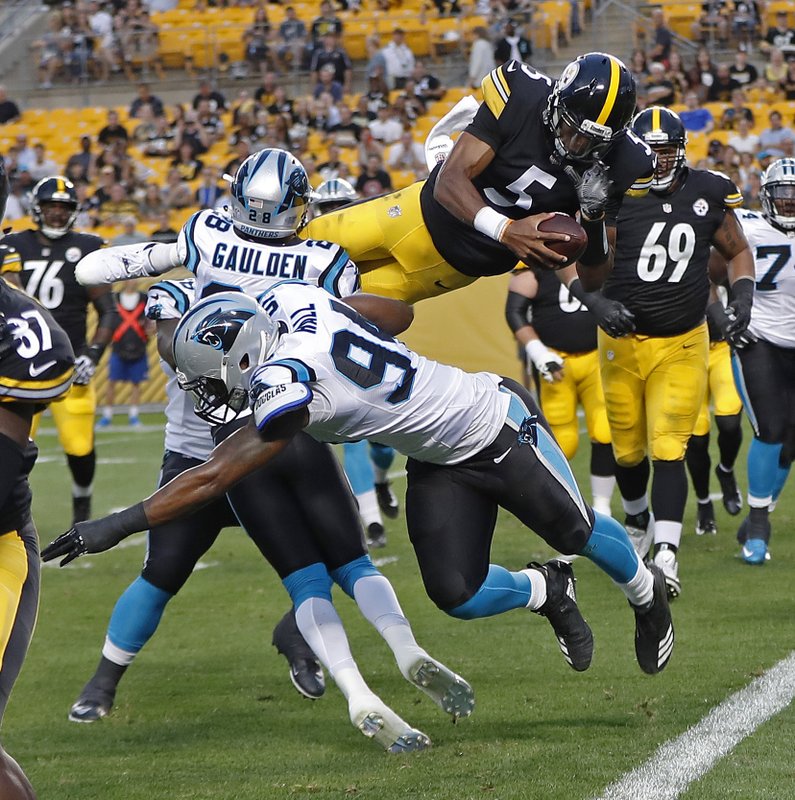 It's a reality Dobbs can live with if he has to. Then again, after throwing for a touchdown and running for another in a 39-24 preseason victory over Carolina on Thursday night, Dobbs made a compelling case to stick around — be it in Pittsburgh or elsewhere in the league.
"I don't really get too nervous," Dobbs said. "I don't really play that game. I know it's a stressful time. I'll just let it play itself out. That's all I can do. I know it's not really in my hands. I feel like I've played well. Played strong."
Dobbs, fighting for one of the backup jobs behind Ben Roethlisberger, vaulted into the end zone for a 3-yard scoring run to cap Pittsburgh's first drive. He added a 27-yard strike to Tevin Jones later in the opening quarter and finished 8 of 12 for 151 yards to cap an impressive training camp.
"I think it's night and day from this season to last season," said Dobbs, a fourth-round pick in 2017. "Just in total command and understanding of the offense and then being able to go out and make plays on the field. Throughout the preseason, I was able to make plays when I was given my opportunity. It shows in my command, I think it shows in my play and in how the offense was able to move up and down the field."
It just might not be enough for Dobbs to stick around.
Dobbs, veteran Landry Jones and rookie Mason Rudolph are all vying for a backup spot behind Ben Roethlisberger. Jones, who has played well while filling in for Roethlisberger over the last three seasons, is likely safe. So too is Rudolph, a third-round pick this spring who came on for Dobbs late in the first half on Thursday and threw for a pair of touchdowns of his own.
The Steelers (3-1) could keep all four quarterbacks when rosters are trimmed to 53 on Saturday, then perhaps deal one of the backups — Dobbs being the best candidate — to add depth elsewhere.
While Dobbs stressed he loves Pittsburgh, he insisted he's not going to lose sleep trying to figure out the various scenarios.
"You have to focus on the task at hand, focus on the process and focus on what you can control and just keep hitting the wall," Dobbs said. "It will break at some point."
CAROLINA'S QUANDARY
The quarterback math isn't quite so complicated for the Panthers (3-1). Taylor Heincke and Garrett Gilbert have spent the last six weeks trying to gain some separation in the fight to back up Cam Newton.
Heincke started the finale and moved the ball, going 7 of 12 for 68 yards and a 6-yard touchdown to Mose Frazier. Gilbert came on in the second quarter and was 4 of 7 for 23 yards. Rookie Kyle Allen played the entire second half, completing 25 of 35 passes for 250 yards and a score.
"I think there are some good things," Rivera said. "It's tough when you are not playing with everybody, but we know that going in, it was going to be tough. And we'll take a look at that and we will evaluate. We'll come to a conclusion in the next couple days."
SWITZER DEBUTS
Pittsburgh wide receiver Ryan Switzer capped a frantic 72-hour stretch by returning one punt for 9 yards and averaging 21.5 yards on two kickoff returns. Switzer — acquired from Oakland on Monday to bolster the Steelers' return game — also saw a handful of snaps at receiver but was not targeted.
INJURIES
Panthers: RB Elijah Hood (lower body) was hurt on the opening kickoff and did not return.
Steelers: S Malik Golden (knee) was carted off the field in the fourth quarter. Golden was also hurt in the 2017 preseason finale against Carolina. WR Damoun Patterson (turf toe), LB Keith Kelsey (pectoral) and LB Olasunkanmi Adeniyi (hamstring) also left with injuries.
ANTHEM
There were no protests by players on either team during the national anthem.
UP NEXT
Panthers: Welcome Dallas to Bank of America Stadium for the season opener on Sept. 9.
Steelers: Open at Cleveland for the second straight season when they visit the Browns on Sept. 9.
___
More AP NFL: https://apnews.com/tag/NFL and https://twitter.com/AP_NFL