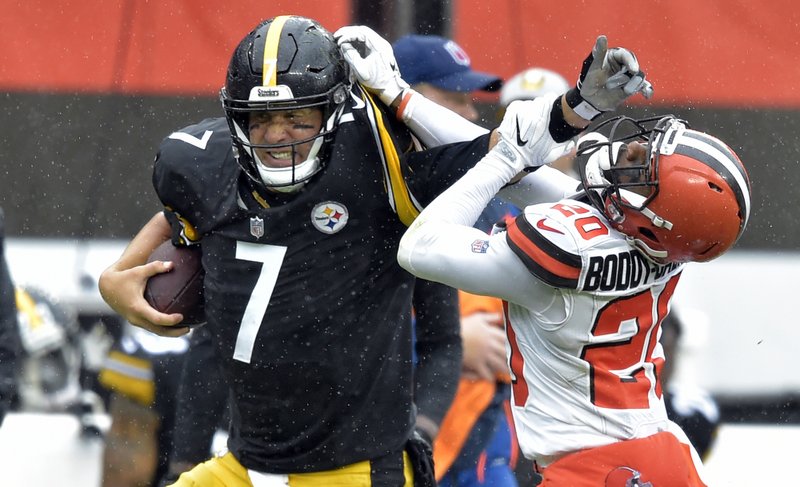 Seventy minutes of flags, fumbles and the occasional fight. Forgive the Pittsburgh Steelers if they're not quite sure what to make of their 21-21 tie against Cleveland in the season opener.
A full day removed, they still can't quite put a finger on how to feel after a 14-point fourth-quarter lead somehow morphed into the franchise's first tie in 16 years.
"Very surreal," guard David DeCastro said on Monday. "I don't think it's really settled in yet. It feels like a wash … It's a very foreign feeling in terms of football. Really hard game all around, kind of hard to describe."
And for the defending AFC North champions, maybe the less said the better.
The Steelers (0-0-1) outgained the Browns by 150 yards and received a breakout performance by running back James Conner, who had 192 combined yards.
They sacked Tyrod Taylor seven times — including four times by outside linebacker TJ Watt, they were also called for a dozen penalties and couldn't hold on to the ball.


Ben Roethlisberger threw three picks and fumbled twice. Conner scored twice, but also fumbled in the fourth quarter to give the Browns all the momentum they would need to start a stunning rally. It also started what the Steelers understand is a familiar cycle once the games start to count. Every Monday, everybody overreacts.
"Win or lose going to get the same questions from the fans, question from the media, they want to frame it every week the same way," said left tackle Alejandro Villanueva, who had trouble keeping Cleveland defensive end Myles Garrett in check on a day Garrett had two sacks and two forced fumbles.
"It is upsetting when you come up with results like Sunday against a team you should potentially beat."
Something the Steelers have done with regularity against the Browns since Cleveland re-entered the league in 1999. Yet instead of the typically raucous two-hour bus ride back to Pittsburgh, the Steelers drove quietly through the remnants of a hurricane trying not to get caught up in the storm.
Getting buried in penalties is nothing new for Pittsburgh, at least early on. They've averaged nearly 10 penalties a game over the course of their past five season openers.
Over time, they tend to clean things up. They have finished in the top 10 in most penalty yards in a season just once since 2013. They believe they'll get better. After becoming the first team in more than 600 days to not beat the Browns, they don't really have much choice.
"There's a lot of things that could have been better," DeCastro said.
Save for the fumble — which came when Garrett expertly punched the ball loose — the play of Conner wasn't among them. Thrust into the starting lineup while All-Pro Le'Veon Bell continues to wait to sign his one-year franchise tender, Conner ran 31 times for 135 yards and two scores and caught five passes for another 57. It was, in many ways, Bell-esque.
Not comes the hard part. Doing it again. And again. And again.
"It's the nature of the game," DeCastro said. "It's a war of attrition."
Bell's locker remained empty on Monday, though Joe Haden's was not. The veteran cornerback underwent an MRI on Monday after tweaking a hamstring on the wet turf in Cleveland. Haden made a brief appearance in the locker room and walked without any visible distress.
Overall, Pittsburgh's revamped secondary acquitted itself just fine. Taylor finished 15 of 40 for 197 yards with a touchdown and two picks, one by Sean Davis and one by Cam Sutton, who replaced Haden. Sutton, however, also gave up a score when Josh Gordon made a spectacular leaping grab at the goal line to tie the game and Artie Burns briefly found himself on the sideline after losing his composure thanks to a little trash talk from Cleveland wide receiver Jarvis Landry.
Burns knows that can't happen moving forward. Then again, neither can a lot of things that transpired on Sunday.
"We've just got to finish the game out," Burns said. "We can't give up 14 points at the end of the game. We've got to close the game out and win the game for the team."
___
For more AP NFL coverage: https://apnews.com/tag/NFL and https://twitter.com/AP_NFL