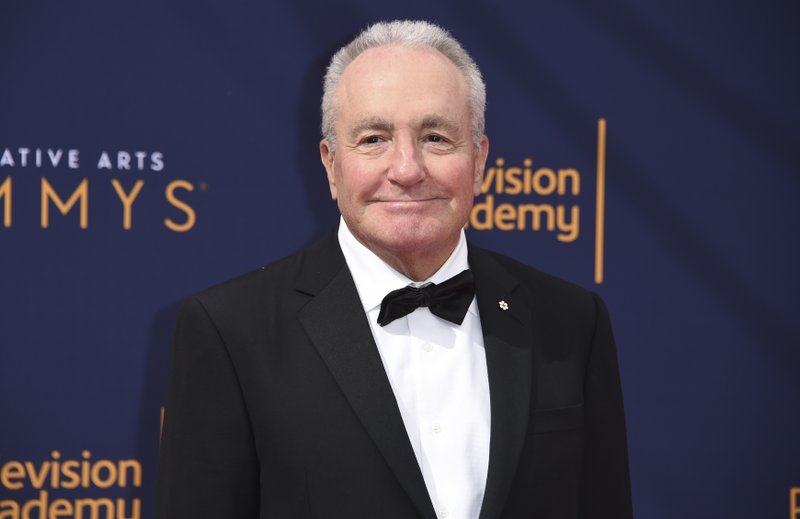 Last year's Emmys drew 11.4 million viewers, a smidge above 2016′s worst-ever 11.3 million. The 2018 Oscars dipped to an all-time low with 26.5 million viewers — still more than double that of its small-screen sibling.
But imagine this: An expert in producing live TV jumps in to invigorate the stale, decades-old Emmy format by orchestrating more laughs, more surprises and fewer trophy presentations capped by giddy yet dull speeches.
(Sorry, that last one isn't going to happen, explanation below.)
The magic could be delivered by "Saturday Night Live" impresario Lorne Michaels, who's producing his first Emmy Awards since the late 80s, back when the top nominees included "The Golden Girls" and "thirtysomething."
The contenders for the Emmys airing at 8 p.m. EDT Monday on NBC are unique and distinctly contemporary, "Atlanta" and "The Handmaid's Tale" among them, but can the tradition-bound ceremony possibly be their equal?


Ken Davenport, a Tony-Award winning Broadway producer ("Kinky Boots," ″Once on This Island"), says Michaels' live-TV resume could give the ceremony hosted by "SNL" faux news anchors Michael Che and Colin Jost what it needs.
"Because of Lorne and the hosts, I think it will have a feeling that something exciting could happen at any moment," Davenport said. "Everyone gets such a kick out of watching 'Saturday Night Live' when a host starts to laugh. … It's just a little bit higher stakes."
Michaels' choice of his "Weekend Update" stars is part of the "SNL" stamp he's giving the night. Kate McKinnon, Tina Fey and Alec Baldwin are among the current and former cast members and guest stars serving as presenters.
The dive into the "SNL" talent pool is reminiscent of Michaels' approach to the 1988 Emmys, which opened with Nora Dunn and Jan Hooks performing as "SNL" characters the Sweeney sisters. The sketch show's Al Franken and Robert Smigel were among the ceremony's writers.
Nominee Tracey Ullman declared them the "hippest" Emmys ever, while a Variety review called the ceremony a "vast improvement" over the 1987 ceremony and briskly efficient but "devoid of humor or emotional wallop."
Michaels, who declined to be interviewed for this story, has certainly upped his game and expanded his creative empire since then, with credits including "30 Rock," ″Portlandia" and Jimmy Fallon's "Tonight Show."
Crown jewel "SNL," entering its 44th season this fall, received 21 Emmy nods this year and holds the record for most-nominated show ever with 252. Its satirical broadsides at President Donald Trump and his allies have delivered a ratings boost and renewed cultural relevance.
It's already a winner this year, claiming seven trophies at last weekend's creative arts ceremony, including one for "SNL" guest host Tiffany Haddish. That ties it with the formidable "Game of Thrones" in the run-up to Monday's main event.
"Lorne Michaels has on speed-dial enough people to make it a really interesting broadcast," said Robert Thompson, a Syracuse University professor and director of its Bleier Center for Television & Popular Culture. "If anybody is positioned to do it, he is. He's from live television and knows how to play to a live audience."
But it's not just TV viewers who matter. Any awards show is tasked with spotlighting the wider industry it represents.
In 2009, the TV academy proposed showing edited acceptances of eight awards given out before the main event to make room for more entertainment, a la the Tony and Grammys, with then-ceremony host Neil Patrick Harris gamely defended the approach as providing "the best show we can to the audience."
But those in the affected — and, let's face it, less-glamorous categories, including writers and directors — pushed back hard. The idea was ditched, and viewers will sit (or not) through 26 awards Monday.
Trying another tack that year to stem an already worrisome ratings slide, the number of nominations slots was increased for top categories including comedy and drama. The hope was to squeeze in more popular fare, but it's still the case that a critically acclaimed niche show such as "Mr. Robot" will be nominated than, say, long-time hit "NCIS."
(Earlier in 2009, a ratings-conscious movie academy doubled the possible number of best picture nominees to 10 in hopes of making room for another blockbuster like "Titanic," which delivered equivalent Oscar viewership. A plan to add a popular film category in 2019 was shelved when critics denounced it as pandering.)
Tom O'Neil, editor of Gold Derby and author of "The Emmys" and an Emmy voter as well, argues for adding nominees to all categories to recognize the so-called "peak TV" flood of streaming, cable and broadcast programs.
"Why not expand each race to 10 or 12 nominees in order to be more inclusive and to please Emmycast viewers who tune in to see their favorites?" O'Neil said. "The TV academy is not adapting fast enough to the modern media scene."
Broadway producer Davenport contends that TV industry members who support an awards-bloated ceremony are missing the point.
"We can go on and on about how awards shows are for recognizing excellence, and they are, but they are an industry's best chance at marketing itself that it will have all year," he said. The Oscars typically feature a splashy opening and are punctuated by performances of the nominated songs, and the Emmys should follow suit by drawing on TV's crowd-pleasing strengths.
"There's more performance on television than there ever has been, with 'American Idol' and 'The Voice' and 'America's Got Talent'" among others, he said. "There's got to be some way to showcase that talent."
Syracuse's Thompson suggests more drastic changes to a Hollywood rite he calls "stodgy" and mindlessly hidebound: "Moses didn't have a third tablet that said awards show had to have a red carpet, an orchestra and bad presenters' speeches."
The Emmys could be approached as a comedy extravaganza, he said, or (possibly said tongue-in-cheek) be held on the "Family Feud" set with Steve Harvey as host.
But like the awards themselves, there would be winners and losers.
"By making the Emmys a really good show, in some ways you've got to sacrifice some of the things that are most dear to the people who are involved," Thompson said.
___
Online:
https://www.emmys.com
___
Lynn Elber is a national television columnist for The Associated Press. She can be reached at lelber@ap.org and on Twitter at http://twitter.com/lynnelber