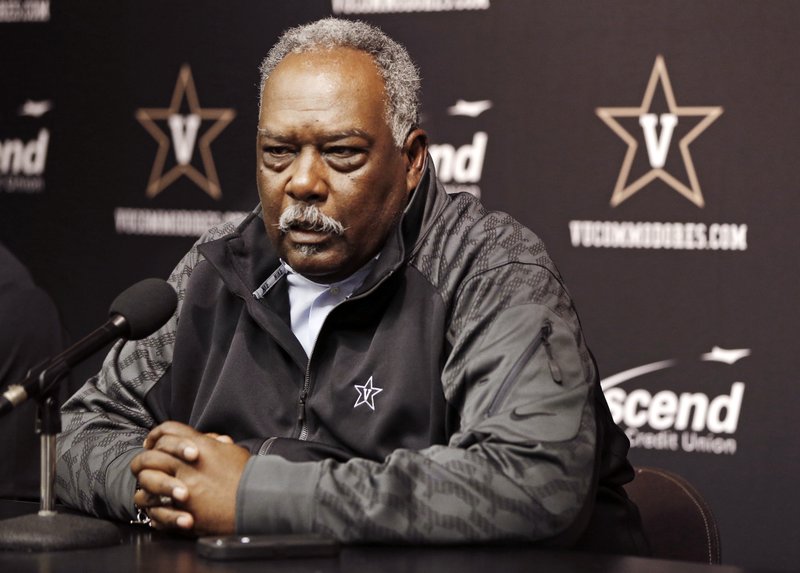 David Williams II, the first African-American athletic director in the Southeastern Conference, announced Tuesday that he has decided to leave his role overseeing Vanderbilt athletics and as vice chancellor. He will stay on as athletic director and vice chancellor until his replacement is hired, then become a full-time law professor. He also is establishing a new Sports, Law & Society program at Vanderbilt Law School.
Williams will leave as the SEC's second-longest tenured athletic director, behind Kentucky's Mitch Barnhart. Williams said he told Chancellor Nicholas Zeppos last October that he wanted to end his tenure as athletic director on June 30 before being persuaded to stay past that date after turning 70 in January.
"I just want them to be able to get somebody that can come in here and keep the ball rolling," Williams told The Associated Press.


Zeppos, chairman of the SEC committee that hired Greg Sankey to replace Mike Slive as commissioner, will oversee the search for Williams' replacement.
"The only challenge will be making sure that the person understands that they're walking into a great university and they're kind of following on the footsteps of someone who is really a giant in our history and in college athletics," Zeppos said.
Vanderbilt was criticized heavily for being seen as giving up athletics in 2003 when then-Chancellor Gordon Gee dissolved the department and put athletics under student life. Williams was Vanderbilt's African-American vice chancellor of student affairs along with being a tenured law professor, general counsel and university secretary. His job overseeing student affairs put him in charge of athletics, which he had worked in while at Ohio State.
Williams, who shed a couple of his jobs in taking the athletic director title in July 2012, will leave his job as AD with Vanderbilt having won four national championships combined in baseball (2014), women's tennis (2015) and women's bowling (2007, 2018), along with the best football success in nearly a century.
"I remember the disbelief that people had," Williams said. "But I knew we could do that. And quite honestly, I also knew that the hardest thing of all of this was going to be football because of the size of it and that this is the Southeastern Conference. So I always thought that we could do these things."
Williams hired both James Franklin , now at Penn State, and current coach Derek Mason in football; Vanderbilt has four wins in the past six years over in-state rival Tennessee. He hired Bryce Drew and Stephanie White in 2016 to coach men's and women's basketball. He has retained Tim Corbin as baseball coach; Vanderbilt's streak of 13 straight NCAA Tournament berths is best in the SEC.
He also helped oversee upgrades to McGugin Center, home to the football program, along with building an indoor football practice facility that also has a track, upgrades to the baseball field, and offices and renovations at Memorial Gym among others.
Williams said his favorite moment as athletic director will be reconciling Vanderbilt with the late Perry Wallace, the first Black basketball player in the SEC. Wallace routinely suffered indignities while playing for the Commodores, both at home and on the road. Vanderbilt retired Wallace's jersey in 2004, and Williams and his family made the first donation to a new scholarship in Wallace's name earlier this year.
"There's a lot of proud moments that I will remember and remember, but I think that's the proudest," Williams said.
There is no set deadline to hire Williams' replacement. Zeppos said he will consult with coaches, athletes and students. How to improve Vanderbilt Stadium, with the last major renovation at the SEC's smallest football stadium coming in 1981, will be part of the discussions in hiring a new athletic director.
"We'll get it right," Zeppos said. "We'll get it right the Vanderbilt way."
___
More AP college football: https://apnews.com/tag/Collegefootball and https://twitter.com/AP_Top25