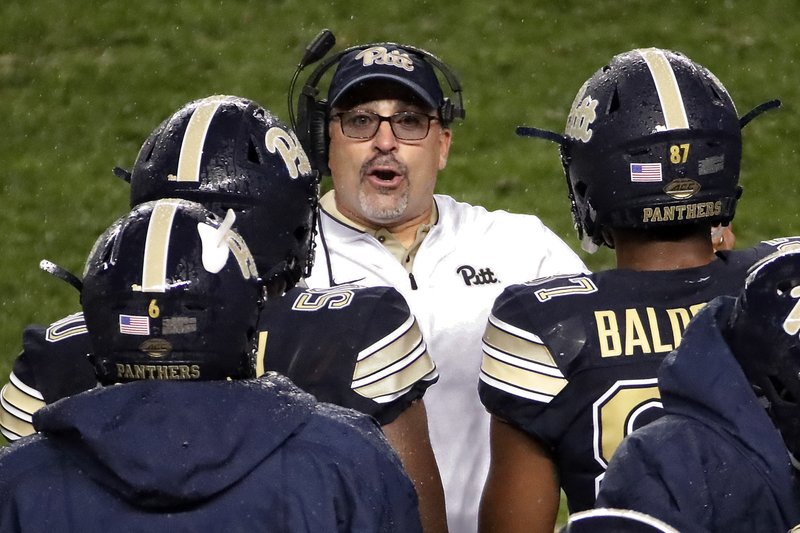 Narduzzi found his name on the list on Sunday after being flagged 15 yards for unsportsmanlike conduct in the first half of a 
sobering 51-6 loss
 to rival Penn State. He apologized to his players and pledged it was a one-time event.
The fourth-year coach hopes he can say the same about the second half the Panthers (1-1) endured while getting drilled by the Nittany Lions, who ripped off the game's final 44 points and didn't let up in the final minutes.
Narduzzi had made it a point to say in the run-up to the 99th meeting between the two schools that playing Penn State is different from any other game on Pitt's schedule. That doesn't mean there's any difference in the emotions after the outcome. The pain he felt Sunday wasn't any different from any of the 17 other defeats he's experienced since taking over.
"They all hurt," Narduzzi said Monday. "I don't care what they are … it doesn't matter."
The goal this week will be translating that perspective — that as difficult and ugly as the final 30 minutes against the Nittany Lions were, there is plenty to play for — to his club this week. Pitt opens Atlantic Coast Conference play on Saturday when Georgia Tech (1-1) visits. Pitt lost each of the last two years the week after facing Penn State, though both times it was to nationally ranked Oklahoma State.
The Yellow Jackets and their unique triple-option provide a different kind of test. Pitt's biggest challenge will be finding the emotional resiliency necessary to bounce back after a miscue-laden final two quarters in which they were outclassed on both sides of the ball.
"Our players didn't respond to adversity, our coaches didn't respond," said Narduzzi, who reiterated that it starts with him.
Maybe, but a little help from the passing game would go a long way. Quarterback Kenny Pickett spent most of the night under heavy duress, took four sacks and passed for just 55 yards, barely half of that (32) to wide receivers. Through two weeks, Pitt is 122nd in the country in yards passing.
Narduzzi made it a point to defend Pickett, offering a reminder that the sophomore was making just his third collegiate start. At the same time, Narduzzi acknowledged there were receivers who were running open at times and didn't get the ball due to either the pressure Pickett faced or his reluctance to let it fly.
"He's a great QB," Narduzzi said. "We've got a lot of faith in him. It's his first time going through something like that."
Still, Pickett wasn't much in the mood for consolation. When asked after the game if things could have been different if the Panthers had scored on a fourth-and-3 from the Penn State 4 late in the first half, he shrugged his shoulders.
"That was a good word you used there. You said 'coulda.' Could of doesn't mean . I don't want to curse in front of you guys, but, could of doesn't mean anything. We've got to come out and answer and be better."
The sooner the better. The next month includes trips to Central Florida and Notre Dame.
"We're not going to measure anything after a game, one game, two games, three games," he said. "You are where you are. Everybody's got goals. Every week this is the most important game."
___
More AP college football: https://apnews.com/tag/Collegefootball and https://twitter.com/AP_Top25