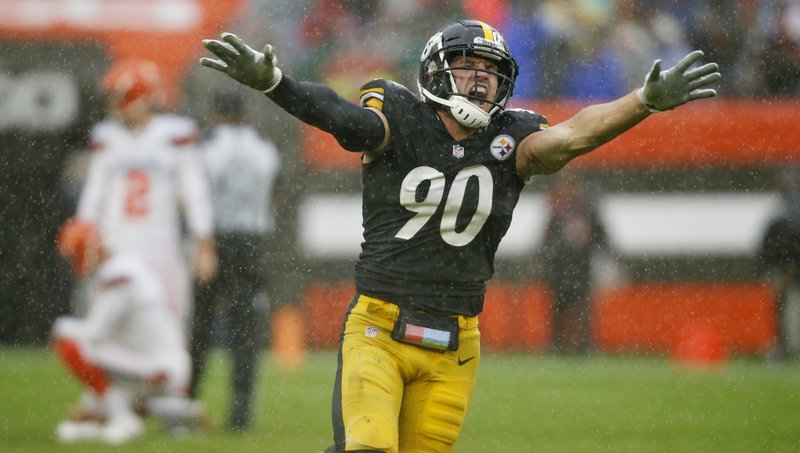 While Watt was steady and occasionally spectacular as a rookie in 2017 for a team that led the NFL in sacks, Dupree has spent much of his first three years in the NFL searching for consistency to justify the first-round pick the Steelers used on him in 2015.
So much for that narrative. Combining for four sacks in five quarters has a way of doing that.
Dupree and Watt looked every bit as aggressive as coach Mike Tomlin envisioned during a season-opening tie in Cleveland. Working almost exclusively from the left side, Watt chased down Browns quarterback Tyrod Taylor three times. Dupree, now attacking from the blind side against right-handed quarterbacks such as Taylor, dropped him once.
"We did a lot of stuff to maximize our potential and opportunities outside and we still had more opportunities to make more sacks we didn't capitalize on," Dupree said. "It should have been more than that."
Dupree estimated he and Watt could have had three or four more if not for Taylor's mobility.
Regardless, it marked an auspicious start from a position the Steelers (0-0-1) placed a significant emphasis on heading into 2018 after opting to exercise the fifth-year option on Dupree's contract.
Freed from the pressure of having to play for a new contract this fall, Dupree — who had 15½ sacks during his first three seasons but had issues being a factor in the pass rush on a weekly basis — could instead focus on taking over at a spot that's been largely unsettled since James Harrison's prime earlier this decade.
Harrison finally moved on after being cut last December and now it's Dupree's turn to use his combination of power and speed against opposing left tackles.
The player who struggled at times against the run had his job responsibilities whittled down in some ways.
Now Dupree's primary goal is to simply get after the quarterback while Watt can use his eyes — and his preternatural football IQ — to quickly dissect what's going on.
"I'm way more comfortable (on the left)," Watt said. "I feel like I can bend more. I'm a stronger player. I can see the quarterback. I can see his eyes. I know what he's thinking better. I'm a very instinctual player. It allows me to see and read the play better."
It certainly looked that way as Watt chased Taylor through the muck, hardly looking like someone who missed most of training camp due to hamstring issues.
He played 85 of Pittsburgh's 89 defensive snaps and even managed to block Zane Gonzalez's potential game-winning 43-yard field goal with 13 seconds left in overtime.
"The switch revealed itself and its skillset," coach Mike Tomlin said. "We'll continue to work. We are going to ask those guys to be versatile and to move around. You nail those guys down as young people, so they can get muscle memory associated with skill development at their positions but as they get older we'll continually move them around. It provides flexibility for us."
Maybe, but Pittsburgh might not want to drift too far away from what worked against the Browns, though Kansas City (1-0) and second-year quarterback Patrick Mahomes will provide a far different test on Sunday when the Chiefs visit Heinz Field.
Where Taylor looks to make plays with his legs, the big-armed Mahomes would prefer to fling it.
"We just got to let him know we're there early," Watt said. "Make him stay in his pocket and make him use his arm strength."
And make Mahomes use it before he's ready.
The Chiefs lit up San Diego for 38 points last week, though Kansas City has long struggled to contain Pittsburgh's pass rush. Steelers linebackers took down former Chiefs quarterback Alex Smith three times in a victory in Kansas City last October, and Harrison produced problems for Chiefs left tackle Eric Fisher for years, including drawing a holding penalty that ended up negating a tying 2-point conversion in the divisional round of the 2016 playoffs.
Now it's Dupree's turn.
"He's a (former) No. 1 pick," Dupree said. "That's what you want. I'm going to go against some of the top-notch guys in the league. … that's what you want, is the best on the best."
A group Dupree is trying to crack even if it's the precocious Watt that seems to be on the fast track to getting there. Not that Watt wants to draw any sort of comparison between himself and Dupree, or anyone else for that matter.
"We've both got a lot of great moves, it's just a matter of getting comfortable," Watt said. "I don't think somebody's got better moves than the other."
The same goes when the discussion turns to Watt and older brother J.J., a four-time All-Pro three-time NFL Defensive Player of the Year.
Mention to the youngest of the three Watt brothers in the NFL that his three sacks in Cleveland equals the best single-game performance by his more accomplished big brother and T.J. Watt just shrugs. He's not caught up in numbers. He just wants to do what the Steelers are paying him to do: be as disruptive as he can for as long as he can.
"I feel like I'm a splash player," he said. "I can go out there and make the play on any given call."
No matter where he lines up.
NOTES: QB Ben Roethlisberger (elbow), OG David DeCastro (hand), CB Joe Haden (hamstring), DE Cam Heyward (knee) and DT Tyson Alualu (shoulder) did not practice on Wednesday. Roethlisberger and DeCastro are hopeful they can play on Sunday. … TE Vance McDonald (foot) practiced and is expected to make his season debut against the Chiefs.
___
More AP NFL: https://apnews.com/tag/NFLfootball and https://twitter.com/AP_NFL