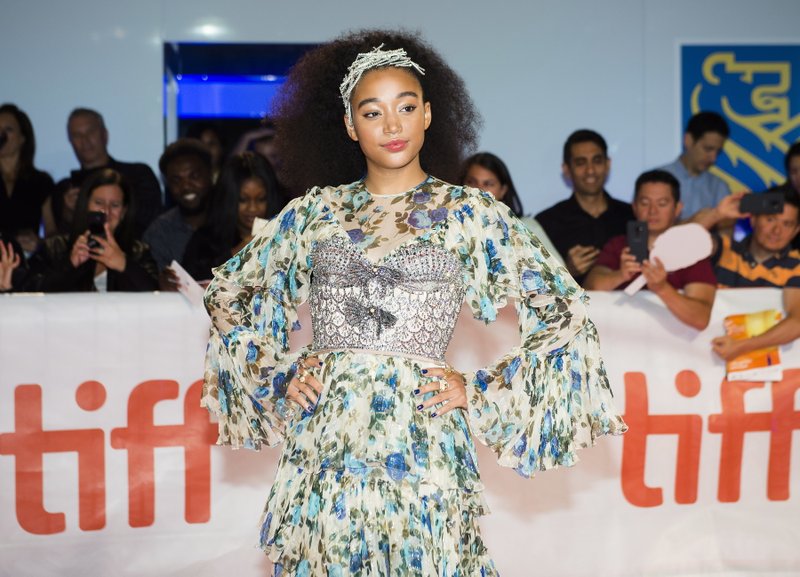 In the years that followed, more shootings followed and Thomas kept on writing. Now, a year and a half after "The Hate U Give" became a bestselling phenomenon, Thomas' book has been adapted to the big screen by director George Tillman Jr. from a screenplay by Audrey Wells with just as much honesty and urgency as were in Thomas' first pages. And the tale's timeliness has painfully persisted.
"This film will empower a lot of people and give them hope," said Thomas in an interview shortly after the film's Toronto International Film Festival premiere. "It's going to explain some things to people who don't get it. I think it's going to open a lot of eyes and change a lot of perspectives, and hopefully help people understand why we say 'Black lives matter' so that eventually we won't have to say it. It'll be understood."
In a wave of films, including a number at the Toronto Film Festival, the kinds of police brutality-inflicted tragedies that gave birth to the Black Lives Matter movement are being filtered into fiction film with anguished and stirring passion. They aren't the first movies to delve into such stories; Ryan Coogler, for one, told the story of Grant in 2013′s "Fruitvale Station."
But many more filmmakers are seeking to capture the humanity beneath the headlines, explicitly confronting the racial fissures in American society while channeling the sorrow and outrage of generations of Black Americans.
Reinaldo Marcus Green's "Monsters and Men," which played at Toronto before opening in theaters later this month, has similarities to the killing of Eric Garner, the Staten Island man who was choked and killed by New York police after being approached on suspicion of selling single cigarettes. Green's film, set in Brooklyn's Bed-Stuy neighborhood, is about a Nuyorican teenager who witnesses a police officer kill an unarmed man selling loose cigarettes on the street.
Released this summer, Carlos López Estrada's "Blindspotting" stars Daveed Diggs as an Oakland mover who, while stopped at a red light, watches a Black man gunned down by a police officer. While deciding to come forward, he's racked by nightmares and arresting visions, like of a cemetery populated by hooded Black men standing over their graves.
Barry Jenkins' "If Beale Street Could Talk," is a period film, adapted from James Baldwin's novel and set in Harlem in the early 1970s. But its intimate tale of two Black lovers, Tish and Fonny, whose young lives are wrecked by a racist police officer who frames Fonny for rape, has obvious reverberations today.
"Right now we're living in a time and a moment where so many things he was writing about are incredibly relevant to the American soul," said Jenkins in an interview ahead of the film's Sunday premiere in Toronto. "There's an ecstatic quality to the way Baldwin writes love, but yet there's this permanent dread that hovers around them because of the situation they find themselves in. But also, too, because of what Baldwin is saying about the condition of black folks in America at the time he wrote this."
Other films have come under criticism for not fitting with the times. Some questioned whether Kathryn Bigelow's "Detroit," about a hellacious night of police-inflicted torture during the Detroit riots was the ideal filmmaker to tell that story. Spike Lee's "BlacKkKlansman," about a Black police officer who infiltrates a Ku Klux Klan chapter in 1970s Colorado, drew raves for its timely story about race and white supremacy. But it was criticized by "Sorry to Bother You" director Boots Riley for, at this moment, making a police officer "the protagonist in the fight against racist oppression."
"It's being put out while Black Lives Matter is a discussion, and this is not coincidental," argued Riley. He questioned the film's historical accuracy, claiming that its real-life police detective, Ron Stallworth, was really a "villain," since he may have helped destabilize Black radical groups, not topple the KKK.
Real life also intruded on "The Hate U Give." One of its young white actors, Kian Lawley, was replaced by K.J. Apa after a video surfaced of Lawley using the n-word and making racist jokes. And while it was being prepped, Philando Castile, a 32-year-old Black American, was pulled over while driving in Falcon Heights, Minnesota, and killed in a remarkably similar manner.
But part of what makes "The Hate U Give" so powerful is the way it takes such debate and disagreement around Black Lives Matter and compassionately distills it into a story about a 16-year-old girl (Amandla Stenberg) whose childhood best friend (Algee Smith) is shot and killed for reaching for a hairbrush after he's pulled over for not signaling a turn. The subsequent fallout is seen through the prism of family (it opens with a father's firm instruction on how motionless to act around police) and a community. It reserves empathy for all while not minimizing fury over such injustice.
"I really just want people to take a moment and just feel again. Everybody. We've become a cynical society. We've lost the idea of human interaction, communicating with each other," said Russell Hornsby, who memorably plays the father in the film. "I hope that people get that through this movie. And they can feel. However it pierces your heart, let it out. We're in a pressure-cooked society right now and I feel like, just for a moment, that this movie represents a release valve."
___
Follow AP Film Writer Jake Coyle on Twitter at: http://twitter.com/jakecoyleAP