JOHANNESBURG (AP) — The usual suspects — Wonder Woman, Spider-Man and Darth Vader — roamed at Comic Con Africa. A few African characters were also on display: Kwezi, Captain South Africa and Shaka Zulu.
The success of Marvel's "Black Panther" film spiked interest in African stories, and creators on the continent hope to capitalize with more comic book characters of their own. The three-day convention ending Sunday in South Africa was a platform for their efforts, even if it was dominated by the global superheroes, villains and other pop culture figures who have been around for decades.
Many of the first African comic books are "caricatures of Supermans, of Captain Americas," said Bill Masuku, a Zimbabwean artist and writer. "But if you allow that to grow, giving it time, you will get better quality story-telling that is naturally African."
One example is Masuku's Captain South Africa, a black female superhero who "doesn't want to punch criminals because that doesn't end crime," he said at a convention stall where he also promoted another of his creations, Zimbabwean superhero Razor-Man.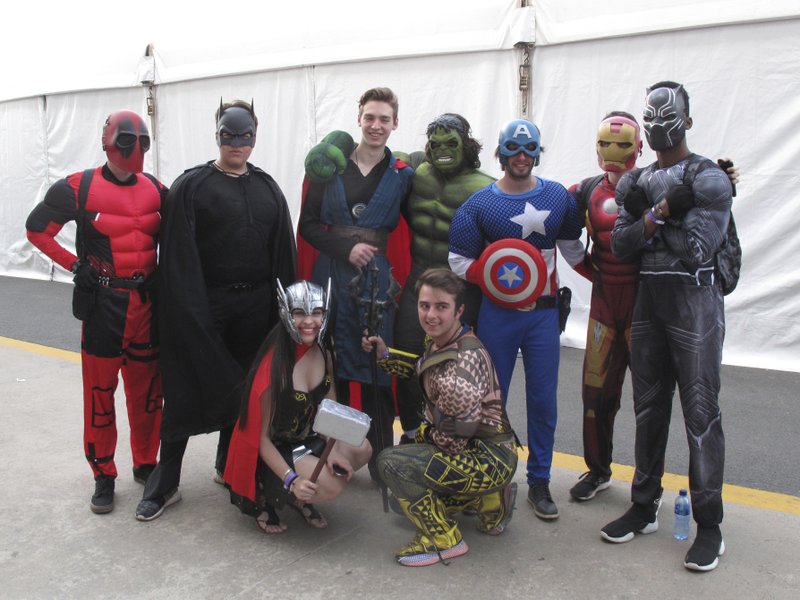 Thousands of people, many in costume, turned out for the suburban Johannesburg event introduced by Reed Exhibitions. ReedPOP, a subsidiary of the global company, hosts similar conventions around the world and brought its model to Africa for the first time.
Lagos, Nigeria and Nairobi, Kenya have been running their own "comic con" festivals for several years; South Africa's annual ICON comic and games convention started in 1992.
Hurricane Florence scrapped plans by Anthony Mackie, the actor who has played Marvel's Falcon superhero, to travel to Comic Con Africa. Aquaman actor Jason Momoa also canceled. Kevin Sussman from "The Big Bang Theory" and Yetide Badaki from "American Gods" made it, to the delight of autograph and photo op seekers.
"If you have issues with personal space, comic cons are not for you," said ICON director Les Allen as he waded through crowds. Up ahead, video gamers playing a "Counter-Strike" first-person shooter in sound-proof booths battled each other on giant screens as spectators followed the combat. Someone in a reptilian "Predator" outfit paced the hall, posing with fans. Other people had masks, hoods, swords and staffs and there was plenty of spandex and hair spray, of course.
"Shaka Rising: A Legend of the Warrior Prince," a glossy graphic novel about the real-life Zulu king who built an empire at a time of European expansion into Africa, was among home-grown projects on display. The story of power and intrigue was written and drawn by South African Luke Molver.
"To a large extent, African stories get told by people outside of Africa, about people in Africa," said Robert Inglis, the book's promoter and director of Jive Media Africa, a company based in South Africa. Part of the reason is that many African stories circulate through "word of mouth" and don't have the "lasting kind of print space" to resonate internationally, he said.
Nearby, Janine Evans was offering capes modeled on traditional Basotho blankets and other clothing merchandise associated with a band of southern African superheroes.
"Our aim here is to actually take the Afrocentric from the fantasy world and bring it into people's everyday lives," she said.
One African superhero is Kwezi, a comic book character drawn by creator Loyiso Mkize. He is a young man who learns he has special powers, and then sorts out problems in the local community. In a short video animation, a flying Kwezi checks a phone message that summons him to an urban Johannesburg neighborhood: "Trouble in Braamfontein, we need you now!!!!"
Other promotions at Comic Con Africa include "The Tokoloshe," a South African horror movie whose name refers to an evil spirit; and "Apocalypse Now Now," a South African short film and novel whose name plays on the uniquely South African phrase meaning "soon."
The goal is "to normalize the existence of African content and creators," said Masuku, the Captain South Africa creator. "We're still making the steps to get there. I'm happy with where we are right now."
___
Follow Christopher Torchia on Twitter at www.twitter.com/torchiachris