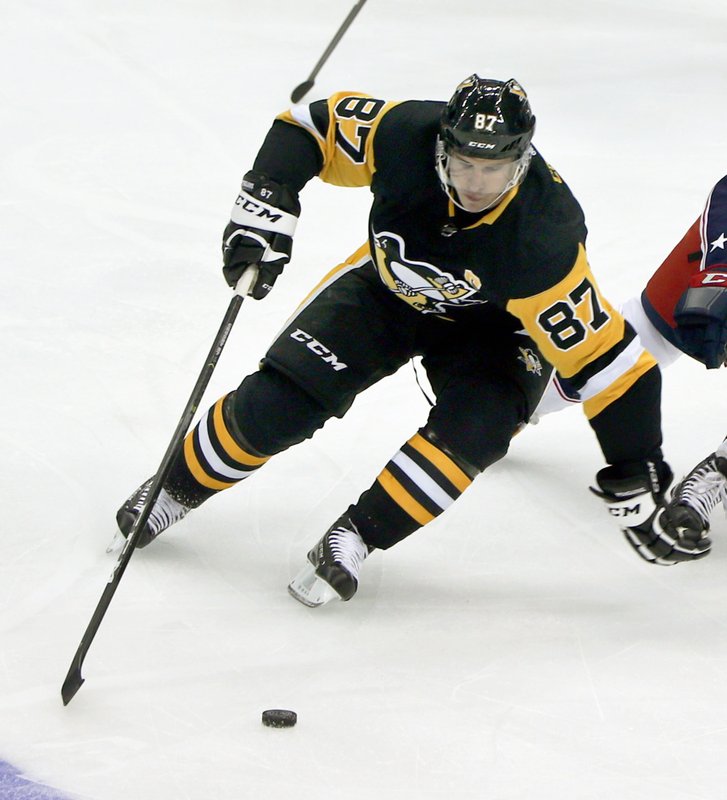 And though the Penguins came as close as any team in the last 35 years to capture three straight titles — they recovered from a blah start to reach the Eastern Conference semifinals before falling to Washington — that special gear they relied on so heavily during their run of dominance never materialized.
"Just for whatever reason, shorter summer, mentally not having that desperation level, as a group we were lacking that," Crosby said.
Crosby isn't making excuses so much as stating a simple fact. The Penguins played 213 regular season and playoff games from October 2015 to June 2017. A heavy workload to be sure but also a small price to pay to have your name written on hockey's most prized possession.
While Crosby, Evgeni Malkin and company spent most of last fall downplaying the idea they might be emotionally and physically drained, at times they certainly played like it. The proof came on the defensive end, where they gave up the most goals (250) of any playoff team.
Though they eventually got it going behind Malkin — who finished fourth in the league with 98 points — they also understand sleepwalking for three months cost them a legit shot at home-ice advantage throughout the playoffs and forced them to expend more energy than they anticipated just keep pace in the hyper-competitive Metropolitan Division.
That can't happen this time around if they want to throw another downtown parade in June.
"The start is important," Crosby said. "You want to start out the right way, especially with how tight teams are. You can't be playing catch-up."
A less taxing schedule should help. The Penguins played a league-high 19 sets of back-to-back games in 2017-18. That number drops to 11 this season. For a group whose core of Malkin, Crosby, Phil Kessel and Kris Letang are all in their 30s, that's no small comfort.
Oh, and there's the lingering taste of watching the Capitals celebrate a rare playoff triumph in Pittsburgh.
"Of course I'm upset," Malkin said. "I feel we beat Washington, we have chance to win. … I never watch (after we lose). I like go to Miami, spend time with my family, my kids. It doesn't matter, last year or five years ago. I never watch (after we lose). It's not fun to watch."
JACK'S BACK
Pittsburgh made just one splashy move in free agency when it lavished a five-year, $16.25 million contract on defenseman Jack Johnson. He called the move a "perfect fit," one that unites him with longtime friend Crosby. Still, the length of the deal and Johnson's forgettable finish in Columbus — he requested a trade in the middle of last season and was a healthy scratch during the playoffs — raised eyebrows. The Penguins consider Johnson a versatile puck mover who could thrive in a system where he won't be required to do much more than play responsibly and get out of the way.
"It's always great to come into a team that has high expectations," Johnson said. "That's what you want. That's what any athlete wants coming into a team. There's a lot of established guys that have been leaders on this team for a long time. I just wanted to come in and be myself and be part of the group and fit in with the guys and help the team win."
'DAD' IS HOME
Matt Cullen is still going. The veteran center — who turns 42 in November — returns to Pittsburgh after one season in his native Minnesota. Cullen played a vital role both on the ice as a penalty killer and off the ice as a "glue" guy as the Penguins won back-to-back Cups. Cullen still looked plenty spry during his 21st NHL training camp, and he will give the fourth line a boost.
MATT'S METTLE
Matt Murray's first full season as Pittsburgh's firmly entrenched No. 1 goalie did not go to plan. After twice backstopping the team to the Cup before his 24th birthday, Murray struggled to stay healthy and play with consistency. He's hoping an extra month to prepare for his third NHL season will help and coach Mike Sullivan is quick to point out Murray didn't exactly receive a serious boost from the play in front of him.
GOING DEEP
As long as the Penguins have Crosby, Malkin and Kessel in the fold, they'll be among the most talented offensive teams in the league. The goal this season is to spread the wealth a little bit more. Pittsburgh relied almost exclusively on its top power play and the combination of Crosby and Jake Guentzel late in the season and into the playoffs. A full training camp to integrate Derrick Brassard — who played with an injury most of last spring after being acquired at the trade deadline — should help. If Brassard and Patric Hornqvist can develop some chemistry, the third line could take some of the pressure off the star-laden top two groups.
___
More AP NHL: https://apnews.com/tag/NHL