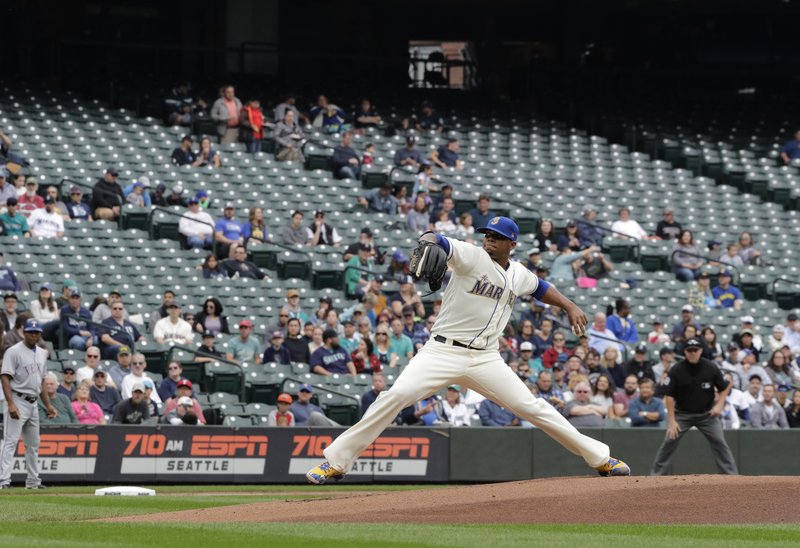 "It's pretty hard to not notice it when you can hear the light towers buzzing," he said.
Major League Baseball's average attendance dropped 4 percent to 28,830, its lowest since 2003 after 14 consecutive seasons topping 30,000.
Baltimore's Camden Yards, Chicago's Guaranteed Rate Field, Minnesota's Target Field, Miami's Marlins Park and Pittsburgh's PNC Park also drew their smallest attendance since opening as part of a ballpark boom. In a season of unusually cold and wet weather, 17 of the 30 teams experienced drops.
Major League Baseball attributed the decrease primarily "connected to the historically bad weather we faced back in the spring" and noted the percentage drop decreased markedly after May 1.
Total attendance fell to 69.63 million from 72.67 million last year and a high of 79.5 million in 2007. The average is down 14.4 percent from its high of 32,785 in 2007, the last year before the Great Recession. It had not been this low since 28,013 in 2003.
"I think it is a concerning number, and a think a lot of factors go into it in today's climate, particularly when fans have as many options as they have in where they're spending their entertainment dollar," players' association head Tony Clark said.
On-field success and attendance usually are linked.
"When teams rebuild, it always has an attendance effect," baseball Commissioner Rob Manfred said.
The NL champion Los Angeles Dodgers set a club record, Colorado drew its biggest crowds since 2001, World Series champion Houston since 2007 and the New York Yankees since 2012 — including a new Yankee Stadium record 23 sellouts.
But advance sales were down for several teams that jettisoned veterans and went with youth. Under the five-year labor contract agreed to before the 2017 season, limits were placed on spending for international amateurs following restrictions that began in 2012 on amateurs who reside in the U.S. More cost certainty for controllable players may have encouraged more teams to rebuild at the same time.
"If our system encourages teams to be either all in or all out, there are some things worth discussing and we look forward to having those conversations," Clark said.
The Orioles (47-115), White Sox (62-100), Marlins (63-98) and Reds (67-95) had among the poorest records, while the Twins had a losing season at 78-84.
"People have a lot of decisions to make in their life about what they're doing with their commitments and money and what have you. It's up to us to give them something they want to embrace," Baltimore manager Buck Showalter said. "Attendance is down. It's our fault, not theirs."
But the Pirates contended until late in the season and finished 82-79, yet fell by more than 450,000 to 1.65 million, the smallest for the franchise since 1996 at Three Rivers Stadium. Perhaps the cause was a lingering effect from trading away stars Andrew McCutchen and Gerrit Cole the previous offseason.
Cleveland fell by 120,000 even though the Indians won their third straight AL Central title.
Despite a 90-72 record and third-place finish in the AL East, Tampa Bay was 29th in the major leagues at 1.15 million. The Rays and Oakland Athletics are the last two teams seeking new ballparks.
"I know it's a hassle getting to the ballpark. I get it. Even if we'd have won 100 games, who knows if it would have been different?" Rays outfielder Kevin Kiermaier said.
In its first season under new chief executive office Derek Jeter, the Marlins drew 811,000 after trading star slugger Giancarlo Stanton to the New York Yankees, the low for a franchise that started in 1993 and the fewest home fans for any major league team since the 2004 Montreal Expos in their last season before moving to Washington, D.C. The Marlins said they changed their counting method to include only tickets sold. Still, the vast amount of empty seats is unsustainable.
"That's something we need to improve," Jeter said. "Where we're starting from, the only way we can go is up."
Bad weather played a factor in the falloff, especially earn in the season. The average of 26,867 through April was down 9.4 percent from 29,654 through the first full month in 2017. There were 54 postponements, the most since 1989, and 26 of them were higher-drawing weekend games. Manfred said 35 games in April had a temperature of 40 degrees or less and a quarter of the games were played in 50 degrees or under.
"We got ourselves in a hole that I've never seen since I've been in baseball," said Manfred, who first got involved in the sport as an outside counsel in 1987.
Still, he knows changes in the sport and the audience have to be examined constantly.
"All live entertainment is challenging because of changing habits," Manfred said.
___
AP Sports Writer David Ginsburg and Associated Press writers Mark Didtler and Mark Schmetzer contributed to this report.
___
More AP MLB: https://apnews.com/tag/MLB and https://twitter.com/AP_Sports