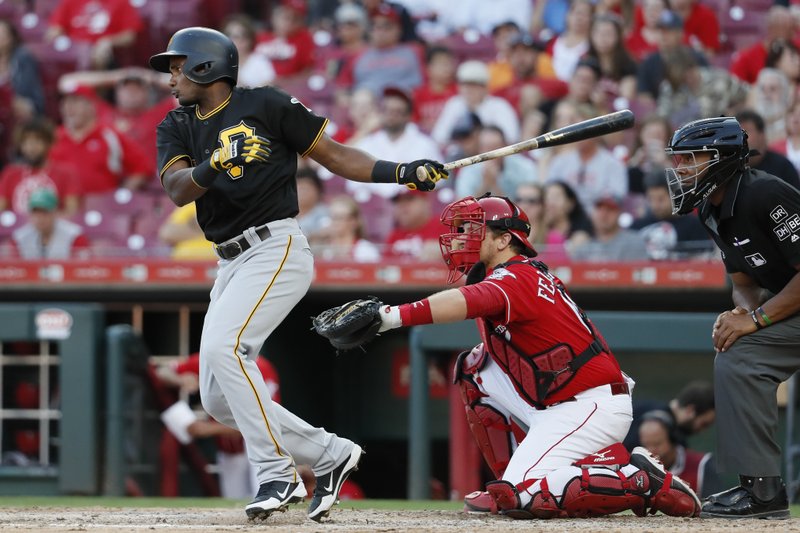 PITTSBURGH (AP) — Neal Huntington raised eyebrows last winter when the Pittsburgh Pirates general manager said the club's decision to trade franchise cornerstones Andrew McCutchen and Gerrit Cole wouldn't affect the team's ability to win the World Series in 2018.
The message Huntington was trying to send was lost in his unwieldy delivery: that flipping Cole and McCutchen for younger major league talent would help the Pirates contend into 2019 and beyond.
While Huntington's short-term version was spot on — the Pirates were out of the playoff picture by late August — whether his long-term vision pans out remains uncertain.
Yet he and manager Clint Hurdle are confident Pittsburgh took a significant step forward in 2018. The Pirates won 82 games — just the franchise's fourth winning season in a quarter century — and head into 2019 with far fewer question marks than a year ago.
The starting rotation, led by breakout seasons by Jameson Taillon and Trevor Williams and an uncharacteristically aggressive move at the trade deadline to acquire Chris Archer from Tampa Bay, morphed from a question mark into an exclamation point. The catching tandem of Francisco Cervelli and Elias Diaz was among the most offensively potent in the National League. Third baseman Colin Moran — part of the deal that sent Cole to Houston — was steady if not always spectacular in his first full season. Left fielder Corey Dickerson hit .300 and proved more than capable of playing above-average defense at spacious PNC Park. Closer Felipe Vazquez was an All-Star again and received help when the Pirates acquired reliever Keone Kela from Texas.
"We had ups and we had downs," Taillon said. "I think you saw a lot of growth from young guys. I think this group is going to be together for a long time. That's exciting to me."
The key over the next six months is finding a way to carry that momentum forward. Having the front office splurge for some offensive help for a group that finished in the bottom half of the major leagues in runs, home runs, slugging and OPS would help. So would consistency. The team took a step toward addressing the problem Monday, announcing that hitting coach Jeff Branson and assistant hitting coach Jeff Livesey will not return next season.
The Pirates in 2018 were equal parts promising and problematic. How else to explain a year that included a 26-17 stretch, an 11-31 free fall, an 11-game winning streak, a 10-17 August and a 16-10 September?
"The best players, the best teams in our game find a way to keep the good stretches longer and the bad stretches shorter," Huntington said. "We need to find a way to do that collectively and individually."
A look back and forward at a team that believes it is poised to be a legitimate factor next summer.
YOUNG GUNS
Taillon looked every bit the staff ace Pittsburgh expected when it drafted him in the first round nearly a decade ago. The 26-year-old won 14 games overall and posted a 2.33 ERA after the All-Star break, a mark that was only good enough for second on the team after Williams shook off a bumpy stretch to go 7-3 with a 1.38 ERA in his final 12 starts.
The only real question mark for the rotation in 2019 is if Ivan Nova returns. The veteran turns 32 in January, is due $9.1 million and went 9-9 with a 4.19 ERA, making him an expensive luxury for a fourth starter.
MIDDLE MEN
The last links to Pittsburgh's run of three straight playoff berths from 2013-15 could be moving on. Shortstop Jordy Mercer will become a free agent and the Pirates are unlikely to exercise their $10 million club option on second baseman Josh Harrison.
Adam Frazier showed he's capable of taking over for Harrison after hitting .306 with seven home runs in the second half. Kevin Newman will be given an extended look in spring training to replacing Mercer.
POWER OUTAGE
First baseman Josh Bell hit just 12 home runs this season — 14 less than he hit in 2017 — and Bell is well aware that total needs to go up in 2019.
"If I can do damage to the opposite gap and kind of put some pressure on the pitcher, especially in (PNC Park), pitchers will start making mistakes and I can start putting the balls in the seats," Bell said. "That's just for me personally. I have some growing to do this offseason."
GOING, GOING, KANG?
Third baseman Jung Ho Kang's long climb back to the majors ended when he played in the season-ending series in Cincinnati. The Pirates won't exercise their option on Kang for 2019 but could bring him back at a lower price provided Kang's visa issues and the drunk driving problems that plagued him in his native Korea are finally behind him.
___
More AP MLB: https://apnews.com/tag/MLB and https://twitter.com/AP_Sports