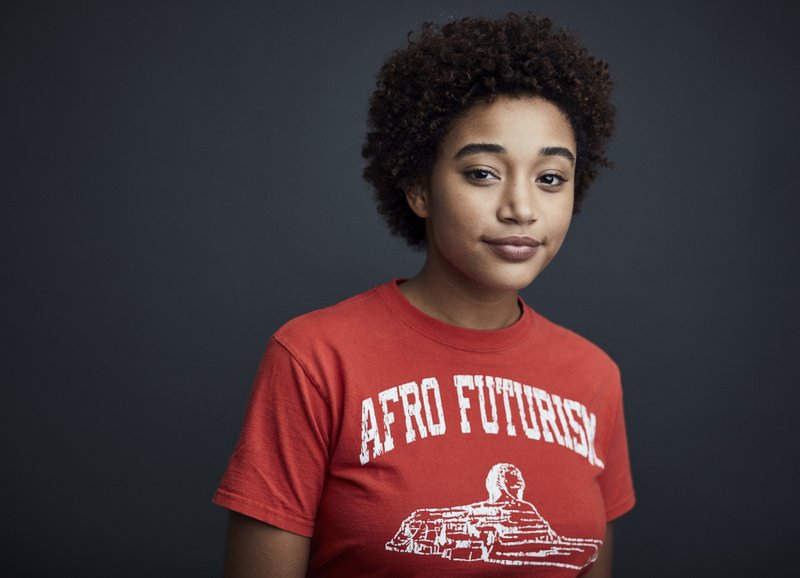 NEW YORK (AP) — Actress Amandla Stenberg was named after a 1989 Miles Davis album — a lush, African-tinged funk fusion that takes its name from the Zulu and Xhosa word for "power."
In South Africa under apartheid, "amandla" was — and still is — a rallying cry against oppression. It's a lot for Stenberg to live up to.
"You think?" she asks, laughing and thanking her mother for the heavy responsibility. Then she turns more serious. "It's something I keep very close to my heart."
Stenberg has already done much to embody her namesake. At 19, she has become the face of a new Hollywood, one that fuses the personal with the political.
She is a confident, social media-savvy, outspoken, young, gay, African-American woman who, like many others of her generation, has little interest in contributing to the stereotypes or biases of the past.
In "The Hate U Give," which expands in theaters Friday, Stenberg has found a perfect amalgamation of art and activism. Based on Angie Thomas' Black Lives Matter-inspired 2017 best-seller, George Tillman Jr.'s drama is about 16-year-old Starr Carter, who — like Stenberg did growing up in South Los Angeles — shuttles between worlds — her predominantly Black neighborhood and her largely White, privileged high school.
When she sees a White police officer shoot and kill her unarmed friend, Starr must decide whether to speak out.
Starr eventually finds her voice. Sternberg has, too, but says she's not done growing yet.
"I'm finding my voice right now, as we speak," she said, smiling, in a recent interview.
It's a theme that Stenberg returns to again and again: That whatever label has been put on her isn't necessarily who she is — or who she will remain. "I experience intersections of identity," she says. "Everyone does."
Even the word "activist" doesn't sit quite right with her.
"I made a video that went viral and since then, everything I've said or done has been politicized," says Stenberg, who gained fame from her breakthrough role of Rue in "The Hunger Games."
The video, titled "Don't Cash Crop on My Cornrows," was a high school history project in which Sternberg analyzed the appropriation of black culture. After Stenberg posted it on her Tumblr, it was watched by millions. One viewer was Thomas, who was in the midst of writing her young-adult novel.
"I remember watching it and I was like: That's exactly who I want Starr to be," Thomas says about Stenberg and her unfolding career. "I can't wait until 10 years from now when I'm like, 'Yep, she was in my adaptation. That's when it really took off.' I'm going to have bragging points on that one."
Stenberg's education began with her mother, who schooled her on the likes of "Roots," ″The Color Purple" and Nina Simone. From the age of 10, she commuted from Leimert Park to the Wildwood School near Santa Monica. About four years ago, she began to feel emboldened by others on social media.
On Instagram, she has been a forceful voice on diversity and gender equality. Stenberg has said she removed herself from contention for a "Black Panther" role because she felt the part shouldn't go to a light-skinned woman of color. When some questioned whether Starr should also be dark-skinned, Stenberg responded thoughtfully about "my role in the quest for onscreen diversity and the sensitivity I must have towards the colorism that I do not experience."
Stenberg came out in an interview earlier this year ("Yep, I'm gay," she said). Last week, after watching Christine Blasey Ford's testimony, Stenberg penned an op-ed for Teen Vogue about her two experiences of sexual assault.
"I would love to change the fabric of Hollywood," she says, laughing at the bravado of how that sounds. "I'm really just being myself. I also think there's a huge movement that's been started and continues that's completely independent of me but that I've been included in now, that's been well on its way for a long time."
Much of "The Hate U Give" involves Starr's relationship with her father, a reformed drug dealer played commandingly by Russell Hornsby. His mentoring of Stenberg, she says, mirrored the film. Hornsby's regular flow of advice was "the best tough love I've ever received," she says.
"She's a beautiful, beautiful spirit," Hornsby says of Stenberg, whose own father is Danish. "The role and her activism and where she's in in life, everything is just perfectly aligned. This is the role she was meant to do."
The production wasn't easy. Stenberg says she had residual trauma for months following the shooting scene and still vividly recalls seeing fake blood on her shoe,
Worse, some scenes needed to be reshot long after the fact, when it was revealed that Kian Lawley, a white actor who had been cast as Starr's boyfriend, had previously been videotaped in a racist tirade. He was recast. "The irony of that was not lost on us," says Stenberg.
What's most striking about the young actor, both on camera and off, is her preternatural poise. When she speaks about social issues, she is just naturally expressing herself. For a so-called firebrand, she is gentle and warm.
"The world is being revolutionized so quickly," she adds. "It's the first time as a Black actress that I've seen these types of roles be available to someone who looks like me. Hopefully, we can bring some honesty to the screen."
Asked what she wants, Stenberg excitedly responds: "I want to direct!" But the main thing, she says, is that she doesn't want to be confined by a media-prescribed image.
"I want a little more freedom to figure myself out as an artist," Stenberg says. "One article comes out and makes it feel like you're set in stone. Identity is really fluid, especially at the age I'm at. It's going to change 50 million times and I'm going to figure out exactly how I want to express myself."
She smiles. "And I want to have fun."
___
Follow AP Film Writer Jake Coyle on Twitter at: http://twitter.com/jakecoyleAP