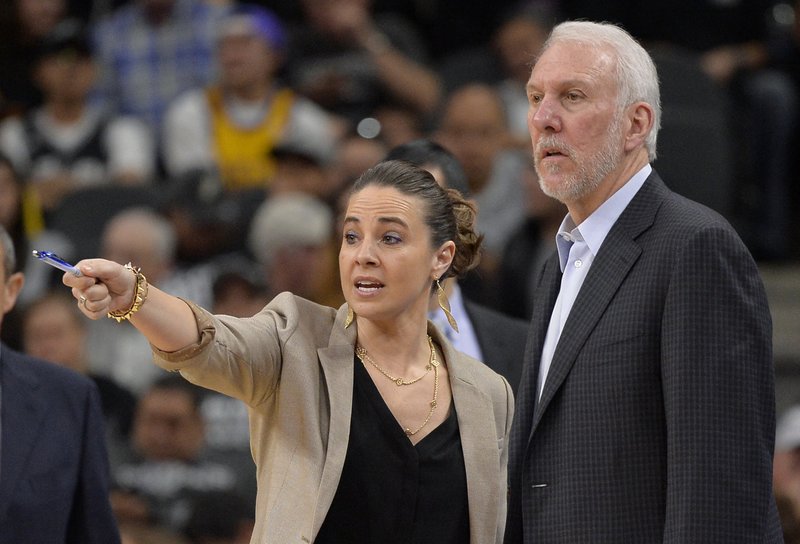 MEMPHIS, Tenn. (AP) — San Antonio Spurs coach Gregg Popovich sees one simple way for both the NBA and women to mark real progress in the league.
Hire more women in positions of power.
"I think there just has to be more, more of the same," said Popovich, who during the offseason
promoted
assistant coach Becky Hammon, moving her one step closer to a head coaching seat. "There are more Beckys out there, they just have to be noticed and given the opportunity by people who are wise enough and courageous enough to do it and not just sit in the old paradigm."
And not just on the bench, but on the business side of the NBA as well.
The NBA routinely gets high marks for its diversity efforts and is widely viewed as a leader on social issues. Still, NBA Commissioner Adam Silver believes the league needs to be better, and he made his feelings known in a memo to teams in the wake of the Dallas Mavericks' embarrassing scandal.
Several NBA teams tout statistics about women in their workforce, but beyond a handful — including Lakers controlling owner Jeanie Buss and Pelicans owner Gayle Benson — the next step for the league seems to be more women in positions of power such as CEOs and COOs.
Memphis guard Mike Conley said it's important for basketball, business and society itself to have women in positions of authority.
"We welcome it, and we do want to see more of that," Conley said, "and I think that will help bridge that gray area and all the things that have been happening with the Mavs and situations like that and hopefully it will never occur" again.
The NBA earned an A+ for racial hiring practices but a B for its gender hiring practices this summer from The Institute for Diversity and Ethics in Sports . That puts the NBA "significantly above" other professional sports, even as the number of women hired at the team level dropped for a third straight year with the percentage of women in team vice presidents and professional staff dipping as well, according to the report's author, Richard Lapchick.
A memo obtained by The Associated Press last month shows the NBA plans workshops in Atlanta and Los Angeles in mid-November on the diversity and inclusion efforts. The NBA also set up an anonymous tip line after the Mavs' story broke.
NBA teams surveyed by The Associated Press say they've already been holding seminars on workplace conduct and putting women in leadership roles.
Irina Pavlova represented the Nets on the Board of Governors before leaving last year and was replaced by a woman as president of the company that runs the Nets, Barclays Center and Nassau Coliseum. The Toronto Raptors have Teresa Resch as vice president of basketball operations and player development, and Dr. Lisa Callahan is chief medical officer for both the Knicks and the WNBA's Liberty.
The Miami Heat recently hired Ruth Riley Hunter as its newest television and radio analyst, a move in motion before Silver talked about wanting more women in the NBA.
Grizzlies general manager Chris Wallace has seen the number of women in the NBA jump dramatically since he joined the league in 1986 and believes its heading in the right direction. Chantal Hassard has been with the Grizzlies since the franchise was in Vancouver and is entering her third season as VP of team operations and player programs. Memphis also just brought back Nicki Gross as a basketball analyst after she was the D-League's only woman assistant in 2015 with Iowa.
"I think it adds a viewpoint, a skillset that is very beneficial for the teams," Wallace said.
Silver wants teams hiring more women, including jobs with power, so the NBA is going to help. The NBA plans an event at the All-Star break in Charlotte, North Carolina, in February to grow the "pipeline of female talent in basketball operations roles."
Lapchick said hiring more women has to be a combination of efforts by both the NBA and its teams.
"Teams saw the results in Dallas with no women in leadership to stop/confront bad behavior, which I believe is not uncommon toward women in the workplace in and out of sport," Lapchick told the AP. "Adam has the respect to push and I am impressed by the NBA's actions after the decline in gender grade when the Report Card was published followed by the post investigation in Dallas."
Ethan Casson, CEO of the Minnesota Timberwolves and the WNBA's Lynx, said it can't be a quota approach — and believes there are qualified women in the candidate pools. About 40 percent of Minnesota's full-time employees are women with 35 percent of department heads and above women. He noted how transparent the NBA and its teams have been on this issue.
"It's constantly challenging your organization's thinking and creating what that environment is, and that's what makes the diversity inclusion so important," Casson said. "You're a better organization when you're built that way from the ground up."
___
AP Basketball Writers Tim Reynolds and Brian Mahoney and AP Sports Writers Dave Campbell, Andrew Seligman, Janie McCauley, Anne M. Peterson, Schuyler Dixon, Pat Graham, Tom Withers, Howard Fendrich, Brett Martel, Kyle Hightower and AP freelance writers Raul Dominguez, Clay Bailey and Ian Harrison contributed to this report.
___
More AP NBA: https://apnews.com/tag/NBA and https://twitter.com/AP_Sports