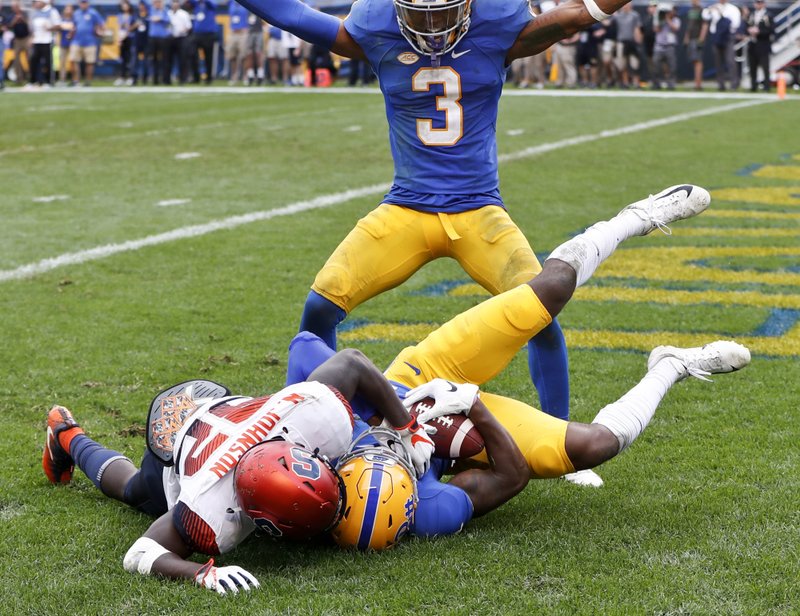 "We asked for the game to be on our backs," Ollison said. "Just put it on us. Put it on the backs. Put it on the offensive line. Put it on the seniors really. I think that's what we did."
Over and over and over again.
Pitt survived another typically slow start, a 75-minute weather delay that zapped all of its momentum and a second-half surge by the visiting Orange to finally put Syracuse away 44-37 in overtime, snapping a two-game losing streak and giving the Panthers (3-3, 2-1 Atlantic Coast Conference) a serious confidence boost.
"Our kids needed that one," Pitt head coach Pat Narduzzi said.
Especially after enduring a humbling 31-point loss to No. 12 Central Florida on the road last week, a game in which the Panthers rarely looked competitive. Pitt regrouped behind Hall, Ollison and an offensive line that did whatever it wanted whenever it wanted.
Hall ran for 107 yards and two touchdowns, including a 3-yard burst on the opening possession of overtime that provided the difference. Ollison rolled up 192 yards on 24 carries, including a 69-yard sprint in the first quarter that zapped the Panthers back to life after they fell behind by 14 in the opening 10 minutes


.
Narduzzi stuck with Hall and Ollison even after Pitt fell behind 37-34 with 5:53 to go. The Panthers snapped the ball 13 times on their next possession. Eleven times quarterback Kenny Pickett gave it to Hall or Ollison, setting up Alex Kessman's tying 45-yard field goal with 8 seconds remaining in regulation.
"It's just playing with an attitude," Hall said. "They know what's coming. They know what plays we're about to run and they can't stop us. That's the mindset we had that whole second half, 'Hey, we're just going to run it down their throat until we win.'"
It was much the same in overtime. Hall and Ollison accounted for all 25 yards on the clinching touchdown drive, the last 3 coming from Hall, who stuck his right elbow just across the goal line.
"Those two backs are unbelievable," Pickett said. "They showed it today. They've been showing it all year. I think everyone knows we had a two-headed monster backfield with those guys."
COLEMAN'S TIME
Hall's second touchdown put Pitt in front. Sophomore cornerback Therran Coleman sealed the Panthers' eighth consecutive home victory over Syracuse by wresting the ball away from Orange wide receiver Nykeim Johnson on the ensuing snap.
Coleman knew something was coming when he lined up across from Johnson at the start of the play.
"His face was real intent," Coleman said.
So was Coleman. He trailed Johnson to the end zone then came up with his first career pick as he and Johnson tumbled to the ground. His secret?
"(Johnson) was too little," Coleman said.
SLOPPY SYRACUSE
Orange head coach Dino Babers pointed to the game as a test of his team's maturity following a draining loss to ACC-power Clemson last week. Early on it looked like Syracuse had finally grown up. The Orange raced to a quick 14-0 lead less than 10 minutes in.
The Panthers, however, found their footing behind a defense that kept Syracuse senior quarterback Eric Dungey off balance and occasionally off his feet.
"We didn't give it away," Babers said.
Maybe, but the Orange didn't do much late when it mattered to stop the Panthers from taking it either.
"It's a matter of getting people down," Babers said. "When the ball breaks to the secondary, we need (defensive backs) and we need safeties to make tackles, just get them down."
ERRATIC DUNGEY
Dungey struggled to find any rhythm, completing 18 of 38 passes for 195 yards with a touchdown and two picks. He also ran for a team-high 70 yards, most of them on improvised scrambles when the protection in front of him broke down.
"It hurts," Dungey said. "I hate losing. It hurts. … I've been saying all week Pitt's a dangerous team. We weren't on the same page, the receivers and I on some plays, but we'll get it fixed."
CAN I KICK IT
Heinz Field can be a notoriously difficult place to play for kickers, but Kessman and Syracuse's Andre Szmyt had no problems on a weird, hot, rainy afternoon. Szmyt hit a 54-yarder in the fourth quarter for the Orange while Kessman drilled a 54-yarder and a 55-yarder in the second quarter. The 55-yarder is the longest by a kicker — college or professional — at Heinz Field, which also serves as the home of the Pittsburgh Steelers.
"The ball was flying today," Kessman said.
THE TAKEAWAY
Syracuse: The Orange might be improved, but their rushing defense still has a long way to go. A week after letting Clemson's Travis Etienne go for 203 yards and key the Tigers' escape, Syracuse surrendered 265 yards on the ground to Pitt.
Pitt: The Panthers may need to rely heavily on Ollison and Hall the rest of the way. The passing game remains a mystery at the midway point.
UP NEXT
Syracuse: The Orange are off next week then host North Carolina on Oct. 20 for the first time since joining the ACC in 2013.
Pitt: The Panthers continue a brutal stretch at No. 6 Notre Dame next Saturday.
___
More AP college football: https://apnews.com/tag/Collegefootball and https://twitter.com/AP_Top25