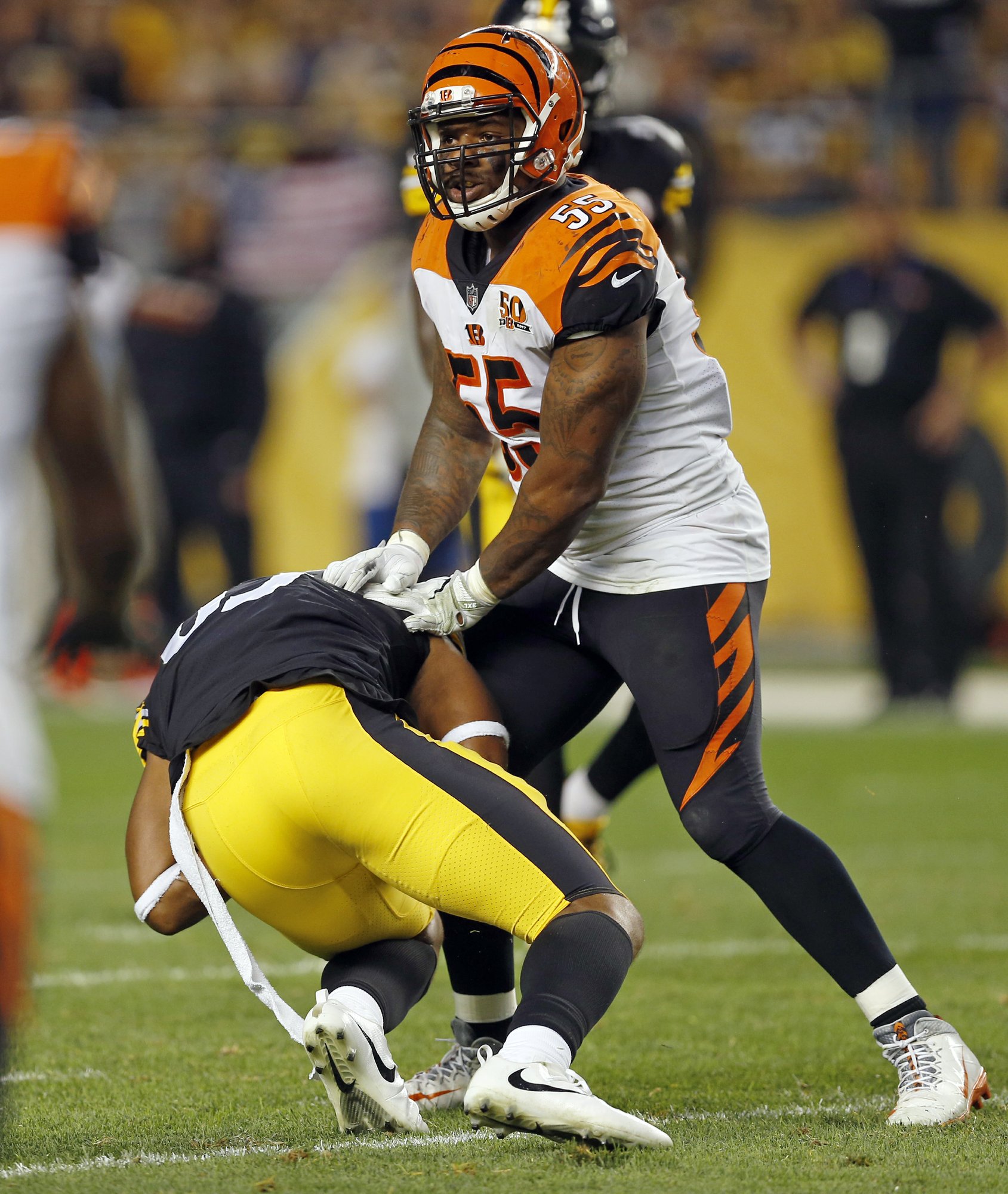 CINCINNATI (AP) — Coach Marvin Lewis routinely shows his Bengals players video of egregious conduct from around the league as a way of trying to keep them in line. Exhibit A would be their game last December against the Steelers.
The Bengals were penalized 13 times for a club-record 173 yards during another meltdown against Pittsburgh at Paul Brown Stadium. The Steelers overcame a 17-point deficit with the help of Cincinnati's damaging penalties, finishing off a 23-20 victory that was their sixth in the row in the series .
Penalties have figured prominently in the streak, including penalties on Vontaze Burfict and Adam "Pacman" Jones that helped Pittsburgh pull out 
an 18-16 playoff victory
 in the 2015 season.
"We can't have any dumb penalties, any outbursts, anything like that," cornerback Dre Kirkpatrick said. "We've got to stay focused. It's Pittsburgh week. Everybody's going to be hyped up, ramped up."
The AFC North rivalry has big implications for a mid-October game. The Bengals (4-1) are off to their best start since 2015, when they won the division, and could put some distance between themselves and the Steelers (2-2-1) . A loss would essentially even things up. The teams end the season with a game at Heinz Field.
For the Bengals, it's about keeping their cool when tensions escalate.
"Every game I've been in against the Steelers, there's been some type of aggressive hits or something dirty going on," said receiver Tyler Boyd, who has played against his hometown team three times. "You can't go out and play scared. You can't go play frightened. You've just got to go out and hit. It's hit or be hit."
The Monday night game last December included nine major penalties and led to two suspensions.
William Jackson got an unsportsmanlike conduct penalty; Geno Atkins was flagged for roughing the passer; A.J. Green and Clayton Fejedelem got 15-yard facemask penalties; and George Iloka got an unnecessary roughness penalty for hitting Antonio Brown in the head. Iloka also got a one-game suspension that was reduced to a fine.
Pittsburgh's Le'Veon Bell and Brian Allen were flagged for unnecessary roughness. JuJu Smith-Schuster got a 15-yard penalty for a blindside hit on Burfict, and another penalty for standing over the linebacker and talking trash. Smith-Schuster also got a one-game suspension.
Steelers linebacker Bud Dupree says there's a difference between this rivalry game and all the others.
"Cincinnati game: I hit you as hard as I can, you hit me as hard as you can, but we're going to talk trash after the play," Dupree said. "It's a real-life fight out there."
Both Lewis and Steelers coach Mike Tomlin talked to their teams after the game last December, trying to rein in the conduct. Some Bengals veterans are reinforcing the message that they can't let their emotions lead to another loss.
"The vets are going to be able to remind the young players of it — just talk about keeping your composure in games like this, things they probably did in college and big games, too," defensive end Carlos Dunlap said.
Lewis reminded his team of penalties this week. Cincinnati was able to overcome a 17-0 deficit and beat the Dolphins 27-17 on Sunday in part because of Miami's penalties. The Bengals' first touchdown drive was aided by Martrell Spaight's unsportsmanlike conduct penalty and an unnecessary roughness penalty on T.J. McDonald.
"That's what the ramifications are — you're hurting our opportunity to win," Lewis said. "You're really putting a dagger in our opportunity to win."
NO GIO AGAIN: Running back Giovani Bernard was held out of practice again Thursday as he recovers from a knee injury, an indication he won't be ready for the Steelers game. Bernard also sat out the win over Miami, putting the onus on Joe Mixon. Tight end Tyler Kroft also missed a second straight day of practice with a foot injury. Jackson (knee), receiver John Ross (groin) and offensive tackle Cedric Ogbuehi (wrist) were limited.
___
AP Sports Writer Will Graves contributed to this report.
___
More AP NFL: https://apnews.com/tag/NFL and https://twitter.com/AP_NFL