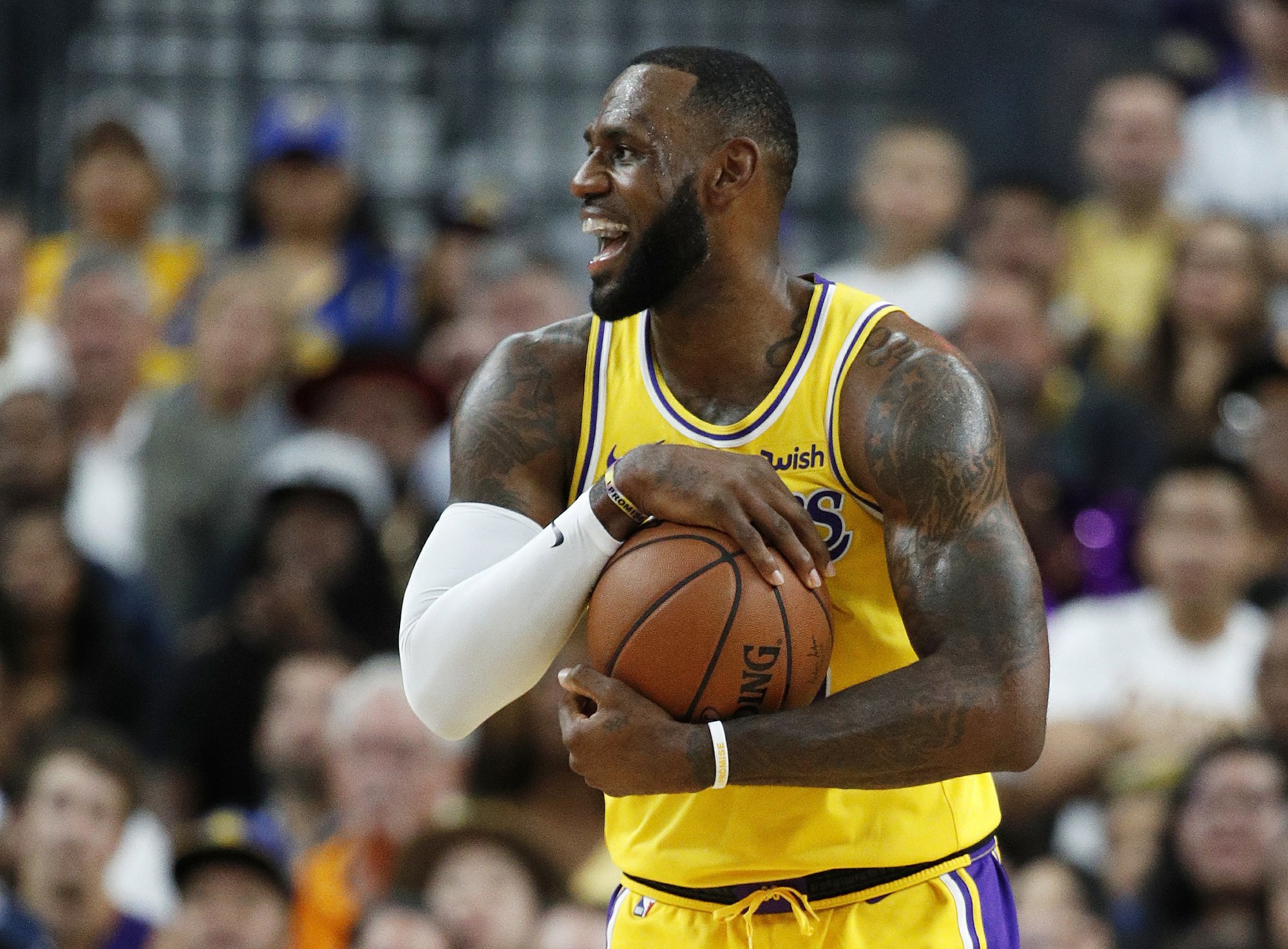 Playing each other Wednesday night in a game that meant nothing — except for those looking for a glimpse into the future of the NBA.
Basketball's biggest stars on stage in a city full of stars. An exhibition game, yes, but that didn't stop fans from packing T-Mobile Arena on the Strip, where in a few years there almost surely will be a team they can call their own.
And maybe the best thing? Anyone in the arena with a betting account could pull out their phone and bet a few dollars during the game.
The gambling stigma is gone, thanks largely to NBA Commissioner Adam Silver's progressive attitude and a Supreme Court decision that allowed sports betting in other states. The Vegas Golden Knights showed in their inaugural season that professional sports not only work in Sin City — it seems to be a perfect fit.
And nothing fits the city better than the NBA. The fans love it in Las Vegas, and so do the players.
"There's a different energy here when you come, whether you're from here or you're just visiting," Curry said. "We enjoy coming to play, it's always fun."
Fun was a key word on a night when Lonzo Ball played for the first time with James and the Warriors looked to sharpen their focus with just one more game before the regular season begins. The score mattered mostly only to bettors (the Lakers covered as four-point underdogs), but the effort — at least in the first half — seemed a bit more regular season than it did preseason.
Still, if there's a budding rivalry between the California teams now that James has come out west, he wasn't letting on.
"What's the rivalry?" he said when asked after the morning shootaround.
Indeed, there hasn't been a rivalry in recent years as the Warriors dominated the NBA and the Lakers struggled getting used to life without Kobe Bryant. The arrival of James will surely change that at some point, though for now just seeing the best player of his era in a Lakers uniform seems special enough.
"It's pretty cool for Lakers fans, and West Coast fans, to see LeBron out here on the west side," Durant said.
Even cooler for Lakers fans was watching James with a behind-the-back pass to Ball, or a lob for a dunk to former Warrior JaVale McGee. The Lakers may be one more big acquisition away from really starting a rivalry with Golden State, but the sight of James already making his teammates better had to make them believe good times are coming in Los Angeles.
Even as James is becoming more comfortable in the purple and gold, though, he always been has comfortable in Las Vegas. He played in the city in AAU tournaments while growing up, spends a few weeks most summers in training camp here with USA Basketball, and is a fan of the NBA's Las Vegas summer league.
It didn't hurt when fans started chanting "MVP, MVP" during the first half and gave him a standing ovation when he hit a 30-footer at the buzzer to give the Lakers a halftime lead before posing for the crowd. James, who didn't play in the Lakers' last exhibition game, had 15 points, 10 rebounds and five assists in a dominating half.
"It just feels like the NBA is always flowing through Las Vegas, feels almost like our second home base," Durant said. "Basketball around here has been really booming since I've been in the league."
That showed during halftime when Magic Johnson, who heads basketball operations for the Lakers, was given a key to the city by Mayor Carolyn Goodman. Johnson talked about coming to Las Vegas for 40 years and his love for the city.
"I hope one day Las Vegas gets an NBA team," he told the crowd.
Just when that day will be is anyone's guess, though the head of giant casino operator MGM Resorts said last year he hoped to get a team on the Strip within five years. The company bought a WNBA team as part of its plan to land the NBA, with the Aces playing at the smaller Mandalay Bay arena.
For now, though, the NBA was here for just a day. James bowed out after playing 17 minutes in the first half, and the second half was more about getting court time for the reserves than it was determining which team was best.
A meaningless game, yes.
Look closer, though, and the future of the NBA comes a little more into focus.
___
W.G. Ramirez contributed to this story in Las Vegas.
___
Tim Dahlberg is a national sports columnist for The Associated Press. Write to him at tdahlberg@ap.org or http://twitter.com/timdahlberg