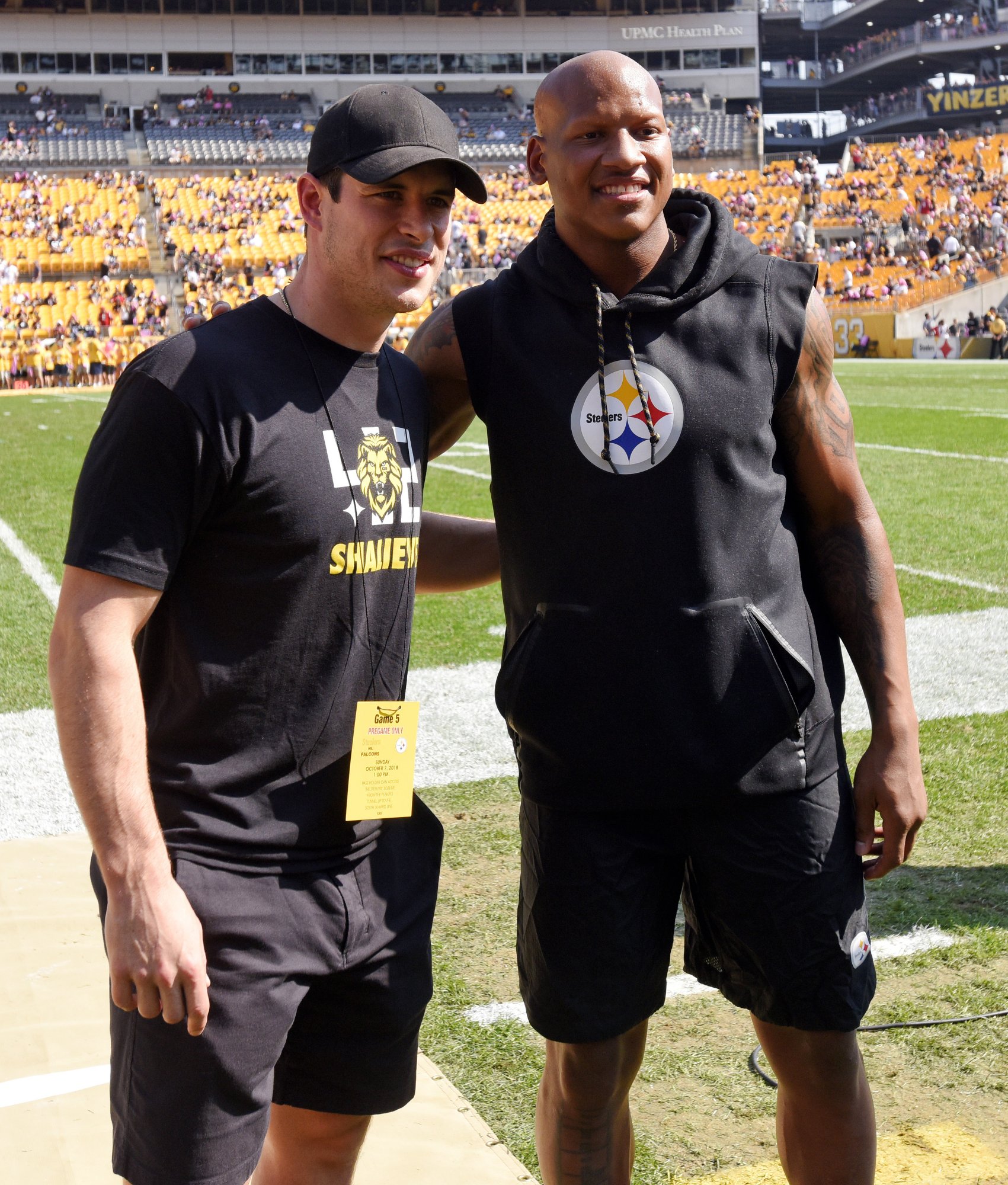 Shazier still makes his way to the club's practice facility around 7 a.m. most days. Any teammate willing to drop by Shazier's usual spot can feel free to pull out a notebook and start jotting Shazier's thoughts while he serves as both peer and professor.
"He's just trying to find little nitpick things," Pittsburgh rookie safety Terrell Edmunds said.
It is Shazier's way of staying connected to the game even as he continues his long and inspiring recovery from that frightening moment last December when the Pro Bowler lowered his helmet to hit Bengals wide receiver Josh Malone late in the first quarter, a play that ended with Shazier clutching his lower back in agony while players knelt around him in prayer and Paul Brown Stadium feel eerily silent.
Ten months later, the sight of Shazier being taken off the field on a stretcher before being placed in an ambulance remains fresh as the Steelers (2-2-1) brace themselves for their annual visit to Cincinnati (4-1) on Sunday.
"It was just a really weird feeling after that happened," Pittsburgh linebacker L.J. Fort said. "You'd make a good play but nobody was really jumping around or was excited or anything like that, so it was really sobering moment and brought to the forefront that football is not the most important thing in life."
Playing amid a mixture of fear for their friend and uncertainty over Shazier's status, the Steelers rallied for a 23-20 victory .
Asked how they managed to recover emotionally in time to put together a stirring rally, they're still not sure. In the immediate aftermath of Shazier's injury there was only chaos and confusion.
Outside linebacker Bud Dupree admitted he and inside linebacker Vince Williams — two of Shazier's closest friends on the team — were under the impression Shazier had been blindsided by a member of the Bengals. The two spent the rest of the first half looking for revenge.
"We were just walking around trying (to hit) the first person we see," Dupree said. "We weren't worried about football. We wanted to take up for our brother."
In the end, it's Shazier who has taken up for his teammates.
Though the 26-year-old remains
open to the possibility of playing again
— he's able to get around the practice field without assistance these days and his practice clothes remain hanging in his locker much as they have been before he got hurt — he's intent on helping in other ways.
His mere presence provides an emotional lift, but Shazier is intent on being something far beyond an avatar for inspiration. He's become a go-between of sorts between the coaching staff and the defense. He can cut through the clutter and deliver some "real talk" when necessary.
During last Sunday's 41-17 romp over Atlanta, Shazier sat on the bench with a tablet in hand. After every series the inside linebackers would crowd around him looking for instruction and insight. Shazier would offer words of encouragement when necessary or tips on how to avoid mistakes.
"Since he's not playing, his mental part of the game is so great," Dupree said. "He shares a lot of stuff with us. He lets us know stuff ahead of time before the coaches even tell us. We already know it. It keeps us on our toes."
And it keeps Shazier engaged. There remains no timetable for when he will make a decision on whether returning to play is feasible. There's so much going on in his life — from his physical recovery to his new role with the team to becoming a father for a second time — it hardly matters.
Football remains an integral part of his plan no matter how his physical recovery goes. When asked if he believes Shazier could become an effective coach whenever his playing career ends, linebacker Tyler Matakevich nods enthusiastically.
"You look at him, what he's been through, how he's handled it combined with his love for the game and his mind for the game, it's amazing," Matakevich said. "It hasn't changed him. He's been the same guy since the day I got here."
And in a way, Pittsburgh is counting on it. Shazier will be back on the turf in Cincinnati with the rest of the team on Sunday afternoon as the Steelers look for their first winning streak of the season. When the defense runs onto the field, he'll linger behind, a feeling that will probably never truly feel normal.
Yet if this is the best way for him to contribute, he'll take it. So will the teammates who have come to rely on him in so many ways.
"The only time he really doesn't come is when he's tired from rehab," Dupree said. "You see him on the sideline. He's active at practice. In the meetings. Never sleeping. Attacking every day like he's still here."
NOTES: S Morgan Burnett (groin), LB L.J. Fort (ankle) and WR Darrius Heyward-Bey (ankle) did not practice on Wednesday. … LB Vince Williams (hamstring) and Edmunds (calf) were full participants.
___
More AP NFL: https://apnews.com/tag/NFL and https://twitter.com/AP_NFL