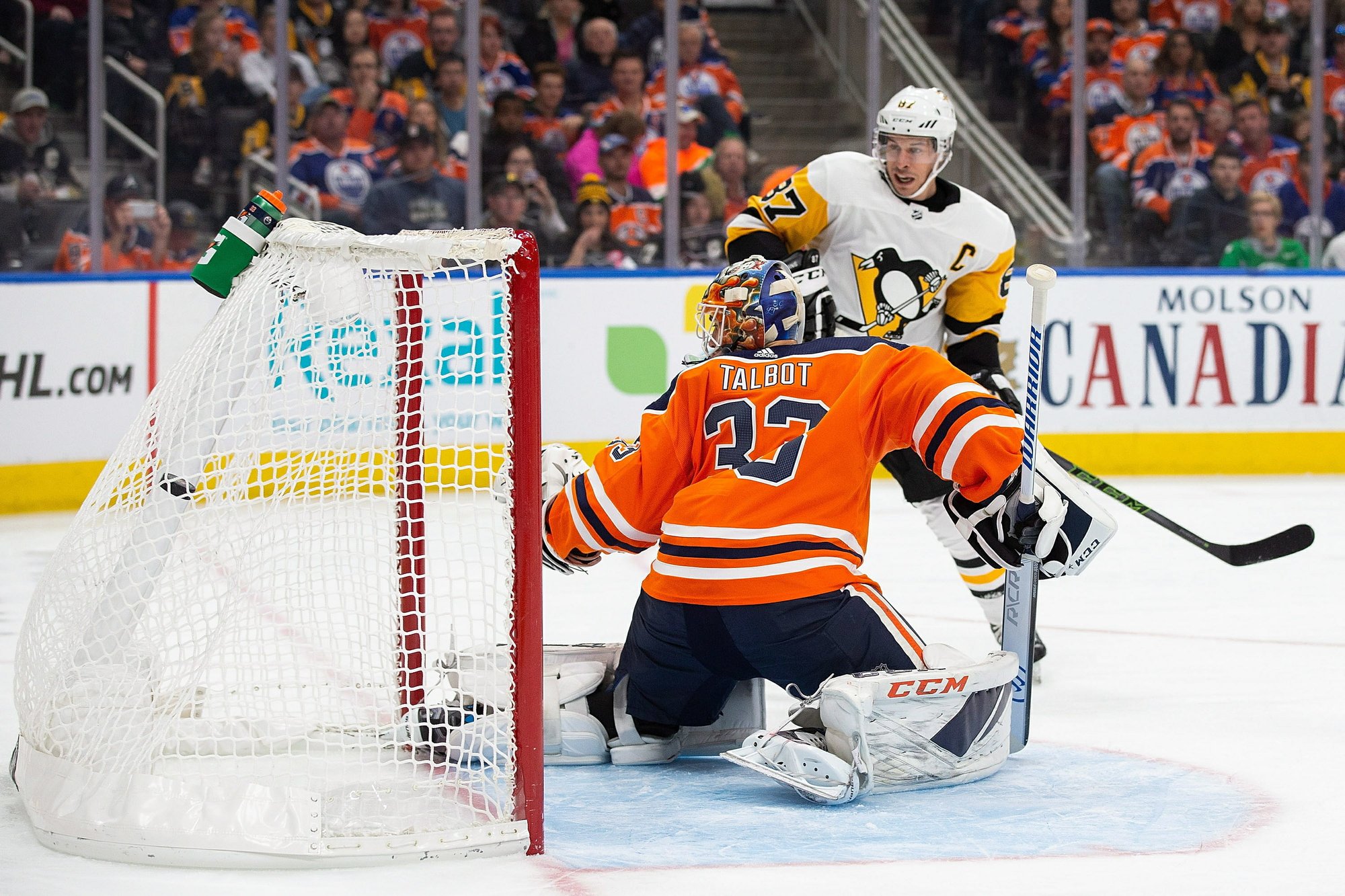 EDMONTON, Alberta (AP) — Sidney Crosby isn't about to let the younger stars of the game pass him by.
It was vintage Crosby on Tuesday night as he made a slick move through two defenders, skated through the slot and lifted a backhander into the net at 2:12 of overtime to give the Pittsburgh Penguins a 6-5 victory over Connor McDavid and the Edmonton Oilers.
"Listen, I'm not changing the way I play," Crosby said.
Crosby opened the scoring in the first period and his second goal of the season was the winner. Crosby moved from the left boards, slipped the puck through a defender's legs, moved past Oilers goalie Cam Talbot and lifted a backhand shot over Talbot's glove for the win.
"I'm going out there every night to try and create things, and come up with big plays when they're needed," Crosby said. "I'm not any different than (McDavid) is as far as understanding my responsibility, and wanting to be at my best."
Despite the hype ahead of the matchup that pitted two of the game's brightest stars in McDavid and Crosby, Pittsburgh head coach Mike Sullivan said Crosby just put his head down and got the job done.
"He doesn't really get caught up in a lot of the story lines from game to game regardless of who we play," he said.
"He's just a real good player that tries to be the best that he can be. I thought he had a great game, he gets two goals. The overtime goal was one of the prettiest goals that I've seen."
Jamie Oleksiak and Patric Hornqvist also had two-goal games for the Penguins, who have won two straight.
Leon Draisaitl and Alex Chiasson each scored twice, while Connor McDavid had the other for the Oilers (3-3-1), who lost their second straight.
"I felt that we deserved those two points tonight," Oilers forward Milan Lucic said.
"I think we are trending in the right direction as far as our game goes. We are starting to get contributions from other guys throughout the lineup. I feel we are one mistake less from taking that stride to that next level."
Matt Murray had 41 saves in the win, while Talbot kicked out 25 shots in the loss.
The Penguins started the scoring 11 minutes into the first period on the power play as Crosby tipped home a Kris Letang shot that was going wide past Talbot. It was Crosby's first goal in seven games, the longest he had gone without a goal to start the season in his 14-year career.
Edmonton tied the game just over a minute into the second period, when Draisaitl picked up a loose puck in the slot and beat Murray with a wrist shot.
The Oilers went up 2-1 a couple of minutes later when Chiasson laid a big hit in the corner and then got the puck back in front and scored while falling to the ice. It was his first goal of the season in his second game as an Oiler.
Pittsburgh tied the game seven minutes into the second frame, when a nice three-way passing play was chipped in by Oleksiak.
The Penguins regained the lead midway through the second when a give-away led to a goal by Hornqvist.
The see-saw second continued with Edmonton pulling even when Chiasson scored his second of the game on a 2-on-1 with five minutes left.
The Penguins made it 4-3 in the final minute when a puck went in off of Hornqvist's skate for his second of the game.
Edmonton took the lead again early in the third on a pair of power plays as McDavid put a shot past Murray and then set up Draisaitl for his second of the night.
Pittsburgh tied it up once again seven minutes into the third on a slap shot by Oleksiak.
NOTES: The Penguins have points in five straight games. … Edmonton hasn't had a regulation win over Pittsburgh since Jan. 10, 2006, although the last seven games between the two squads have now been decided by a single goal. … The Oilers were winners in their home opener last Thursday when they beat Boston 3-2 in overtime, but were then shut out 3-0 by Nashville.
UP NEXT
Penguins: Continue a Western Canadian road swing in Calgary on Thursday.
Oilers: Close out a four-game homestand against the Washington Capitals on Thursday.
___
More AP NHL: https://apnews.com/tag/NHL and https://twitter.com/AP_Sports