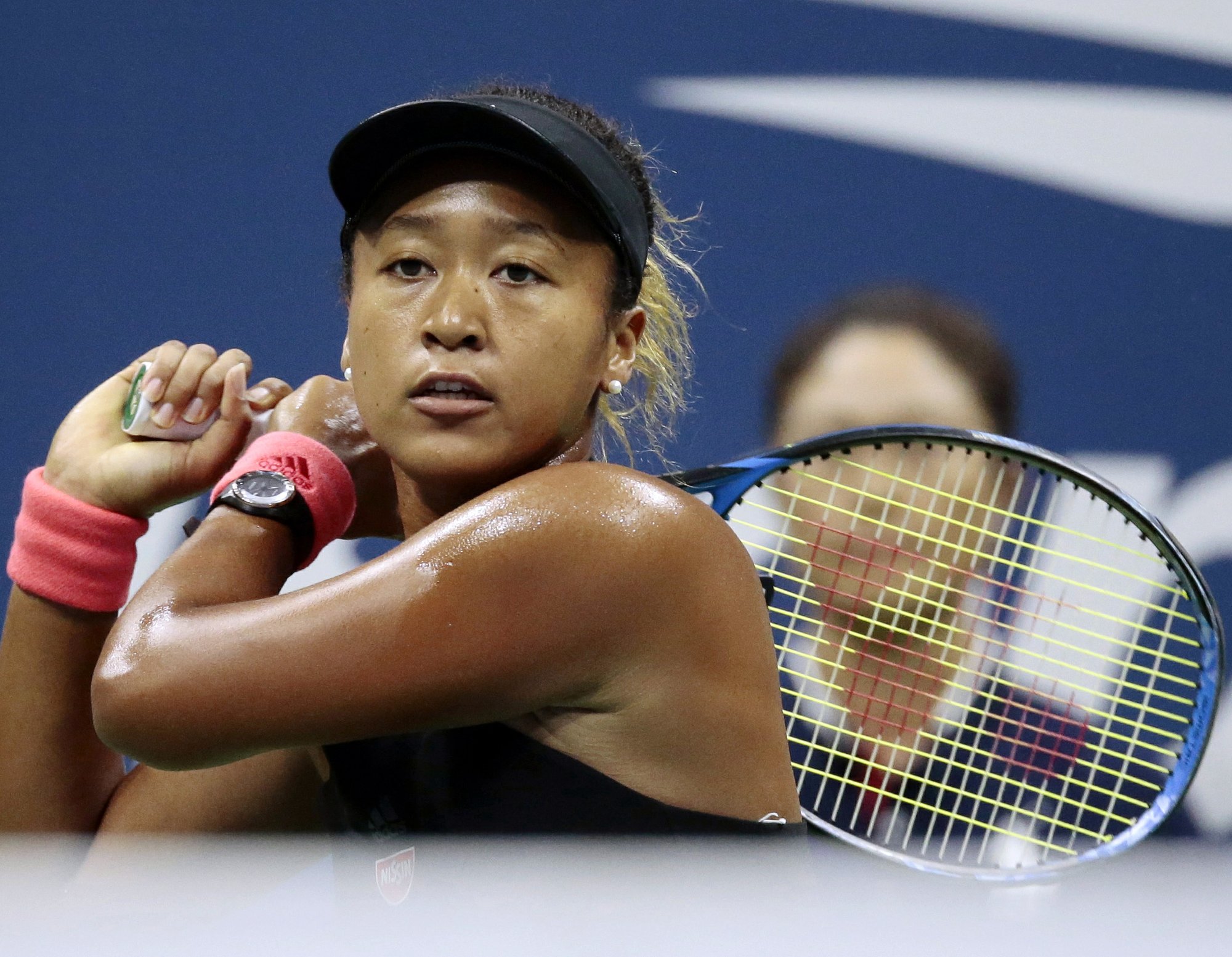 In this Sept. 8, 2018, file photo, Naomi Osaka, of Japan, returns a shot to Serena Williams fo the U.S. during the women's final of the U.S. Open tennis tournament, in New York. Osaka is headed for big money with both Japanese and global appeal.  (AP Photo/Andres Kudacki, File)
TOKYO (AP) — Naomi Osaka used a powerful forehand and a matching serve to win the U.S. Open against Serena Williams. Off the court — on the marketing front — experts say she could have the same potential as Williams, and maybe more.
"It's very, very rare to find a Japanese-born female athlete who appeals to an international audience," said Bob Dorfman, a sports marketing expert and creative director at Baker Street Advertising in San Francisco, California.
Serena Williams topped the Forbes list of the highest-earning female athletes this year at $18 million, almost all endorsements.
Experts say Osaka could be the right woman in the right sport at the right time with the draw to overtake her.
"What's more, tennis, especially women's tennis, is a sport that lends itself to a broad variety of sponsors: sporting goods, health and beauty, fashion, lifestyle, travel, personal care, you name it," Dorfman said. "And the sport's international following brings with it a large, loyal and affluent fan base. All the more reason why so many companies are lining up to sign her up."
The big question is: Can she keep this up?
Much has happened very quickly for her, notes former tennis star Chris Evert.
"You know, it's going to be life-changing for her and very, very important," Evert said. "From what I see, she is very humble and from what I see, her parents are very humble people. Hopefully they won't go Hollywood on us. We don't want that to happen."


Osaka's multicultural background — Japan-born but raised in the U.S. by a Haitian-American father and a Japanese mother — adds to her wide appeal, endearing her to fans in Japan and elsewhere.
Her disarming charm, off and on the court, including how she handled the turmoil surrounding her win over Williams, is also winning people over.
"She appeals to the young and old, men and women, everyone," said Shigeru Tanaka, advertising manager at Citizen, her sponsor since August.
Tokyo-based Citizen Watch Co.'s 80,000 yen ($700) Naomi Osaka watch is selling out at stores in Japan, thanks to the exposure it got on her wrist at the U.S. Open.
Citizen was quick to take advantage of her Grand Slam win, taking out a one-third page ad in the Yomiuri newspaper's extra edition report of her win.
Companies won't say how much her contracts are worth, but they tend to be written so that if she keeps winning, her earnings will keep going up. If one company won't pay, another will just snatch her up, marketing experts say.
Although Japanese baseball players like Ichiro and Shohei Ohtani are superstars, that sport doesn't have the global appeal of tennis. There are Olympians, but their appeal tends to come and go every four years.
Japan is "just starving for a star," Evert said.
Osaka has been wearing various Citizen watches in matches and in photo ops and has told reporters the first watch she got from her mom was a Citizen. She has also said her father drove a Nissan while she was growing up — another in a growing line of sponsors.
Besides Citizen, Osaka has deals with instant noodle-maker Nissin Foods Group, Japanese badminton and tennis racket maker Yonex Co., and athletic-wear and sneaker giant Adidas.
Nissan Motor Co. signed Osaka as its three-year "brand ambassador" in September. The deal was in the works for a while, but the timing couldn't have been better, coming right after the U.S. Open.
The Yokohama-based automaker is mulling a "Naomi Osaka model" car. She is also getting keys to a silver GT-R sports car. Investing in Osaka enhances brand image for the long-term, said Masao Tsutsumi, general manager in charge of Osaka-related marketing at Nissan.
He said her transformation from "every girl" to superstar parallels the automaker's commitment to technological innovation. "She also is such a nice person while being utterly professional," he added.
Yonex has been supplying rackets to Osaka since she was 10, after receiving a letter from her mother. The Osaka effect is evident in the growing popularity of Yonex rackets among younger Americans, the company says.
Appearing before Yonex employees in Tokyo, Osaka drew affectionate laughter by insisting on addressing the crowd in Japanese, though she managed only a few words, including "onaji," or "the same," says Nori Shimojo, the company's official in charge of tennis player service.
At just 21, Osaka's got plenty of time to learn the language of her birthplace if she wants to.
As for her sponsorship windfall, she is shrugging it all off.
"I wouldn't really know because I have never been in this territory," she said during a recent tournament in Singapore. "For me, I just focus on my matches, and, I mean, like I'm a tennis player, so I just play tennis."
___
Sandra Harwitt in Singapore contributed to this report.
___
Yuri Kageyama is on Twitter at https://twitter.com/yurikageyama
On Instagram at https://www.instagram.com/yurikageyama/?hl=en