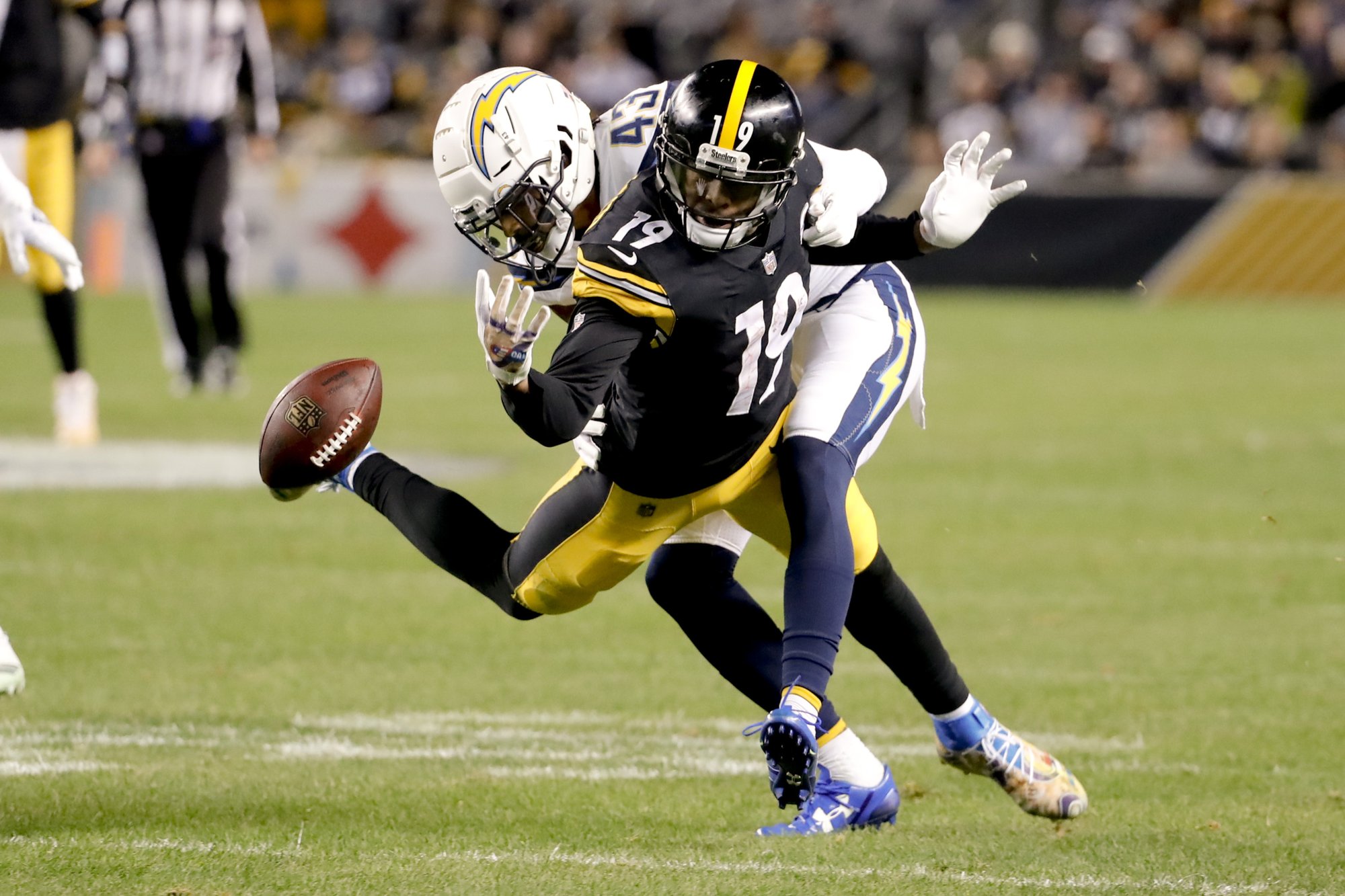 PITTSBURGH (AP) — The excuses aren't hard to find if the Pittsburgh Steelers were in the mood to look for them.
The false start that wasn't called on a play that 
ended with a Los Angeles Chargers touchdown
 . The apparent block in the back that helped spring Chargers punt returner Desmond King for the game-tying score.
The weird floater by Ben Roethlisberger on a pass that slipped out of his hand and landed into the awaiting arms of Los Angeles rookie safety Derwin James.
Yet the Steelers understand it's pointless and expensive to complain, one of the reasons coach Mike Tomlin opted not to vent — publicly anyway — after his team let a 16-point lead slip away in a 33-30 loss to the Chargers on Sunday night that reduced Pittsburgh's once comfortable cushion in the AFC North to mere percentage points over second-place Baltimore heading into the final month of the season.
"I am going to keep my mouth shut," Tomlin said after his team dropped its second straight to fall to 7-4-1, just ahead of the Ravens at 7-5. "I am going to do that because I send enough money (in fines to NFL headquarters) in New York."
Tomlin understands the calls the officials do or don't make are out of his hands. His team's ability to avoid losing with a 16-point advantage at home — something the Steelers had been able to do 174 out of the previous 175 times it happened in franchise history — is another matter entirely. One that is far more troubling than a handful of questionable decisions by referee Bill Vinovich's crew.
"We didn't establish rhythm in the beginning of the second half," Tomlin said. "We had a couple drives killed by penalties, holding penalties, it's catastrophic."
Pittsburgh took the second-half kickoff and moved into Los Angeles territory only to see a 22-yard gain by James Conner wiped out when officials flagged left guard Ramon Foster for holding. The Steelers punted three plays later.
Pittsburgh's second possession of the third quarter appeared to be picking up steam when left tackle Alejandro Villanueva was called for holding. The drive stalled and Jordan Berry punted yet again.
King fielded it at the Chargers 27, slipped past a couple of tacklers — including Pittsburgh's Brian Allen, 
who may have been helped to the ground
 thanks to a shove on the back of his right shoulder by Los Angeles gunner Rayshawn Jenkins — and raced down the right sideline for a touchdown that helped tie the game at 23.
The Chargers didn't need any assistance, however, in taking control in the fourth quarter. Philip Rivers led Los Angeles on scoring drives of 79 and 64 yards on the Chargers' final two drives, facing just two third downs in the process.
The Steelers did not get called for a defensive penalty on either of the drives. Instead, Los Angeles simply did whatever it wanted against a defense that couldn't seem to get in the right position.
"You can't say anything about our offense, our offense scored 30 points," defensive end Cam Heyward said. "As a defense, we're not getting the job done. I don't look for anybody else to say that the officials did this or anything else, we didn't get the job done as a defense."
And now Pittsburgh faces a daunting stretch if it wants to lock up a fifth straight playoff berth. The Steelers visit hapless Oakland next Sunday, a meeting that looks like a mismatch. Yet the Raiders have always been trouble for Pittsburgh, particularly on the road.
The Steelers haven't won in Oakland since 1995. They fell to the Raiders at the Coliseum in 2012 and 2013 to teams that finished 4-12 both seasons.
In 2006 Pittsburgh headed west as the reigning Super Bowl champions and somehow lost to a squad that went 2-14.
After that it's a visit by the New England Patriots then a visit to New Orleans two days before Christmas before wrapping up the regular season at Heinz Field against Cincinnati.
A shot at earning one of the two seeds — a position the Steelers were in the mix for after a six-game winning streak had them at 7-2-1 — appears gone. At this point, holding off the resurgent Ravens is no given.
"We can't seem to win it at home right now," Foster said. "So maybe we'll be great playoff road warriors."
NOTES: WR Ryan Switzer is in the concussion protocol after taking an illegal hit from Los Angeles linebacker Jatavis Brown in the fourth quarter. … RB James Conner is dealing with a left leg contusion.
___
More AP NFL: https://apnews.com/NFL and https://twitter.com/AP_NFL