John Legend is gearing up to take on Las Vegas for a six-month residency at at the Zappos Theater at Planet Hollywood Resort & Casino, kicking off in April 2022. But before his highly anticipated Love In Las Vegas shows, the EGOT winner gave fans a glimpse of what they can expect during exclusive iHeartRadio Live Show. Legend took the stage to perform several hits from his nearly 20-year career — including classic records from albums like Get Lifted, Once Again and Evolver — and answered questions for the live audience as Power 105.1's Angela Lee hosted the intimate night.
On what the Las Vegas residency means to him, the 13-time Grammy Award shared:
"It's amazing. I'm in great company. And I know that when you get to that point in your career where you're offered this kind of residency it means that you've had some success. That you got a real career, you've got a repertoire. And I'm excited to sing all that music, all your favorites, from my whole catalogue. We're going to play your favorite and make sure you have a good show, a good party — and have some really special romantic moments during the show."
The star also dished on some of his most memorable moments in Sin City, sharing:
"We've had some fun times. I've had Vegas moments. And now that I'm married it's a different experience. But I love Vegas. We actually have family there too. Chrissy's sister lives there. So we visit family there. I've had so many fun shows there's throughout the years on tour; and now, we're excited to have a residency."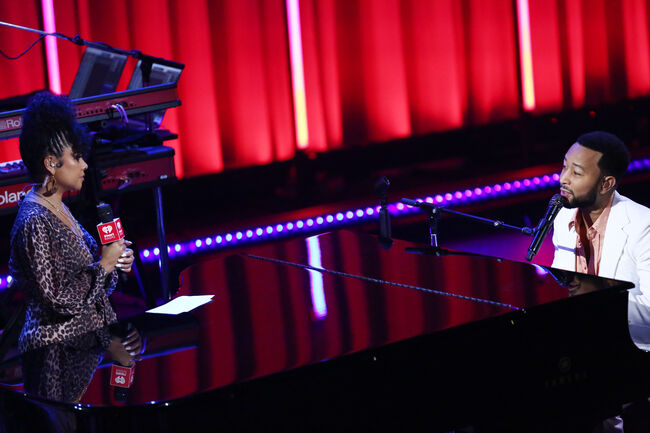 John Legend also gave the crowd advice on opening up their minds and hearts to love, sharing:
"I think it's about being honest, being a great communicator with whoever you're partnering with. But also I think about love as a bigger thing than that — than just loving the people that you're close to or the people in your family and your friends. I think that's easy to do. But I think i's even harder and even more important to love people that we don't even know. I think if we're able to extend our love to that and act politically, act socially in that way where we fell that love toward our neighbors; I think that's a really powerful love and it'll make the world a better place."
Catch John Legend on the road during his Love In Las Vegas residency, kicking of in April 2022 and wrapping October 29th. Tickets are available now.
About Post Author