Save

Former President Donald Trump announced Tuesday that he will seek the Republican presidential nomination in 2024.
Former President Donald Trump announced last Tuesday that he will seek the Republican presidential nomination in 2024.
Trump seeks to become only the second commander-in-chief ever elected to two nonconsecutive terms.
"In order to make America great and glorious again, I am tonight announcing my candidacy for president of the United States," Trump told a crowd gathered at his Mar-a-Lago estate in Florida.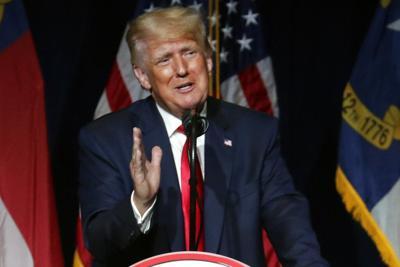 Former President Donald Trump in June 2021. — AP Photo/Chris Seward
Trump is running for president again despite being the subject of several lawsuits and investigations including a New York state investigation and a separate Manhattan district attorney criminal probe into his company's finances, a Georgia county probe into his efforts to overturn Joe Biden's election win in the state, and separate Justice Department investigation into his campaign's scheme to put forth fake electors in battleground states.
Justice Department officials are investigating Trump for his role in inciting the Jan. 6, 2021, attack on the U.S. Capitol and are weighing whether to issue criminal charges.
The House select committee continues to investigate his role in the Jan. 6 attack. The committee, which subpoenaed him for testimony and documents in October and which Trump is now battling in court, held public hearings throughout the summer and early fall featuring depositions from those in Trump's inner circle at the White House — including members of his family — that detailed his public and private efforts to overturn the 2020 presidential election results through a sustained pressure campaign on numerous local, state and federal officials, and on his own vice president.
Justice Department officials are also investigating Trump for his retention of classified documents at his Mar-a-Lago estate after he left office.
Voters rejected Trump-endorsed election denier candidates in races for Congress and governor in the midterm elections. Most of them lost, including state Sen. Doug Mastriano, the Republican candidate for governor of Pennsylvania. Republicans failed to gain a Senate majority, failed in their efforts to fill several statewide seats, and barely secured a U.S. House majority.
The midterms were supposed to be a Republican red wave. Instead it was a trickle.
Many Americans including many Republicans are tired of Trump's repeating his lies about the 2020 election and his fixation on promoting conspiracies about that election.
Trump continues to falsely insist that the 2020 election was stolen from him. He continues to promote conspiracy theories about voter fraud and to pressure Republican leaders to endorse changes that would curtail voting rights.
In the midterms, Trump promoted flawed candidates like Mastriano who parroted his false claims about election fraud, alienating voters and ultimately leading to their defeats.
In 2019, Trump was first impeached on charges of abuse of power and obstruction of justice. In 2021, he was impeached again in 2021 for inciting the riot at the U.S. Capitol. He was acquitted by the Senate both times because only 10 House Republicans voted to impeach him and only seven Republican senators voted to convict him at his Senate trial.
Trump is delusional about his record as president.
He mismanaged the COVID-19 pandemic. He mishandled Hurricane Maria, which devastated Puerto Rico in 2017.
He had a despicable response to the white nationalist rally in 2017 in Charlottesville, Virginia, where Heather Heyer was killed while walking with a group of counter-protesters, and the Black Lives Matter protests.
Trump's hard-line immigration policies included separating migrant children from their families.
He nominated three Supreme Court justices, who have helped to shift the court further to the right on issues such as abortion, guns and climate change.
In foreign policy, he pulled the U.S. out of international agreements such as the Paris climate accord and the Iran nuclear deal, moves that were rightly opposed by many of America's top European allies.
Trump was an unfit leader who should not be given another term as president or any other elected office.
Reprinted from the Philadelphia Tribune
About Post Author