by Sara Jones, Illinois State University
Uncommon Courses is an occasional series from The Conversation U.S. highlighting unconventional approaches to teaching.
Title of course:
"Public Education's Possibilities and Predicaments: Exploring Portrayals of Critical Issues in 'Abbott Elementary'"
What prompted the idea for the course?
When the first episodes of "Abbott Elementary" aired in January 2022 and the show began getting widespread praise, I started having interesting conversations with folks about schools and teaching based on what they had seen on the show. After episodes aired, colleagues, friends and neighbors all wanted to talk about issues like funding inequities, teacher shortages and charter schools.
I began thinking about how the show integrates commentary on these critical issues into its lighthearted "mockumentary" style, simultaneously entertaining viewers and inviting them to consider their own perceptions of urban public schools. As a show inspired by a Black female teacher, created by a Black female writer, Quinta Brunson, and led by a predominantly Black cast, it also tells the stories of an urban school in a way that highlights the humanity of students, teachers and communities who have elsewhere been portrayed negatively.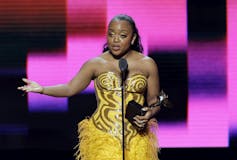 I wanted to design a course that would use the show as an entry point to critical conversations, connecting the issues in each episode to research and policy.
What does the course explore?
First, students are introduced to various education issues by reading selected academic book chapters and research articles. We explore how they have seen this issue portrayed in news coverage, television shows and movies. For example, we begin by taking a look at the racial demographics of teachers and students, particularly in urban schools.
According to the National Center for Education Statistics:
Overall, only 7% of public school teachers are Black, whereas 80% are white.
In urban public schools, 12% of teachers are Black, compared with 69% who are white.
In public schools with more than 90% of racial minority students, 20% of teachers are Black and only 43% are white.
We also look at the portrayal of urban teachers in film. The teacher-heroes of these films are generally white, middle-class outsiders. They are new to the school – or teaching, in general – and, through individual effort and a positive outlook, are able to transform a group of troubled students whom all the veteran teachers had failed.
We also use relevant episodes to explore issues such as gifted programs, the charter school movement, school discipline and more.
At the end of the course, students work in groups to craft a pitch for a future episode of "Abbott Elementary" that addresses an issue not yet addressed by the show.
Why is this course relevant now?
Millions of viewers are tuning in each week to watch "Abbott Elementary." It is a pop culture moment. However, the relevance of this course is not limited to the show's popularity. Public education affects everyone. Education policies, such as what should or should not be taught in schools, and school choice initiatives, including increasing the number of charter schools and providing vouchers for students to attend private schools, continue to be at the forefront of local, state and national politics.
This course is relevant because it creates a space for students to learn more about these issues and engage in informed, critical discussions through an accessible medium.
What's a critical lesson from the course?
While many issues, like school funding or discipline, are central to a single episode, the issue of charter schools is an overarching plot line throughout Season Two. Understanding how charter schools operate, why they are marketed as a solution to troubled public schools and how they affect communities are all critical lessons from this course.
What materials does the course feature?
"Anti-Racist Educational Leadership and Policy," a 2021 book co-authored by University of Missouri education professor Sara Diem and University of Wisconsin-Madison education professor Anjale Welton. The book breaks down complex policy issues by analyzing how policies address or fail to address racial equity.
"Start Where You Are, But Don't Stay There," an award-winning 2020 book by Vanderbilt University education professor H. Richard Milner IV. The book deals with what teachers and school leaders must know to effectively serve students of color.
"For White Folks Who Teach in the Hood … and the Rest of Y'all Too," a 2016 book by University of Southern California education professor Christopher Emdin. Among the insights the book offers are those on how teachers can better relate to and motivate young students of color.
What will the course prepare students to do?
When it comes to education issues, it can often feel like you have to be either for or against something – whether that something is charter schools, teachers unions, or zero-tolerance discipline policies. This binary thinking can't accurately represent the nuance and messiness that is the reality of public education.
By integrating the pop culture perspective of "Abbott Elementary" with interdisciplinary scholarly perspectives, students will learn how to take a more critical and nuanced look at education.

Sara Jones, Assistant Professor of Elementary Education—Literacy, Illinois State University
This article is republished from The Conversation under a Creative Commons license. Read the original article.
About Post Author