by Julius A. Amin, University of Dayton
Recent coups in the West African nations of Gabon and Niger caught U.S. diplomats a little off guard. They also indicate Washington may need to reassess its policy in the region or risk becoming increasingly irrelevant to the new governments.
Despite following similar overthrows of governments in Mali, Burkina Faso and Chad in recent years, the U.S official reaction to the coups in Gabon and Niger has come across to some observers as makeshift and uncertain.
In Niger, U.S. diplomats have resisted referring to the overthrowing of President Mohamed Bazoum in July as a coup. Doing so would mandate the cutting off of military and economic assistance to the country, in which America has sizable military bases. Nonetheless, Washington later threatened to cut millions of dollars in aid. In Gabon, America acknowledged the coup, which brought down President Ali Bongo Ondimba, and called for the restoration of a democratic process.
I am a scholar of U.S—Africa relations, and my forthcoming book, "Sixty Years of Service in Africa: The U.S Peace Corps in Cameroon," examines the nature of U.S.-Africa relations. From my position, Washington's reaction to coups suggests U.S. policy is out of step with the needs of the region. It is reactive rather than proactive, and based on notions that prioritize Washington's security needs over the aspirations of the countries of West Africa. It also risks diminishing U.S. influence in West Africa at a time when rivals – Russia and China – are expanding links.
Such signs are already evident. When U.S Acting Deputy Secretary of State Victoria Nuland met with the military junta in the Nigerien capital of Niamey in early August 2023, she was denied access to the deposed leader.
The contours of US policy in Africa
U.S. policy toward Africa was shaped – and is still scarred – by Cold War considerations and European colonial ideologies.
From nationalist struggles to earning their independence, African people were often dismissed by U.S. diplomats as backward, incapable and inferior. Washington's policy often treated African nations as junior partners to Europe and often deferred to former colonial powers on issues concerning the former colonies.
These perceptions of Africa and its people have endured, so it was not surprising when former President Donald Trump dismissed African nations as "shithole" places dominated by chaos, violence and poverty.
Such thinking and American policy have largely failed to understand the rapid changes taking place on the continent, I believe. African people are no longer prepared to be lectured to about who to engage with in their development. Yet American officials stand accused of being too slow to recognize this shift.
Openings for China and Russia
Such sluggishness has created avenues for China and Russia to move into the Sahel region and East Africa.
China's serious advancement in the continent began at the Bandung Conference in 1955, where its leaders aligned themselves with African nationalists, emphasizing dogmas of "win-win partnership," "equality and mutual benefit" and "mutual respect for sovereignty." Today, China's premier makes frequent visits to Africa, while the country invests billions of dollars in the region on infrastructure and other projects.
Like China, Russia engaged Africa gradually. In 1958, Russia's ignorance of the continent was revealed when it included snow plows among its aid package to Guinea, a country located in tropical Africa. But today, African leaders overwhelmingly participate in the Russia-Africa Summits that have taken place in 2019 and 2023, during which Moscow has aid and trade deals and pledged to become an alternative to Western influence.
And Russia has surpassed China in arms sales to Africa, accounting for 40% of its major weapon shipments. It supplies about 30% of the continent's grain, and African leaders are increasingly seeing Russia as a counter to the action of other powers, such as France.
Russia and China can easily flatter African leaders with gifts, money, support and state visits, making them feel respected. Both nations have a long history of siding with African nationalists on anti-colonial struggles and in opposing South Africa's Apartheid.
More recently, at the U.N. vote to condemn Russia's invasion of Ukraine, many African nations either remained neutral or abstained or opposed the U.S. position.
Already, there have been suggestions that the coups may be exploited to serve the interests of Russia and China. The Wagner Group, a pro-Russian mercenary group, was supportive of the coup in Niger, seeing it as an opportunity to enhance Russia's involvement there as it did in Mali. Officially, China has said it remains concerned about the impact of the coups but stuck to its position of not interfering in other nations' internal affairs.
Where does the US go from here?
Africa's shifting allegiance to Moscow and Beijing comes at the expense of Washington's influence – and that could hurt U.S. economic and strategic interests.
The Sahel region and the rest of Africa is home to immense and valuable resources, most notably cocoa, coffee, timber, cotton, diamond, gold, manganese, cobalt, uranium, titanium and coltan.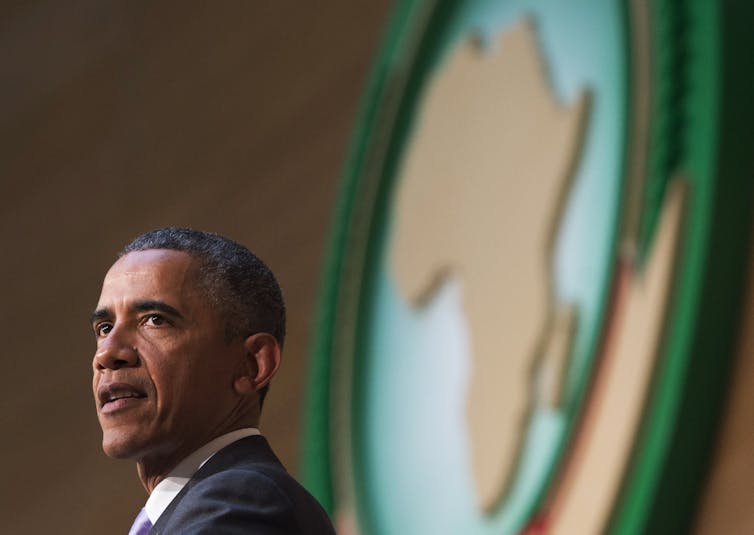 The Sahel region is also of huge strategic importance in the battle against Boko Haram and other extremist organizations. The continent, meanwhile, is crucial in the struggle to safeguard the environment and addressing climate change. It also contains some of the the fastest-growing nations in the world. Nigeria is set to double its population to 375 million by 2050 – and in the process potentially overtake the U.S.
It is for good reason, therefore, that U.S. Secretary of State Antony Blinken noted in 2021 that "Africa will shape the future … of the world."
But for too long, America has fallen back on discarded notions to shape its African policy rather than look to the continent's future. By focusing on its own security needs, America has, in my view, failed to understand that alleviating the political, economic and social conditions of locals remains a vital part of the struggle. In Niger, for example, America spent millions of dollars via the government and the U.S. military's Africa Command, yet 43% of its people still live in poverty. And to them, resolving problems including chronic unemployment, poor governance and weak democratic institutions is more important than military spending.
U.S. policy risks becoming increasingly ineffectual if it fails to better focus on alleviating conditions that create political unrest, rather than just reacting when it happens. For example, America can better pressure the continent's autocrats, such as Paul Biya of Cameroon and Rwanda's Paul Kagame, to institute genuine democratic reforms and make way for new leadership.
The Biden administration pledged at 2022's U.S.-Africa Leaders Summit in Washington to invest US$55 billion in the continent over a three-year period.
But while Secretary Blinken has endorsed an equal partnership with African nations, past practices of marginalizing the continent continue. Joe Biden has not visited sub-Saharan Africa as president – nor did his predecessor. You have to go back to 2015 for the last time a U.S. president – Barack Obama – set foot on sub-Saharan Africa as part of an official state visit.
To many on the continent, that speaks volumes about Washington's priorities.

Julius A. Amin, Professor of History, University of Dayton
This article is republished from The Conversation under a Creative Commons license. Read the original article.
About Post Author